An Israeli man is being lauded as a hero after using the nunchuks he happened to be carrying to help subdue a Palestinian terrorist who had stabbed and tried to grab the weapon of an Israeli soldier on a Jerusalem bus Monday night.
Yair Ben-Shabbat wasn't even a passenger on bus number 185, but saw a commotion on the bus at the entrance to the capital.
"I saw a struggle inside the bus. I asked, 'What's going on?' and was told someone was trying to grab a soldier's weapon," Ben-Shabbat told Israel's 0404 News.
"Then I saw two people on [top of] the terrorist and a soldier almost strangled by his [gun] strap," he recalled.
Holding his nunchuks, Yair Ben-Shabbat demonstrates how the soldier was nearly strangled by his gun strap during the terrorist attack on a Jerusalem bus. (Image source: NRG video)
"I have these nunchuks – I took them out of my bag and I jumped on the bus," he said.
Jittery over the multiple daily Palestinian stabbing attacks, some Israelis have begun carrying various self-defense tools, including pepper spray and, apparently, nunchuks.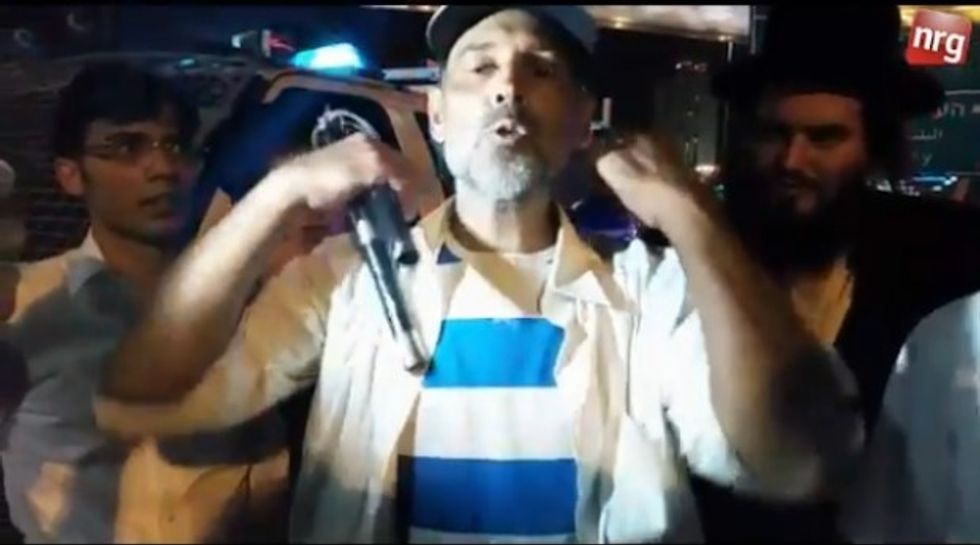 Ben-Shabbat boarded the bus with his martial arts chain sticks when he saw a struggle was underway. (Image source: NRG video)
Ben-Shabbat said it took six strikes of the martial arts chain sticks before the terrorist let up on the soldier's gun.
The Israeli newspaper Ma'ariv called him the "hero of the day," while Ynet correspondent Roi Yanovsky called him "the hero of the night."
גיבור הערב:יאיר בן שבת, נכנס לאוטובוס בו דקר המחבל את החייל בכניסה לעיר, היכה אותו עם נונצ'קו עד שחוסל ע"י השוטרים pic.twitter.com/HPRPeAbDkh

— Roi Yanovsky (@Roi_Yanovsky) October 12, 2015
Israeli police sources told Israeli media that during the ride, the 22-year-old attacker was sitting in the back of the bus near a soldier.
At the entrance to Jerusalem, he began stabbing the soldier and shouting "Allahu akbar," that is, "Allah is the greatest." Then he tried to steal the soldier's gun, according to the police account.
A Jerusalem police officer who was riding the bus ran to the back to try to subdue the attacker, Ma'ariv reported. Two civilian passengers joined the struggle, all while the Palestinian was trying to cock the soldier's weapon. This was the altercation that Ben-Shabbat saw from outside the bus and decided to help.
Israel police sources told Ma'ariv and Walla News that a police unit patrolling the area later boarded the bus. When they tried to take custody of the attacker, one of their pistols fell, which, according to the police account, the attacker grabbed and tried to cock. At that point, another officer shot the attacker, killing him.
Israel has been plagued by multiple daily terrorist attacks, including repeated attacks nearly every hour on Tuesday morning.