During the CNN Democratic presidential debate, several questions directed at former Secretary of State Hillary Clinton in some ways reflected a 2007 campaign memo from then candidate Barack Obama's campaign that targeted her lack of principle on issues and her trustworthiness.
The memo said Obama, then an Illinois senator, would contrast with Clinton by being a principled leader who would break through divisiveness for a new type of politics – and Clinton as basically the opposite.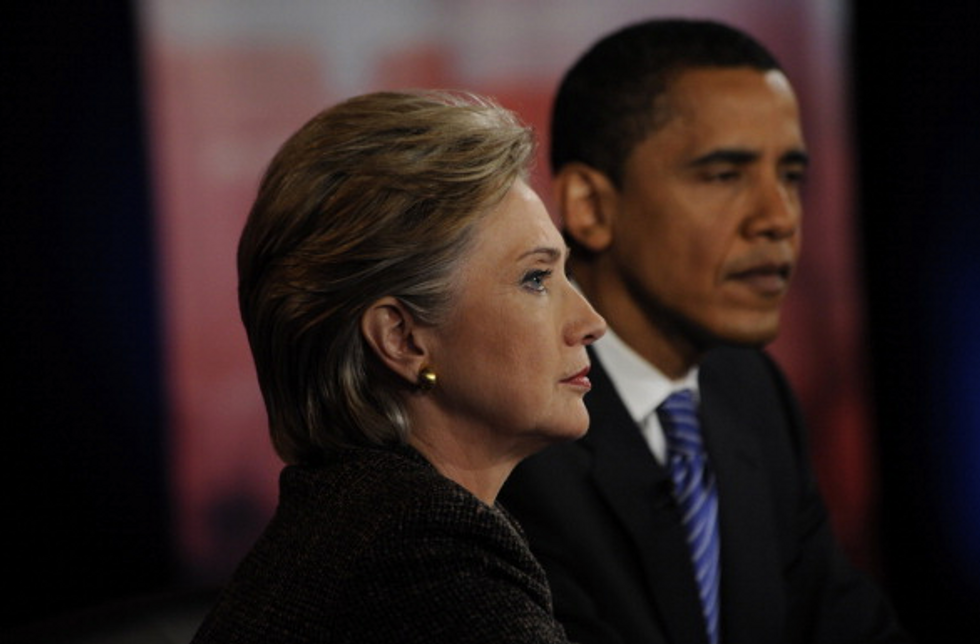 BDemocratic Presidential Candidates from Cleveland State University in Cleveland, OH on February 26, 2008. ( Virginia Sherwood/NBC NewsWire)
Here's four things listed in that Obama campaign memo about Clinton, first reported by the New Yorker.
1. Old Politics
The memo says:
"Hillary Clinton's prescriptions for the country is a continuation of the old politics that puts obtaining and preserving political power ahead of reliable principles of progress for the American people."
2. Divisive
The memo also says, "Americans have deeply divided feeling about Hillary Clinton, threatening a Democratic victory in 2008 and ensuring four years of the bitter political battles that have plagued Washington for the last two decades and stymied progress."
3. Flip Flops Then and Now
During the Tuesday debate, Clinton was pressed about her differing positions on the Trans Pacific Partnership trade agreement, the Keystone XL pipeline and other matters. The memo pointed to her shifting positions on the North American Free Trade Agreement, and other matters.
"HRC is driven by politics not conviction," the memo says. "From the war, to NAFTA, to Social Security, to her choice of baseball teams, Clinton is consistently dodging and changing positions to satisfy the politics of the moment," the memo says.
4. No Reformer
"Clinton has never embraced reforms and opposed many that would truly change the system and scale back the power of special interests and lobbyists," the memo says.
Ahead of the CNN debate, the Obama campaign's chief strategist David Axelrod confirmed the authenticity of the memo.
---