An Oregon man said he spotted a mouse inside his Subway sandwich as it was being prepared by one of the fast-food restaurant's employees last week.
"It was unfortunate I was the lucky recipient," Jay Armstead told KGW-TV. "It was wet and dead. His tail was curled up and you could see his two front teeth."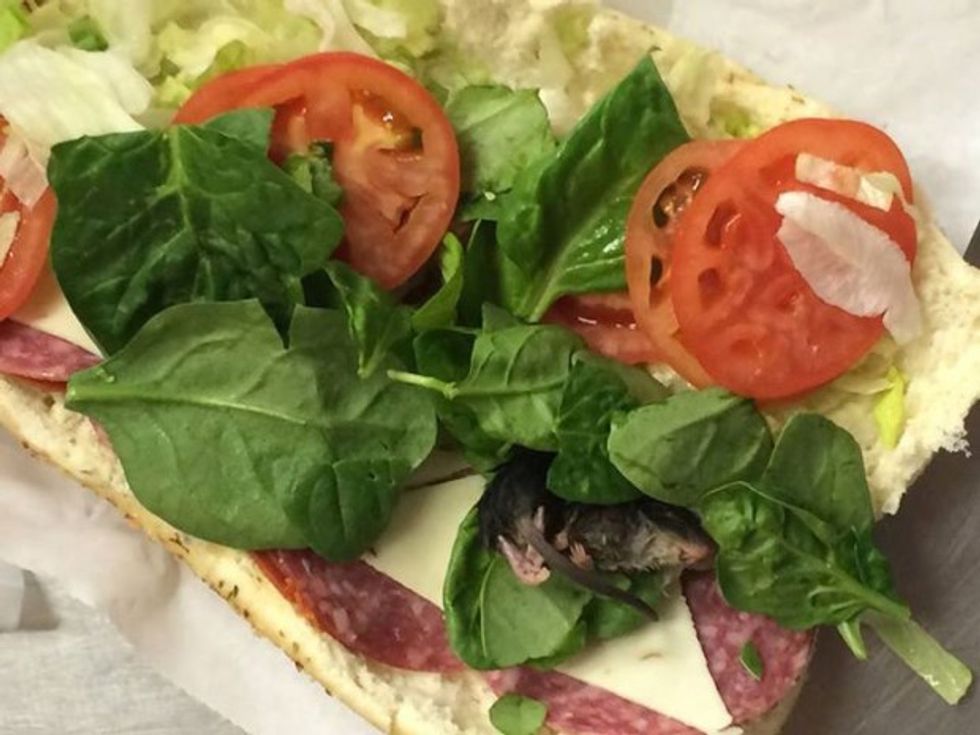 Image source: Matt Jones / Facebook
Armstead's friend, Matt Jones, who was with him at the time of incident snapped a photo of the rodent inside the sandwich.
"It's the funniest thing I've ever seen, but it's also the most disgusting thing I've ever seen," Jones told KGW. "I laughed because I was like, there is no way this just happened."
[sharequote align="right"]"It's the funniest thing I've ever seen, but it's also the most disgusting thing I've ever seen."[/sharequote]
The incident happened last Tuesday at a Subway located in Lincoln City, Oregon. Jones told KGW that the employee was preparing their sandwiches when she reached for some spinach and placed it on the Italian sub.
"I got my drink, turned around and they were in shock like something happened," Jones told KGW. "There was a mouse in there. It was gross."
The employee was in shock as Jones snapped the photo, he said.
Cheryl Connell, director of the local health and human services, said that an investigation was ordered.
"The investigation determined that the rodent problem did not come from inside the facility. It was probably in a bag of the bagged spinach product, not from the facility itself," Connell said. "Everything was sanitized and cleaned properly afterwards."
Subway also released a statement noting that a "full refund" had been given.
"To be cautious, all of the products in the sandwich unit were disposed of and a thorough cleaning took place, in which the Health Department gave the restaurant a clean bill of health," the Subway statement added. "There were no other complaints made."
Armstead didn't take up the fast-food sandwich chain on its offer for a new item, but called the entire episode a "freak accident."
—
Follow the author of this story on Twitter and Facebook: