Ted Cruz still trails the Republican presidential contenders at the top of the pack, but the Texas senator is slowly gaining ground by positioning himself as biggest outsider of the insiders — the officeholder who can rally support from voters frustrated with the political class.
Frustrated voters have been flocking to candidates like real estate mogul Donald Trump, retired neurosurgeon Ben Carson and former Hewlett-Packard CEO Carly Fiorina – none of whom have held elected office before. But historically, outsiders don't capture their party's nomination, which might put Cruz in a strong spot should any of those three falter, said Jennifer Duffy, senior editor for the Cook Political Report.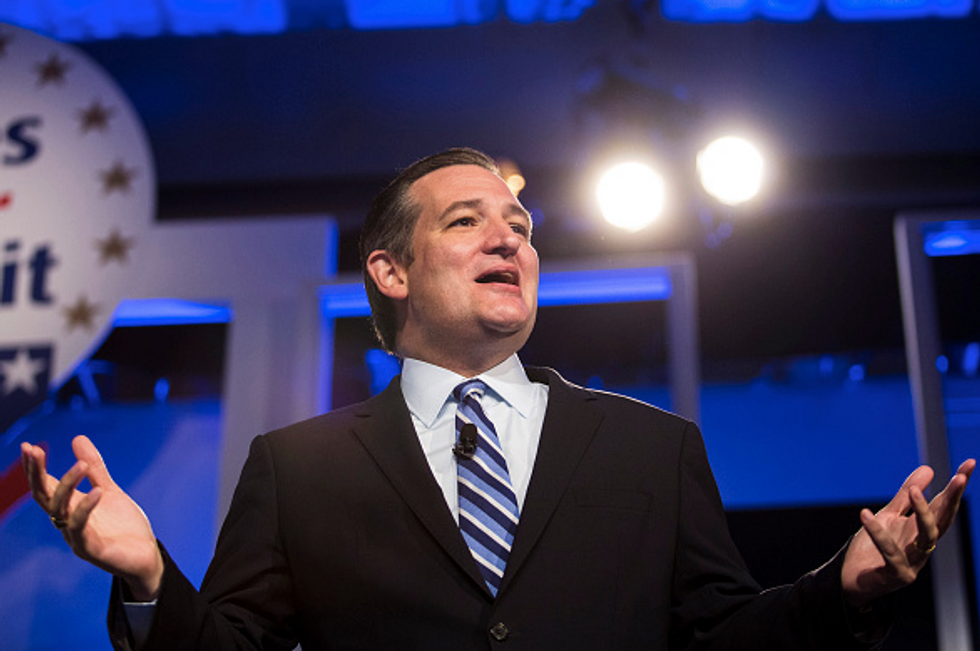 Sen. Ted Cruz speaks during the Values Voter Summit in Washington, D.C., Sept. 25, 2015. (Drew Angerer/Bloomberg via Getty Images)
"A good case can be made that Cruz is in a position to inherit these voters," Duffy told TheBlaze. "If Trump, Carson and Fiorina are out, then Cruz is really the only candidate left that can claim the anti-establishment mantle. [Kentucky Sen. Rand] Paul would be the other one, but he may be out as well if his fundraising doesn't improve markedly."
And it's fundraising where Cruz is doing well: Last week, his campaign announced it had raised $12.2 million in the third quarter of 2015, more than twice as much as Senate colleagues and fellow candidates Paul and Marco Rubio of Florida during the same three months. He raked in millions within two days after the last two debates where he was perceived as giving a strong performance.
Cruz moved to third place in a CBS News poll released over the weekend, passing up Fiorina, who was running third in previous national polls. Then a Fox News poll on Tuesday also found him in third place. Moreover, the Cruz campaign touts strong organization, with county chairs in all 171 counties in the first four primary states.
Organization in every county of the first four states could be key, said Jenny Beth Martin, chairwoman of the Tea Party Patriots Citizens Fund, which has not endorsed a candidate yet.
"He does appear to have deep support and a grassroots army, and ready to mobilize that army when the time comes," Martin told TheBlaze. "I know having a grass roots army can be a big advantage."
Still, Martin said that Trump and Carson seem to be occupying their own tier, with Cruz as the leading candidate of the next tier.
The Cruz campaign is choosing to emphasize his record, rather than his senator title, to paint him as an outsider, asserting that Cruz stood more firmly than others in the Senate against funding Obamacare, against the Iran deal, and in opposition to Planned Parenthood funding.
"The base has been abundantly clear they are not happy with the party leadership and are not happy with the establishment political class and Senator Cruz is a proven outsider, even in the Senate," Cruz campaign spokesman Rick Tyler told TheBlaze.
Cruz still trails both Trump and Carson by more than 10 points in both the Fox News and CBS polls.
"If the Trump balloon bursts, most of those supporters would go to Cruz. Even as an insider, he speaks the language to fill that void," Gary Rose, chairman of the political science department at Sacred Heart University, told TheBlaze. "You can make the case that Cruz is only a one-term senator. He's more of a maverick, non-traditional candidate, with the filibuster and government shutdown, he's the outsider senator."
Rose doesn't believe Cruz will win Iowa or New Hampshire, but sees him as a potential winner in the South Carolina primary, which he could use to catapult him to Super Tuesday wins, when a clump of states vote on March 1.
But a Cruz rise might be predicated on Trump's demise.
"It depends entirely on Trump flaming out," Rose said. "I don't think Cruz can go toe-to-toe with him."
The Cruz campaign said they're "not predicting the downfall of any candidate, much less Donald Trump."
"Of course we want to win over Trump supporters, we want to win over Carson supporters, we want to win over everybody's supporters," Tyler said.