You've read the headlines.
"Will Rand Paul be the next candidate to drop out?"
"Rand Paul's Live-Stream Shines Spotlight on Flagging Campaign."
"Paul comes under pressure to focus on Senate seat."
It seems the only time Sen. Rand Paul (R-Ky.) is in the news these days is when critics aim to highlight what they contend is a floundering campaign. But despite the overwhelming narrative, Paul's campaign insists it is stronger than it's ever been.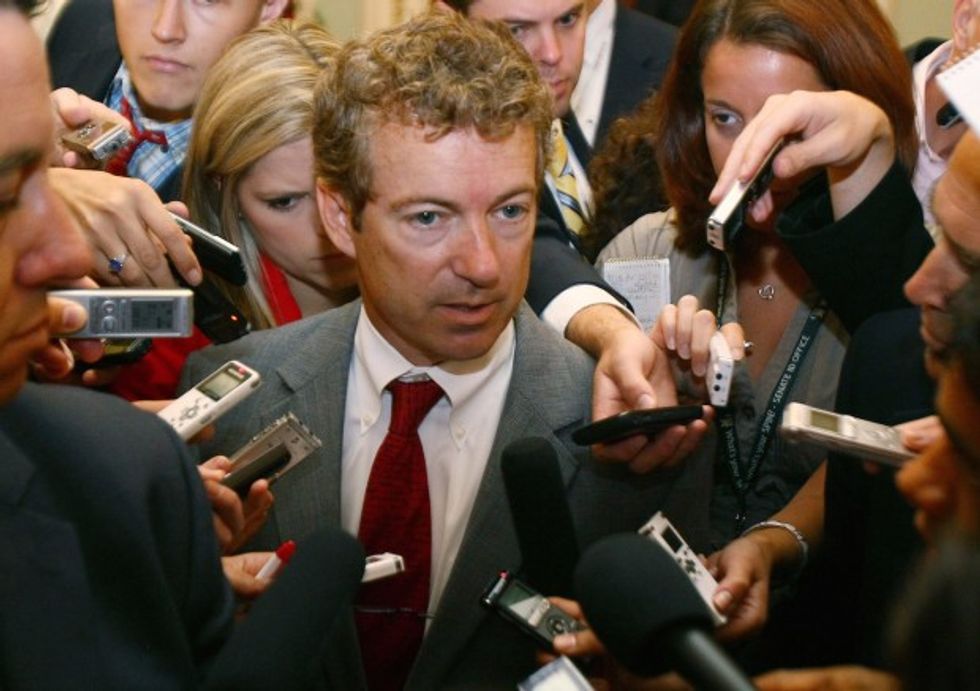 Mark Wilson/Getty Images
Indeed, in a series of interviews, national and local campaign officials told TheBlaze they remain energized and optimistic about chances for victory.
"We are in for the long haul," Paul campaign spokesman Sergio Gor said, when asked to respond to calls for the senator to abandon the race. "We are not going anywhere."
[sharequote align="center"]"We are not going anywhere."[/sharequote]
Earlier this week, Paul's campaign sought to double down on that message, publishing a lengthy memo assailing the media for pushing a "false narrative" that the senator is on the ropes. In it, chief strategist Doug Stafford and campaign manager Chip Englander highlighted Paul's straw poll victories and organizational strength in key early states.
"It's incredible how people forget recent history," Englander echoed in a phone call to TheBlaze. "Look at the 2012 presidential election. In August of 2011, Michele Bachmann was in first. In September, Rick Perry was in first. In October, Hermain Cain was in first. Then Newt Gingrich. And none of those people finished in the top two in Iowa or New Hampshire. Not even in the top two."
"We've built out an extraordinary organization," he added. "The best in the field. Evidence is our key successes in straw polls."
Paul's campaign boasts that each of Iowa's 99 counties is staffed with a co-chair and has 600 precinct captains recruiting volunteers who have, thus far, made over 100,000 calls to voters.
"You don't see any of these things reported anywhere," Englander said.
Instead, as the campaign is well aware of, the dominating narrative surrounding Paul's bid is that it is struggling. Struggling for cash — it raised just $2.5 million in the last quarter — and struggling to gain traction in the polls. Real Clear Politics, which averages recent polling data, has Paul in eighth place behind Donald Trump, Ben Carson, Marco Rubio, Jeb Bush, Carly Fiorina, Ted Cruz and Mike Huckabee.
Paul's campaign has downplayed the libertarian firebrand's performance in the polls, but has also noted that he is still doing better than 2016 rivals, John Kasich, Rick Santorum, Bobbie Jindal and Chris Christie.
"The media can be forgiven for not grasping the significance of the ground organization we are building because it is not highly visible except on the few occasions we mobilize (and win). Some reporters have covered the fact that SRP always comes in first when people are actually voting, although most have ignored it altogether," the memo from Englander and Stafford read.
Gor also emphasized that Paul traditionally performs well against likely Democratic nominee Hillary Clinton.
"If you look at a lot of polls is that we perform a hell of a lot better than most of the Republicans against Hillary," he told TheBlaze.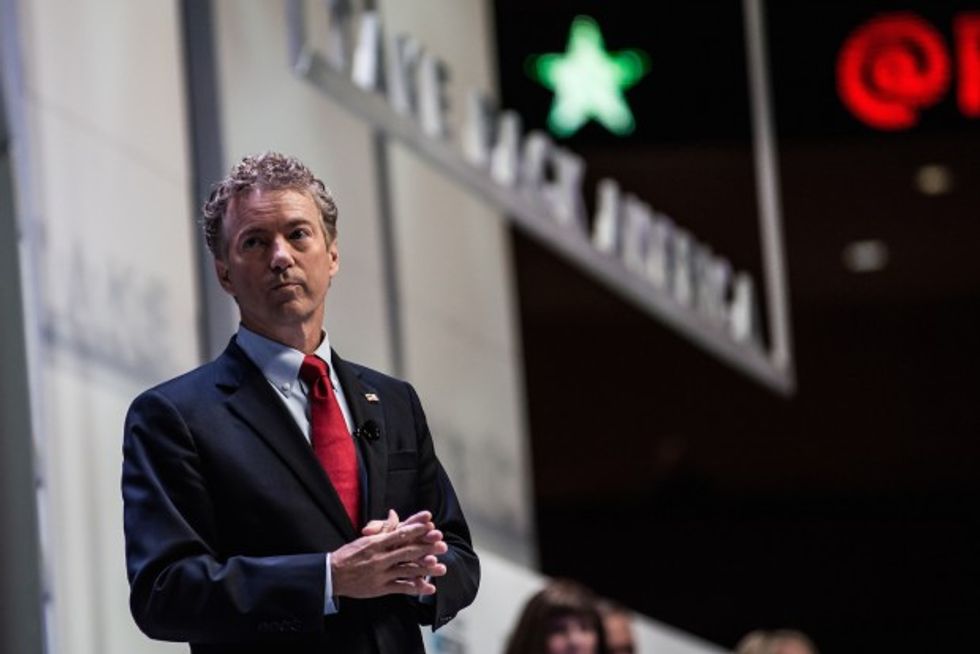 Sean Rayford/Getty Images
The campaign's inability to surge in the polls has not seemed to bother many on the ground working for Paul. Local officials, speaking on background and on the record, told TheBlaze energy remains high.
"I'd say that's nonsense," Iowa co-chair David Fischer told TheBlaze when asked if campaign morale has suffered. "Quite the contrary. … Massive interest from all kinds of young people. Staff is energized. I am energized."
[sharequote align="right"]"Where are the stories calling on Rick Santorum to drop out? Or other candidates to drop out?"[/sharequote]
Fischer insisted Paul has faced unfair scrutiny from the national media and said he wondered why candidates performing worse than him haven't been called on to leave the race.
"Where are the stories calling on Rick Santorum to drop out? Where are stories calling on Lindsey Graham to drop out? Or other candidates to drop out?" he asked.
Other campaign officials had similar thoughts.
"No one likes negative stories, but our only frustrations right now are with those who say this is over," one official told TheBlaze. "It isn't by a long shot."
"The media wants to write a narrative about the campaign that simply isn't true," another echoed. "We have the best ground game in Iowa that is unmatched by any other candidate. In fact, I have yet to see a ground game by some of the candidates. Everyone feels great about our chances to win Iowa come Caucus night. This idea that people are down is false and being propagated by people that live 500 miles from the state."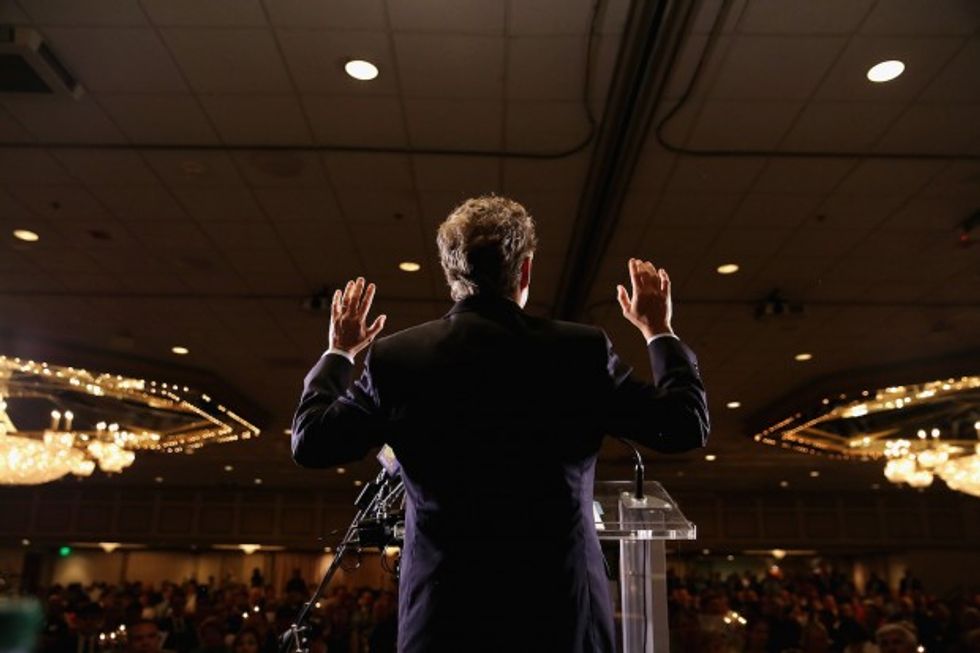 Chip Somodevilla/Getty Images
Many political pundits, nevertheless, disagree.
Rick Wilson, a prominent Republican strategist, immediately named Paul when asked recently by the Observer to predict the next candidate to drop out.
"I'm not sure Paul survives much longer. He's a 'live off the land' candidate, not a guy with a lot of major donor love, and I think he's probably looking at how the future unfolds with no possibility of wins in the early states," Wilson told the news outlet. "If he says he can 'make more of a difference in the Senate' it's the equivalent of 'I want to spend more time with my family.'"
RedState Editor Erick Erickson also said this week that it has come time for Paul to leave the race. In a blistering essay, Erickson cited the senator's recent live-streaming event and called his campaign "a bloody embarrassment that needs to be taken out back and put out of its misery."
"Go home to Kentucky, Senator, and save your Senate seat before Kentucky's voters take the incompetence of your Presidential campaign as a reflection on you and your Senate campaign," Erickson advised Paul.
Go focus on the Senate, Rand. http://t.co/0OkrKTvOjw

— Erick Erickson (@EWErickson) October 15, 2015
Gor responded to Erickson, telling TheBlaze he is "entitled to his own opinion," but said he "hasn't traveled with us."
"I don't think he has any right to tell us what to do," Gor said, contending that Paul's "dumbass" gaffe was a poorly received joke.
"There's a huge disconnect between people in the media who have never been to one of these events," he later added. "They are really out of touch — for us, the more we travel, the crowds have gotten larger, the people are enthusiastic. It's the opposite of what they describe almost."
For now, Paul's campaign said it continues focused on its top priority: winning.
"We expect to do very well in Iowa. And we expect to do well in New Hampshire," Gor said.
—
Follow the author of this story on Twitter and Facebook: