Wild new video shows a man wielding a machete in the middle of the street at 3 a.m. while he terrorized motorists and pedestrians in Oakland, California.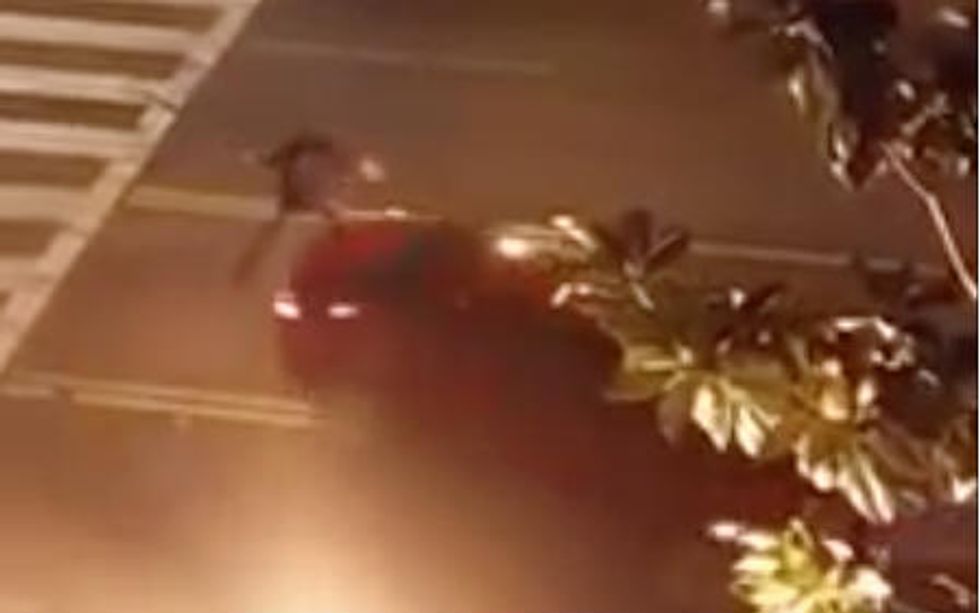 Image source: YouTube
The incident happened Monday and the video was posted online later the same day.
"Apparently the machete guy was acting insane, he lives in the same apartment complex, 'doing crackhead sh**'. punching cars, harassing the hookers on the street, walking up to the pimps with his machete and the pimp had pulled a gun out on him (that's where part 1 starts)" the person who posted the video on Reddit explained.
(Content warning: Strong language):
The man wielding the weapon is seen in the video getting struck by two different vehicles after walking into the street. One of the vehicles, a red car, is seen backing up toward the man as he appears to hit the car with the machete. A second vehicle, a white sedan, then plows into him sending him flying through the air and landing near an intersection.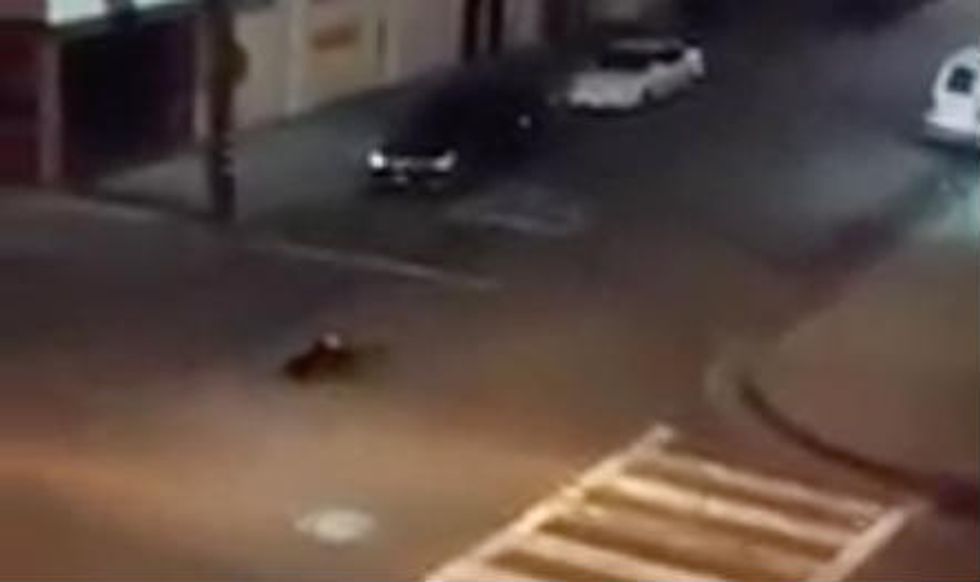 Image source: YouTube
But that isn't enough to keep him down.
"He gets up," one witness said, seemingly in disbelief.
"Units, be advised that the subject in the vehicle just hit the other subject with the machete with the vehicle," the dispatcher is heard saying.
After getting up, the man walks around a little while longer. Police eventually show up and arrest him.
The man's name was not released, and it was not immediately clear why he was wielding a machete, the Associated Press reported. The nature of the suspect's injuries were not clear. No one else was hurt.
The identity of the people driving the vehicles that struck the man were not released.
A spokesman for the Oakland Police Department did not immediately respond to a request for comment from TheBlaze.
(H/T: KPIX-TV)
–
Follow Jon Street (@JonStreet) on Twitter