Rep. Paul Ryan (R-Wis.) told his GOP colleagues Tuesday night that he would seek the speakership if every Republican caucus endorsed him for the job.
"Tonight, Congressman Ryan laid out to his colleagues why he believes we are in this situation and what he thinks is needed for us to move forward as a team," a Ryan spokesperson said.
"He did not announce a final decision on the speakership, but he did discuss what's necessary, in his view, for the next speaker to be successful," the spokesperson added.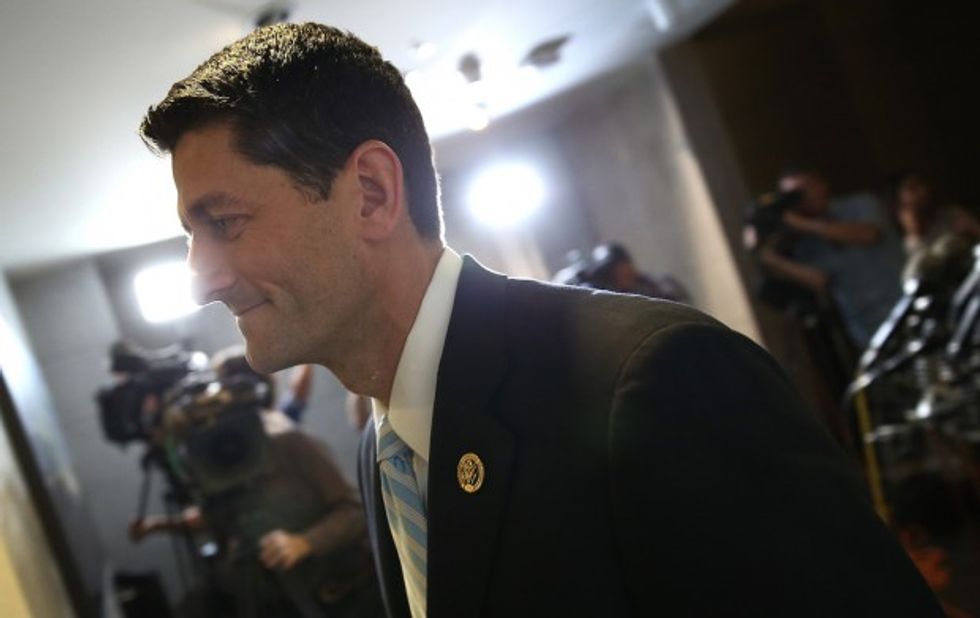 Win McNamee/Getty Images
The former Republican vice presidential candidate said his colleagues would need to agree to his vision for the House GOP.
Ryan said the next speaker needs to be a visionary, and the party needs to be focused on looking like the party of propositions instead of the party of opposition. He said he would like to change House rules to allow each representative to be a more effective leader. Ryan added that he would not be willing to "give up my family time" and would make up for less time on the road with adding more focus on communicating message to public.
Paul Ryan spox statement on what he told fellow GOPers tonight re running for Speaker of the House https://t.co/Iyd9alyx1E

— Jon Ward (@Jon Ward) 1445385733.0
Ryan also said he would only run if each of the major Republican caucuses endorsed him.
"[I]f he is not a unifying figure for the conference, then he will not run and will be happy to continue serving as chairman of the Ways and Means committee," the spokesperson added.
Ryan echoed those words in a news conference, saying he "will gladly serve" as speaker if the conditions he has laid out are met.
The news came after Ryan, who serves as the chairman of the ways and means committee, met with members of the Freedom Caucus, a group of conservative lawmakers in the House.
Rep. Darrell Issa (R-Calif.) said after the meeting Ryan would decide by the end of the week.
Washington Post reporter Robert Costa tweeted details of the meeting.
Key quotes from Ryan, according to several Rs who were in the room: "I'm willing to take arrows in the chest but not in the back... "

— Robert Costa (@Robert Costa) 1445385858.0
Another Ryan line from mtg, per Rs there: "I don't want to be the third log on the bonfire," a reference to Boehner and McCarthy

— Robert Costa (@Robert Costa) 1445385888.0
Most impt line, on his possible speaker run: "I hope it doesn't sound conditional… but it is," he said with a smile. He paused for effect.

— Robert Costa (@Robert Costa) 1445385934.0
Following the news, Rep. Jason Chaffetz (R-Utah) announced he would no longer seek the speakership.
I am out and supporting @RepPaulRyan for Speaker. Right person at the right time.

— Jason Chaffetz (@Jason Chaffetz) 1445385302.0
Ryan was encouraged by outgoing Speaker John Boehner (R-Ohio) to run for the post after House Majority Leader Kevin McCarthy (R-Calif.) shocked the political world and rescinded his candidacy for the job.
—
Follow the author of this story on Twitter and Facebook: