Vice President Joe Biden announced Wednesday that he is not running for president in 2016, ending months of speculation and paving the way for Hillary Clinton to be the Democrats' standard-bearer in 2016.
With President Barack Obama and wife Dr. Jill Biden at his side, Biden said that after heavy deliberation and thought in the wake of his son Beau's death, he has concluded that the window for him to run has closed.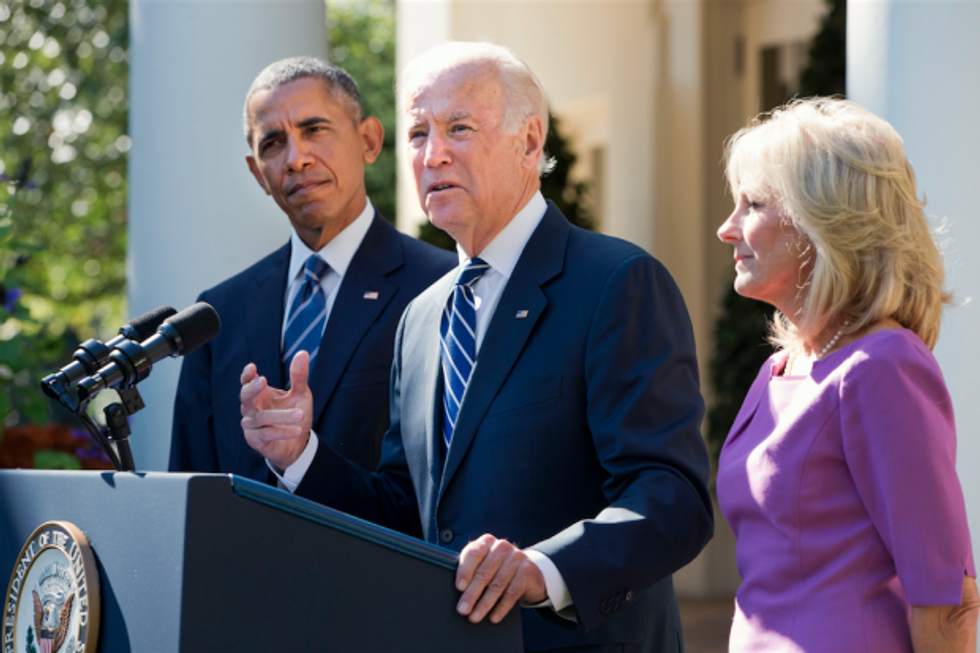 Vice President Joe Biden, with his wife Dr. Jill Biden and President Barack Obama announces that he will not run for the presidential nomination, Wednesday, Oct. 21, 2015, in the Rose Garden of the White House in Washington. (AP Photo/Jacquelyn Martin)
"I have said it to many families that sooner rather than later, when you think of your loved one, it brings a smile to your lips before it brings a tear to your eyes," Biden said. "Well, that's where the Bidens are today, thank God. Beau is our inspiration. Unfortunately, I believe we're out of time, the time necessary to mount a winning campaign for the nomination."
He vowed that while he will not be a candidate himself, he will not be silent.
"Our nation will be making a tragic mistake if we walk away or attempt to undo the Obama legacy," Biden said. "The American people have worked too hard, and we have come too far for that. Democrats should not only defend and protect this record, but they should run on the record."
Echoing comments he made earlier this week that were seen as a shot at potential rival Clinton, Biden called for more civility in the political debate.
"I don't believe like some do that it is naive to talk to Republicans. I don't think that we should look at Republicans as our enemies. They are opposition," Biden said. "They are not our enemies and for the sake of the country, we have to work together. As the president has said many times, compromise is not a dirty word."
Concluding his remarks, Biden thanked Americans who have been supportive of his family since the loss of his son, and vowed to spend the next 15 months advocating Democratic policies.
"Thank you for all being so gracious to Jill and me, for the last six or eight months, and for our whole career for that matter," Biden said. "But I am telling you that we can do so much more. I am looking forward to continuing to work with this man to get it done."
Biden shook hands with the president and hugged his wife, and the three walked away.
Republican National Committee Chairman Reince Priebus called Biden's decision "a major blow for Democrats, who now will almost certainly be saddled with their unpopular and scandal plagued frontrunner Hillary Clinton."
"Vice President Biden was the most formidable general election candidate the Democrat Party could have fielded, and his decision not to challenge Hillary Clinton greatly improves our chances of taking back the White House," Preibus said in a statement. "With each revelation about her growing email scandal or conflicts of interest at her State Department, Hillary Clinton is getting more beatable by the day."
Vermont Sen. Bernie Sanders, now Clinton's primary rival for the Democratic nomination, in a statement thanked Biden for "a lifetime of public service and for all that he has done for our nation."
Sanders described Biden as "a good friend" who "made the decision that he feels is best for himself, his family and the country."
Clinton reacted to Biden's announcement with a tweet also calling him "a good friend and a great man."
.@VP is a good friend and a great man. Today and always, inspired by his optimism and commitment to change the world for the better. -H

— Hillary Clinton (@HillaryClinton) October 21, 2015
Madeleine Morgenstern contributed to this report.