WASHINGTON (AP) — Congressional investigations, by definition, are about finding facts. But some facts were twisted Thursday in a showdown between Hillary Rodham Clinton and her Republican questioners over how history — and voters — will remember the deadly 2012 attack on a diplomatic compound and CIA quarters in Benghazi, Libya.
An armed man waves his rifle as buildings and cars are engulfed in flames after being set on fire inside the US consulate compound in Benghazi late on September 11, 2012. (Photo Credit: AFP/Getty Images)
A look at some of the claims in a House hearing where lawmakers quizzed Clinton, secretary of state during the Benghazi episode and now a 2016 Democratic presidential candidate:
Clinton
Asked about the dozens of emails she received from longtime political confidant Sidney Blumenthal, many with reports about developments in Libya, Clinton said his advice was "unsolicited."
The facts
Clinton was mischaracterizing some of those exchanges with Blumenthal.
Rep. Trey Gowdy, chairman of the House committee leading the hearing, asked what she meant by saying his advice was unsolicited.
"I did not ask him to send me the information that he sent me."
Noting that Blumenthal had no expertise about Libya, Gowdy read Clinton's emailed responses to some of his reports: "Thanks and please keep them coming" and "Anything else to convey?" and "What are you hearing now?"
At that, Clinton revised her description of how their email exchanges unfolded to "originally unsolicited," saying, "They started out unsolicited, and as I said, some were of interest."
Rep. Trey Gowdy
The chairman of the special Benghazi committee defended his lengthy probe by arguing that seven previous congressional investigations "were narrow in scope and either incapable or unwilling to access the facts and evidence necessary to answer all relevant questions."
The facts
What Gowdy didn't mention: Five of those seven investigations were led and controlled by his fellow House Republicans, who were no pushovers. The other two congressional investigations, led by Senate Democrats, produced bipartisan reports.
While each panel investigated matters under its particular jurisdiction, the mandate was still broad, and underlying facts behind the attack that killed Ambassador Chris Stevens and three other Americans were explored repeatedly.
That's not to say information that emerged after these investigations has been comprehensively explored. Gowdy noted his panel demanded additional documents and was the first to get Clinton's email — kept on her personal server — and the emails of Ambassador Chris Stevens, one of the four Americans killed in the attack.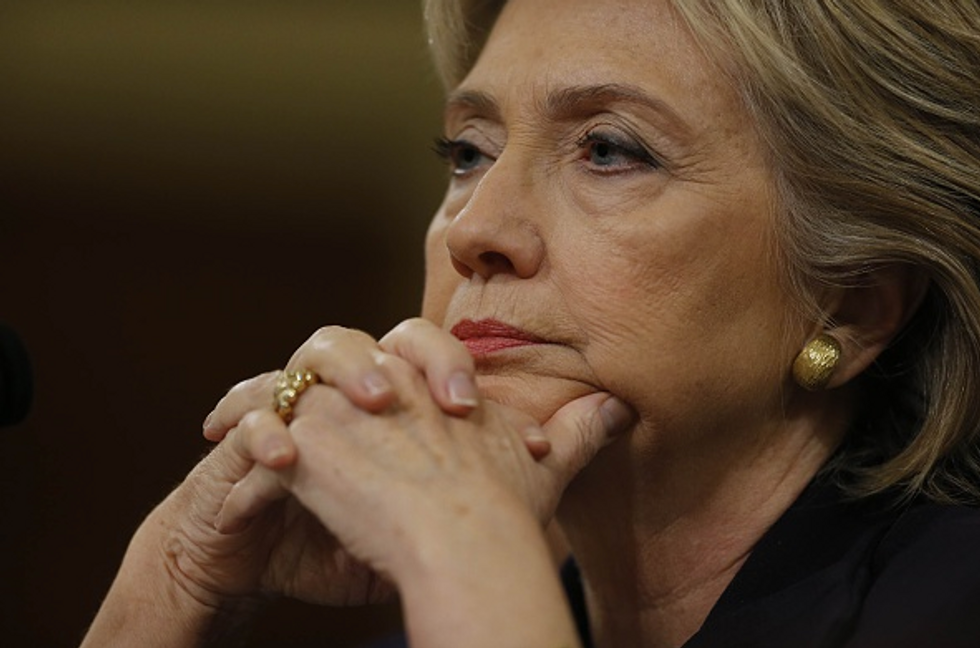 Hillary Clinton, former U.S. secretary of state and 2016 Democratic presidential candidate, waits for the start of a House Select Committee on Benghazi hearing in Washington, D.C., U.S., on Thursday, Oct. 22, 2015. Under scrutiny for her handling of the Benghazi attacks and her use of a private e-mail server, Clinton plans to invoke the memory of slain U.S. ambassador Christopher Stevens to defend her approach to diplomacy, saying they shared a common belief in the need for America to lead. (Photographer: Andrew Harrer/Bloomberg via Getty Images)
Clinton
In her opening statement, she painted her critics as arguing that it's never reasonable to plant diplomats on dangerous ground: "Retreat from the world is not an option. America cannot shrink from our responsibility to lead. ... If you ask our most experienced ambassadors, they'll tell you they can't do their jobs for us from bunkers."
The facts
Republican lawmakers are not arguing that diplomats should never venture into risky conditions to represent the U.S. They cite investigations after the Benghazi attacks that condemned the State Department's decision to keep that post open with poor security despite a growing number of assaults on Western interests in the area.
The accountability board appointed by Clinton as secretary of state said the security in Benghazi was "grossly inadequate to deal with the attack." A bipartisan Senate committee report called keeping the Benghazi mission open under those circumstances "a grievous mistake."
The State Department pulled out of Benghazi immediately after the attack and left Libya altogether in 2014. The U.S. Embassy in Tripoli remains shuttered, the country still considered too unstable and dangerous for a return.