Famed neurosurgeon Dr. Ben Carson has opened up a significant lead over billionaire businessman Donald Trump in a new Republican presidential poll out of Iowa.
A newly released Quinnipiac poll conducted among likely caucus-goers in Iowa from October 14-20 shows Carson in first place at 28 percent and Trump in second place at 20 percent. Rubio has 13 percent while Cruz has 10 percent. The rest of the candidates are polling in single digits.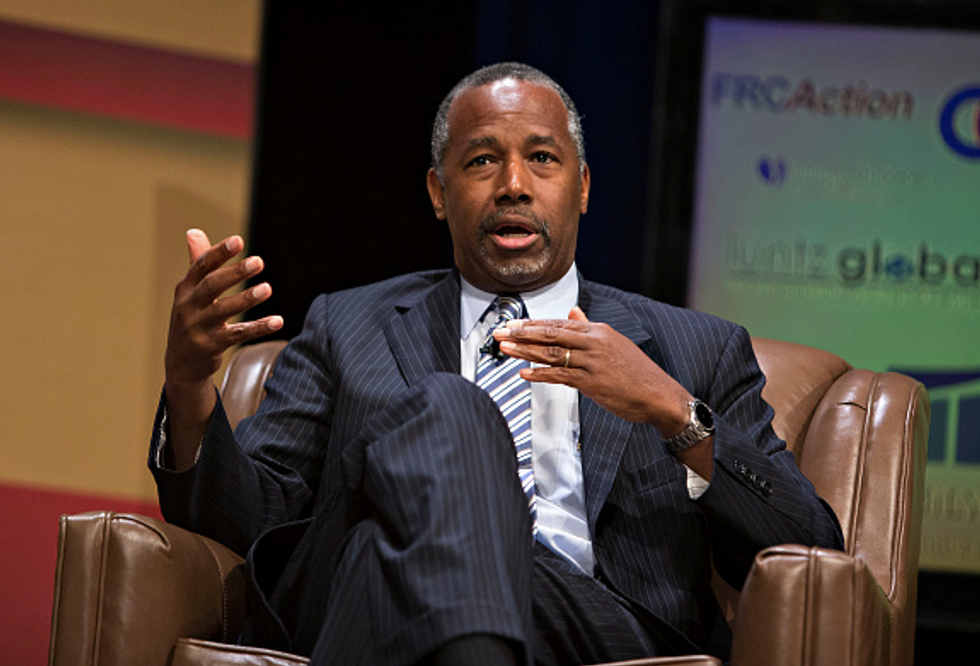 Ben Carson, Republican 2016 U.S. presidential candidate, speaks during The Family Leadership Summit in Ames, Iowa, U.S., on Saturday, July 18, 2015. The sponsor, The FAMiLY LEADER, is a 'pro-family, pro-marriage, pro-life organization which champions the principle that God is the ultimate leader of the family.' (Daniel Acker/Bloomberg via Getty Images)
"This is a lightning bolt across the Republican party field," MSNBC's Joe Scarborough said of the stunning new poll on "Morning Joe" Thursday. "It may not change anything. It may be one poll. But it does underline what we've been sensing, that Carson has momentum in Iowa.
Scarborough pointed out that there are a number of children who are homeschooled in Iowa and who learn about the world-renowned surgeon. There is also a high percentage of evangelical Christians in the state, which is also how Carson identifies.
"It's amazing," cohost Mika Brzezinski added. "This is one story that has sprouted up here that we missed. Us, Joe, as we were trying to figure out the pulse of where everything is going. This came out of nowhere."
In addition to his soaring poll numbers in Iowa, Carson also has "almost unheard of" favorability among Republicans in the state.
"He has an almost unheard of 84-10 percent favorability rating among likely Republican Caucus-goers, compared to Trump's 53-43 percent rating, Peter Brown, assistant director of the Quinnipiac University poll, told Politico.
"To borrow the line from Madison Avenue, 'Almost no one doesn't like Ben Carson,'" Brown said.
The results come just one month after a September poll in Iowa had Trump at 27 percent and Carson at 21 percent, a near reversal in the two candidates' numbers over the course of just one month, according to Politico.
–
Follow Jon Street (@JonStreet) on Twitter