Protesters descended upon the streets of Manhattan Saturday, part of a three-day demonstration against police brutality called #RiseUpOctober.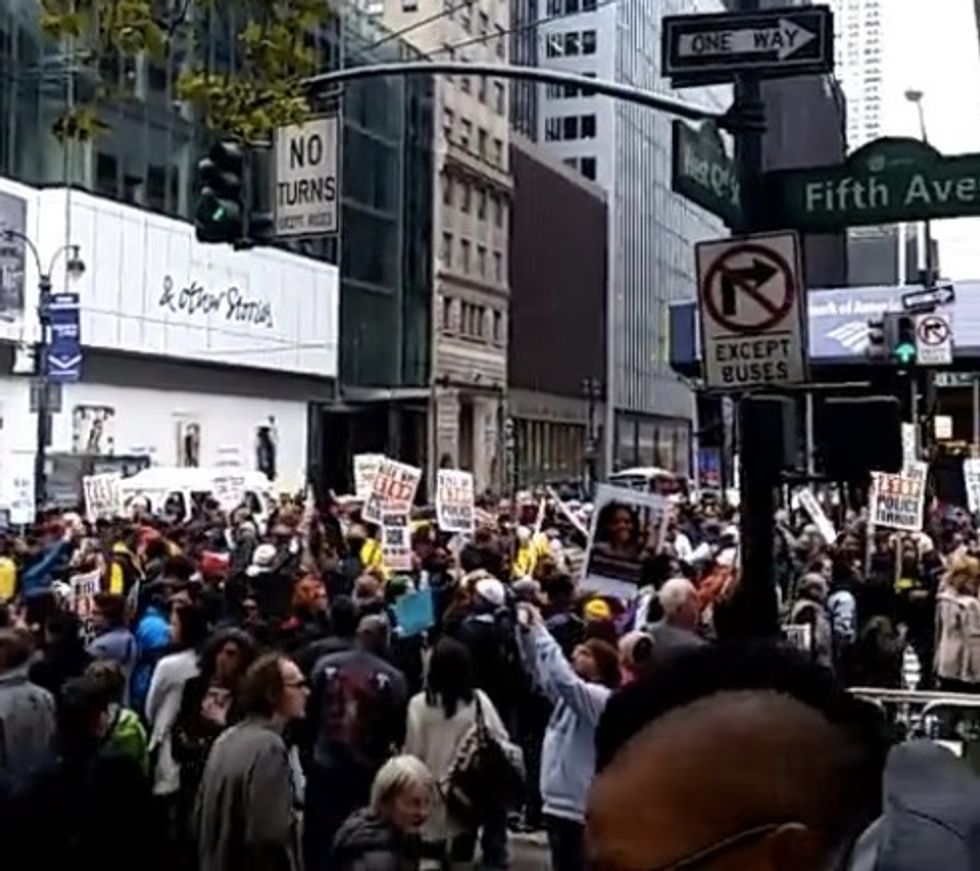 Image source: Vine
But the protest turned violent as activists clashed with police, resulting in several reported arrests.
Content warning: Video in first tweet contains strong language.
#NYPD making violent arrests at #RiseUpOctober now! #BlackLivesMatter#JailSupportpic.twitter.com/MEBxcGinFY

— Ash J (@AshAgony) October 24, 2015
First arrest at #RiseUpOctober march. She says NYPD smacked the phone out of her hand. pic.twitter.com/e3xoSDDPR2

— Keegan Stephan (@KeeganNYC) October 24, 2015
Third and fourth arrests at peaceful #RiseUpOctober march against police violence. pic.twitter.com/LsyFIkrrSO

— Keegan Stephan (@KeeganNYC) October 24, 2015
Fifth peaceful protester arrested at #RiseUpOctober march in NYC right now. pic.twitter.com/4dcPsqXcsX

— Keegan Stephan (@KeeganNYC) October 24, 2015
The protest attracted thousands, WPIX-TV said, and was reportedly filled with chants such as "justice now."
But one chorus of voices was caught on camera saying something entirely different: "F*** the police, from New York to Greece!"
Content warning: Strong language.
The clip also shows activist and professor Cornel West — who helped organize the event — and filmmaker Quentin Tarantino standing just feet away from the chanting, but apparently not taking part in it.
Here's West and Tarantino at other points during the day:
.@CornelWest is marching at the front of #RiseUpOctoberpic.twitter.com/wJLwhnvDn1

— Ben Norton (@BenjaminNorton) October 24, 2015
Quentin Tarantino is out here with #RiseUpOctober.. But where are the prominent black celebrities? pic.twitter.com/AVZUnFGFWU

— Emily Weill (@saywhut__) October 24, 2015
(H/T: The Gateway Pundit)
—
Follow Dave Urbanski (@DaveVUrbanski) on Twitter