A team of international researchers excavating a site in Greece thought they were digging on a Bronze-Age house, but when they discovered a skeleton, they knew it was a grave.
And not just an ordinary grave.
Senior research associate Shari Stocker with the University of Cincinnati told the institution's magazine the find represents "one of the most magnificent displays of prehistoric wealth discovered in mainland Greece in the past 65 years."
The tomb, which Stocker said had not been opened before now, belongs to a 3,500-year-old Mycenaean warrior.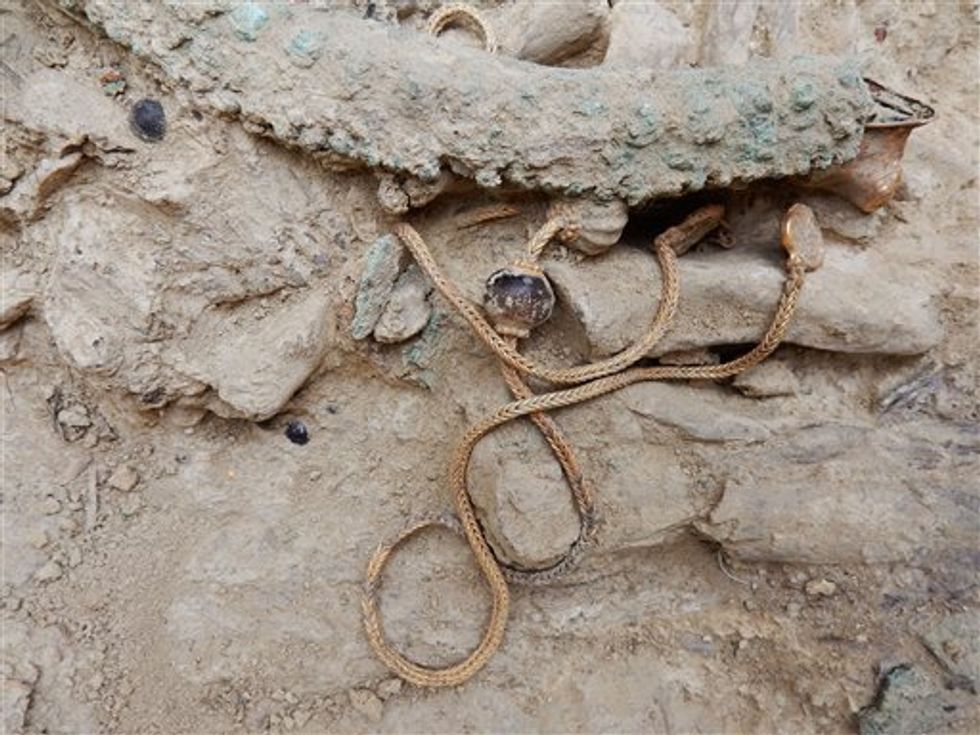 This picture provided by Greece's Culture Ministry on Monday, Oct. 26, 2015, shows a long gold chain, decorated with semi-precious stones and hammered-gold plant decorations, as it was found in a 3,500-year-old warrior's tomb.  (Greek Culture Ministry via AP)
The University of Cincinnati team has been working at a site called the Palace of Nestor, which the magazine states is associated with Homeric legend and is thought to have been destroyed in a fire around 1200 B.C.  The ruins as a whole were rediscovered in Pylos in 1939. The university's team began exploring a previously uncharted field near the palace in May.
"This latest find is not the grave of the legendary King Nestor, who headed a contingent of Greek forces at Troy in Homer's 'Iliad.' Nor is it the grave of his father, Neleus. This find may be even more important because the warrior pre-dates the time of Nestor and Neleus by, perhaps, 200 or 300 years," Stocker told the magazine. "That means he was likely an important figure at a time when this part of Greece was being indelibly shaped by close contact with Crete, Europe's first advanced civilization."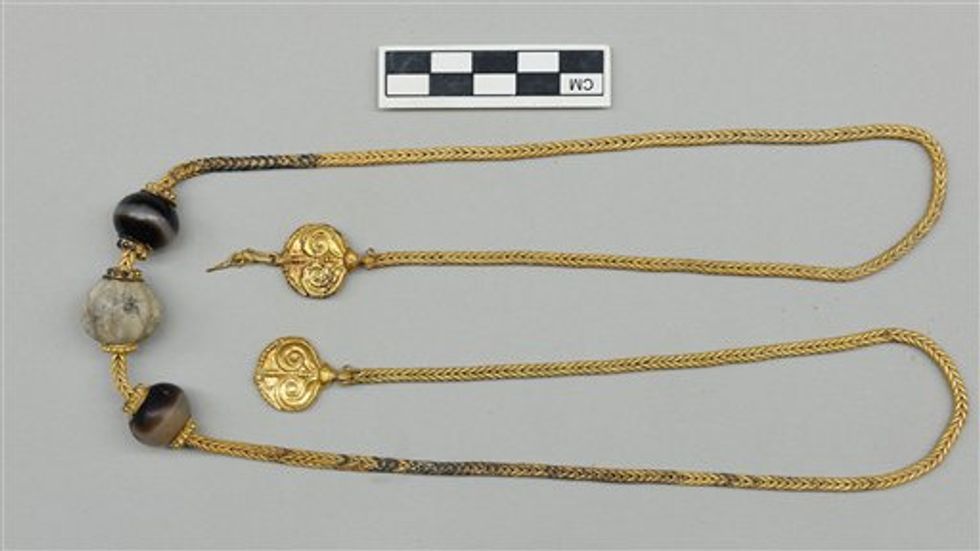 Authorities say a 3,500-year-old, treasure-filled grave of a warrior has been discovered near an ancient palace in southern Greece. The Culture Ministry says the grave is the most spectacular discovery of its kind from the Mycenaean era in more than six decades. (Greek Culture Ministry via AP)
Among the 1,400 artifacts in the tomb of the man, who is thought to have died between 30 and 35 years old, were objects made of precious metals, jewels, weapons and ivory.
Stocker said it was "amazing that no ceramic vessels were included among the grave gifts." What she means is that the cups and pitchers that were in the tomb were all silver, gold and bronze.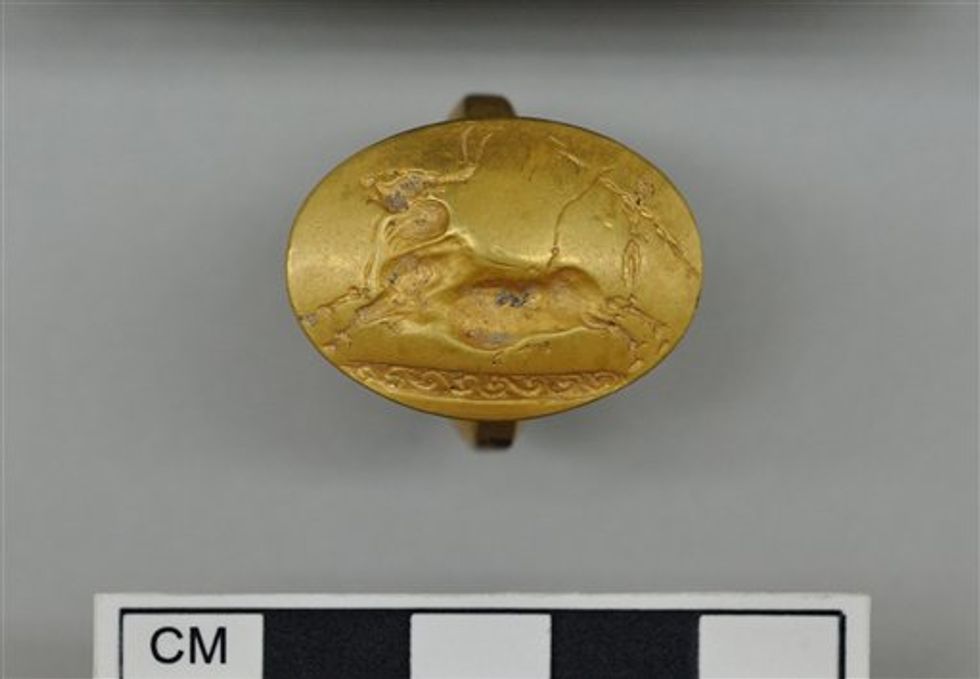 The tomb  contained about 1,400 artifacts, including gold and silver jewelry, cups, bronze vases, engraved gemstones and an ornate ivory-and gilt-hilted sword.(Greek Culture Ministry via AP)
"He clearly could afford to hold regular pots of ceramic in disdain," Stocker told the university's magazine of the tomb's occupant.
Here is video of Stocker at the site:
James Wright, director of the American School of Classical Studies in Athens told the New York Times that "[p]robably not since the 1950s have we found such a rich tomb." He added that its discovery was "a real highlight of my archaeological career."