Republican presidential contender Ben Carson has taken a slight lead over Donald Trump nationally in the latest New York Times/CBS News poll — unseating Trump from the No. 1 spot for the first time in months.
According to the latest Times/CBS poll, which is released every Tuesday, Carson is polling at 26 percent among Republican primary voters compared to Trump at 22 percent. This is the first time Trump has not led in the poll since it began in July.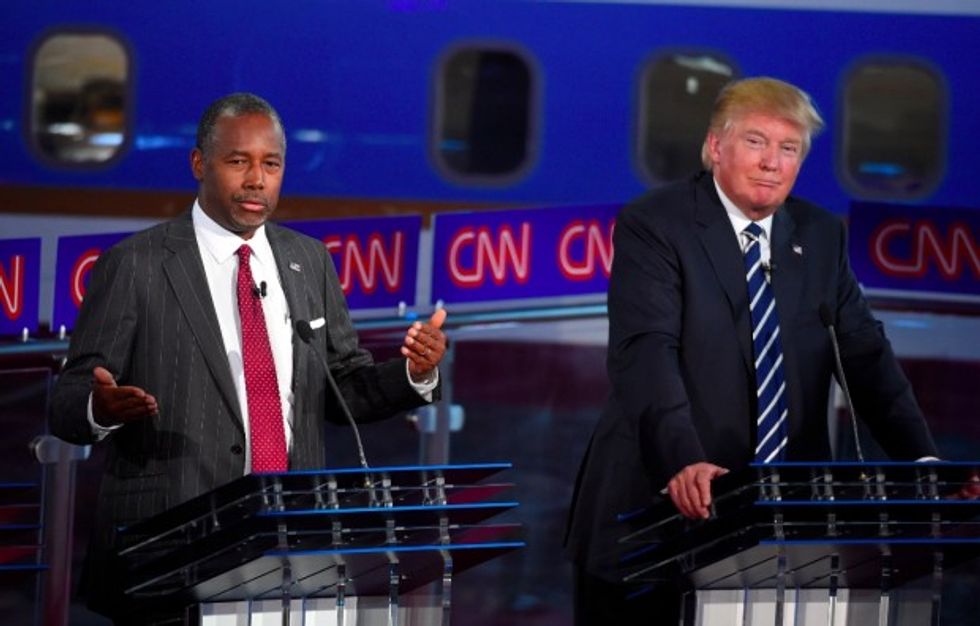 Republican presidential candidate Donald Trump, right, listens as Ben Carson speaks during the CNN Republican presidential debate at the Ronald Reagan Presidential Library and Museum Sept. 16, 2015, in Simi Valley, California. (AP Photo/Mark J. Terrill)
The national survey concluded that no other Republican presidential candidate came close to the retired neurosurgeon and the real estate mogul. Florida Sen. Marco Rubio placed third with 8 percent, followed by former Florida Gov. Jeb Bush and former HP CEO Carly Fiorina with 7 percent each.
Kentucky Sen. Rand Paul, Texas Sen. Ted Cruz, former Arkansas Gov. Mike Huckabee and Ohio Gov. John Kasich each received 4 percent.
According to the poll, the majority of Republican primary voters actually have not yet made up their minds about their candidate of choice. Seventy percent of primary voters who said they initially liked a certain candidate also said they had not yet figured out who they would back when it comes time to vote.
The poll contended that the difference between Carson and Trump does lie within the margin of sampling error, which is plus or minus six percentage points for every candidate. The nationwide poll was conducted Oct. 21-25 via landline telephone with 575 Republican primary voters.