President Barack Obama made a spirited case for stricter gun control but insisted such laws wouldn't infringe on constitutional rights.
"Some of you that are watching certain TV stations or listening to certain radio programs, please do not believe this notion that somehow I'm out to take everyone's guns away," Obama said Tuesday in Chicago when speaking to the International Association of Chiefs of Police.
"Every time a mass shooting happens, one of the saddest ironies is suddenly the purchase of firearms and ammunition jumps up because folks are scared into thinking Obama is going to use this as an excuse to take away our Second Amendment rights," Obama continued. "Nobody is doing that. We're talking about commonsense measures to make sure that criminals don't get them, to make sure we are protecting ourselves."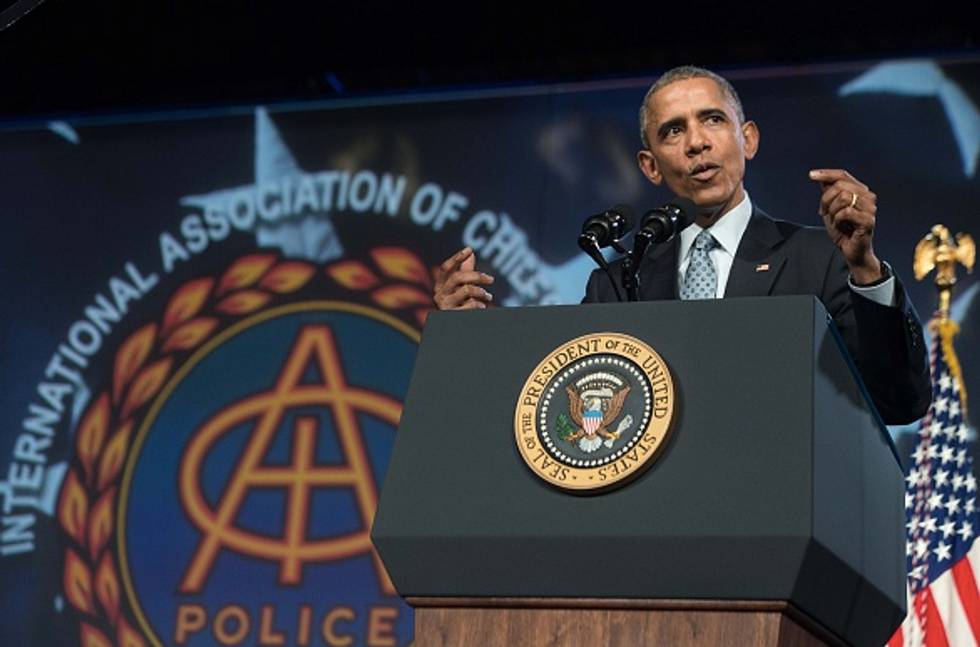 President Barack Obama speaks at the International Association of Chiefs of Police Annual Conference and Exposition in Chicago on Oct. 27. (Nicholas Kamm/AFP/Getty Images)
Obama added that fewer gun restrictions should not be associated with freedom.
"Fewer gun safety laws don't mean more freedom, they mean more danger, certainly more danger to police, more fallen officers, more grieving families," Obama said.
Specifically, the president called for stricter background checks and for restricting some semi-automatic firearms.
"We should require national criminal background checks for anyone who wants to purchase a gun," Obama said, adding, "We shouldn't sell military-style assault weapons to civilians. Cops shouldn't be out-armed by the criminals they pursue."
He further compared gun crimes to terrorism as a threat to safety.
"Just to give you a sense of perspective, since 9/11, fewer than 100 Americans have been murdered by terrorists on American soil, while 400,000 have been killed by gun violence," Obama said. "That's like losing the entire population of Cleveland or Minneapolis over the past 14 years. I refuse to accept the notion we couldn't have prevented some of those murders."
He further insisted that Congress must act, saying, "I'm going to keep calling on the folks in Congress to change the way they think about gun safety. If they don't, I'm going to keep calling on Americans to change the folks in Congress until they get it right."