Former Iran President Akbar Hashemi Rafsanjani said in an interview with Iran's state-run news outlet published this week that, while Iran initially aimed to use its nuclear technology for peaceful purposes, it "never abandoned" the plan to one day develop a nuclear weapon, an Iranian opposition group reported.
"Our basic doctrine was peaceful usage of the nuclear technology although we never abandoned the idea that, if one day we are threatened and it is imperative, we would have the capability for going the other path as well," Rafsanjani said, according to a translation of the interview by the National Council of Resistance of Iran.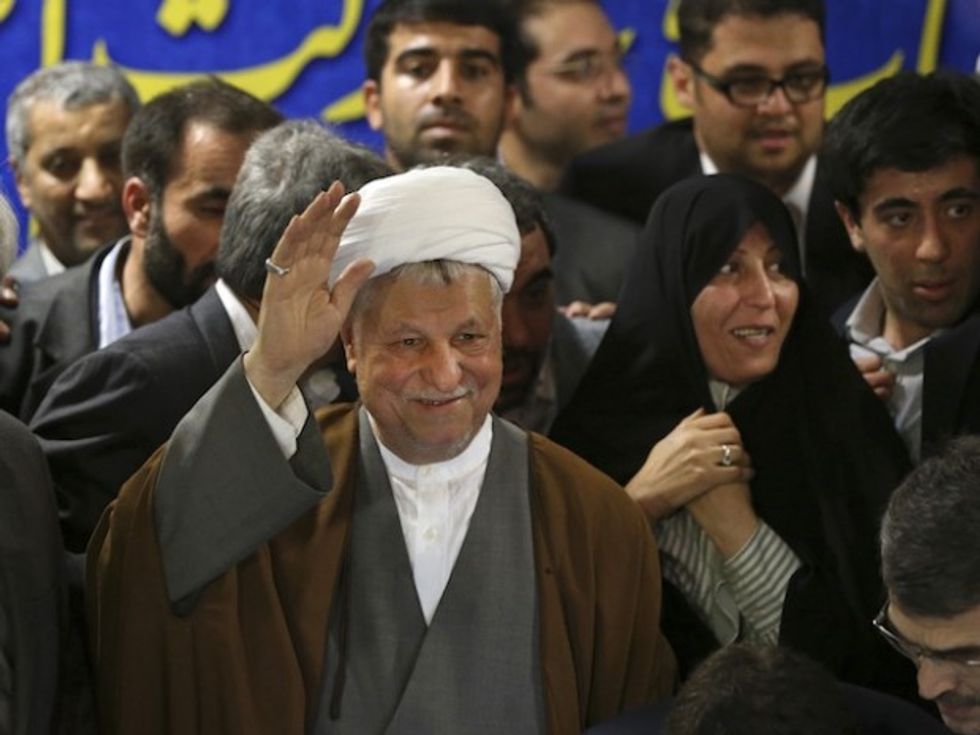 Former Iran President Akbar Hashemi Rafsanjani waves to media in Tehran. (AP Photo/Ebrahim Noroozi, File)
Rafsanjani's interview with the official Iranian news agency IRNA was not published on IRNA's English-language site.
The Times of Israel noted that Rafsanjani's comments "would appear to mark the first time a top Iranian official — current or former — has said the country sought a nuclear weapon, in contravention of repeated assurances by the regime that its enrichment program is and always has been peaceful."
In the translation posted by NCRI, the former president said that nuclear development began in the 1980s during the Iran-Iraq war.
"At the time that we started, we were at war and we were looking to have this capability for the day that our enemy would want to resort to the nuclear bomb," Rafsanjani said.
He also described how he and Ayatollah Ali Khamenei — today Iran's supreme leader — sought to meet A.Q. Khan, the prominent scientist behind Pakistan's atomic bomb development.
"It seemed that Mr. Abdul Qadeer Khan himself believed that the Islamic World should have the nuclear bomb. He believed in this and it was he who built Pakistan's nuclear bomb although it took time to build the bomb. In any case, they agreed to help us a bit," the translation of Rafsanjani's remarks said.
Iranian leaders have insisted repeatedly that Iran's nuclear program is for peaceful purposes.
(H/T: Times of Israel)