Dallas' police chief is under fire after the release of a surveillance video that purportedly captures the leader of the Dallas Black Police Association discussing how he receives favors from the police chief.
Police Chief David Brown has faced criticism from several police officer groups in the past month. Those criticisms and questions increased Tuesday when an internal surveillance video from the BPA with a timestamp of June 2013 was leaked anonymously to Dallas Mayor Mike Rawlings. According to KXAS-TV, other police groups have complained that they do not receive the kinds of favors that Brown allegedly has provided to the BPA.
In the recording, also obtained by KXAS, BPA President Cletus Judge can be heard on the phone advocating for the end of a lawsuit filed against Brown as it was getting in the way of favors Brown had allegedly promised to Judge and the BPA. According a recording obtained by the Dallas Morning News, Judge also discussed how Brown "helped me with transfers" and helped him "get people out of trouble."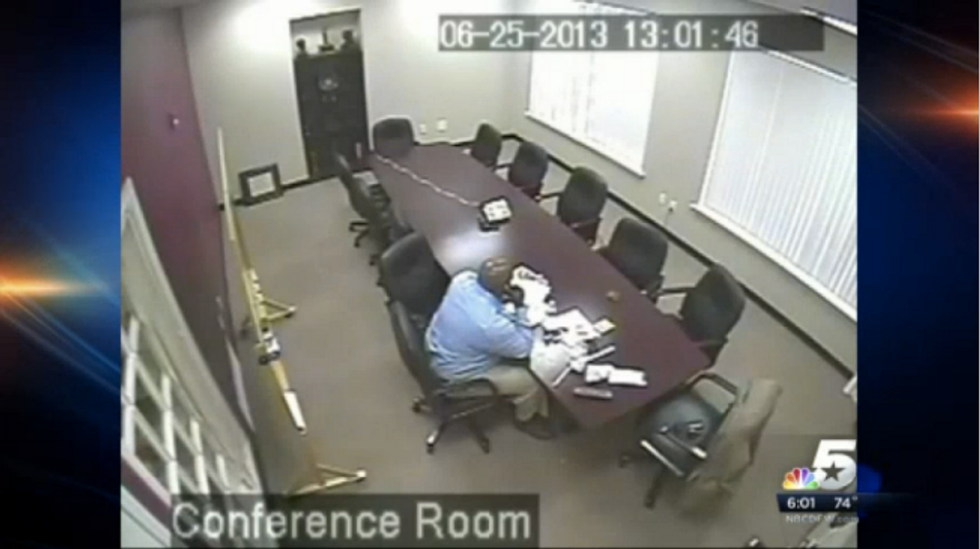 New surveillance video purportedly captures the president of a black police organization discussing favors the group receives from Dallas Police Chief David Brown. (Image source: KXAS-TV)
"Chief Brown, every time I ask Chief Brown to do something, when I ask him to move people or get somebody a good job, he has done it," Judge, a homicide sergeant, says in the recording. "Now, I have no relationship with the chief. He is pissed at me about the whole thing."
"Well it's the truth coming out," Dallas Fraternal Order of Police President Richard Todd told KXAS. "Honestly, I think the citizens of Dallas deserve better than that. They deserve the best candidate for that position."
While Todd leads much of the opposition against Brown, Rawlings, the BPA and Judge have defended the chief against criticisms in the past. Judge was also among those who threw a recent rally on behalf of Brown.
"The decisions that I make are not based on any personal favors," Brown said in a statement to TheBlaze. "My decisions are made in the best interest of the department and the citizens of the City of Dallas." 
Dallas' BPA did not respond to a request for comment from TheBlaze.