Voters in the battleground state of Colorado will likely have a big issue to vote on in 2016 — and it's not the presidential election. The Centennial State is looking to implement a universal health care proposal that goes above and beyond what Obamacare offers.
"Part of the reason Obamacare is so unpopular is that it's a one-size-fits-all approach for 50 different states," Colorado Democratic state Sen. Irene Aguilar, a doctor, told TheBlaze. "What we are hoping to do with this is create a plan that works for Colorado."
The plan would cover every resident in the state primarily through the government, but supporters are careful about calling it "single-payer." Aguilar is leading the charge for the ColoradoCare ballot initiative that if approved by voters would have a $25 billion price tag, financed through a new 10 percent payroll tax — 6.67 percent from employers and 3.33 percent from employees. Still, advocates say it would save $1.6 billion in health care costs for individuals across the state and $3.1 billion for businesses.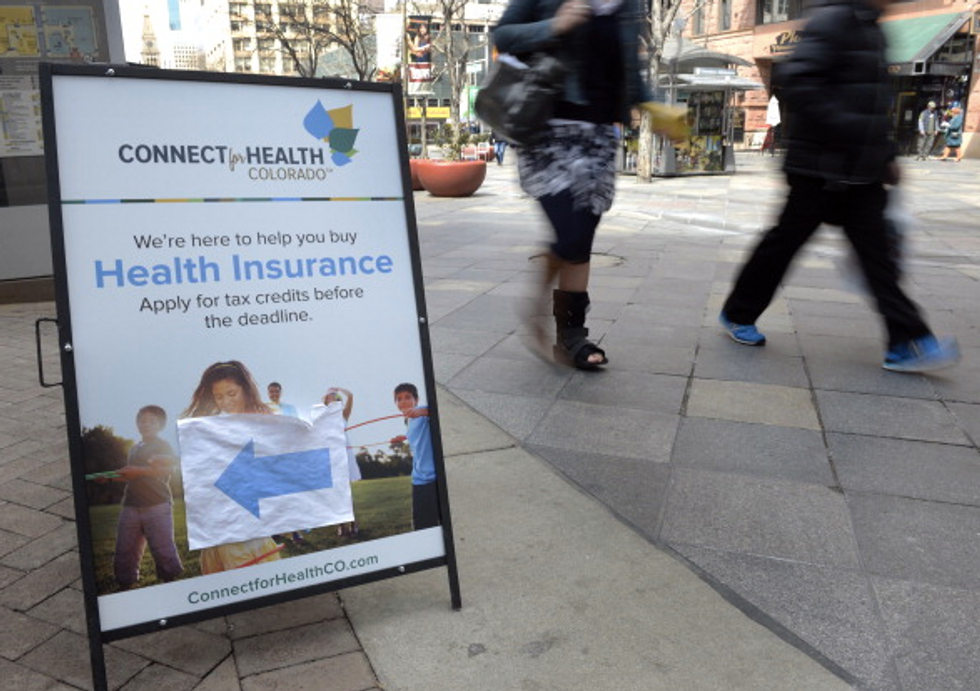 A sign in Denver beckons people to sign up for health insurance through the Affordable Care Act via Connect for Health Colorado. (Kathryn Scott Osler/The Denver Post)
The Obama administration allows waivers for states that meet certain qualifications in creating an alternative health care plan.
"The Obama administration is not going to approve a waiver for a more free market plan," Jonathan Lockwood, executive director of Advance Colorado, which opposes the state's ballot initiative, told TheBlaze. "This would be the largest tax increase ever introduced in Colorado."
Proponents gathered 156,107 signatures — 98,000 were required to get the measure on the 2016 ballot. The signatures will be formally verified in late November.
"After the Affordable Care Act, many can't afford the new health care deductibles and premiums themselves," former Colorado Democratic state Sen. Jeanne Nicholson told TheBlaze. "Uninsured has gotten better since the Affordable Care Act. But the number of underinsured has gotten worse. The number of underinsured has jumped 16 percent."
Nicholson, a nurse and an advocate for the ColoradoCare ballot initiative, said it can be a "trick question" to ask if the plan is "single-payer." The reason is that while it provides health insurances for 100 percent of Colorado's residents it would divide those residents into four areas: Veterans would get their medical coverage through the Veterans Administration; the Indian Health Service would serve Colorado's significant Native American population; Medicare would be available for seniors in the state; and ColoradoCare for everyone who doesn't fall into those categories. Essentially, anyone who isn't a Native American, senior or veteran would be eligible for the new program if it is established.
Colorado established an exchange under the existing federal law called Connect Health Colorado, but projected operating costs prompted the state to raise fees on insurance consumers and those who sign up on the exchange. Adding to the state's burden, the co-op recently went under.
The state of Vermont scrapped its plan last year for a single-payer plan, fearing it would be too expensive and harm the state's economy.
Financing the Colorado plan would mean tripling taxes, which is one reason the ballot initiative will likely fail in a state where both Democrats and Republicans have libertarian leanings, Lockwood asserted.
"The campaign has been shady from the beginning," Lockwood said. "They go to conservatives in places like Colorado Springs and say it's about repealing Obamacare. They go to liberal areas like Boulder and say it's about universal health care."
Aguilar was uncertain if the initiative would influence the presidential race.
"We wanted it on the ballot in a presidential year because that's when more people will turn out to vote, but I hadn't thought about whether it will draw more people to vote in the presidential race. It might," Aguilar said.