U.S. Rep. Dave Brat (R-Va.) was joined by eight other Republicans in voting for Rep. Daniel Webster (R-Fla.) in Thursday's House speaker election, a largely symbolic gesture as Rep. Paul Ryan's (R-Wis.) victory proved to be inevitable. Shortly after the election concluded, Brat revealed the reason behind his vote.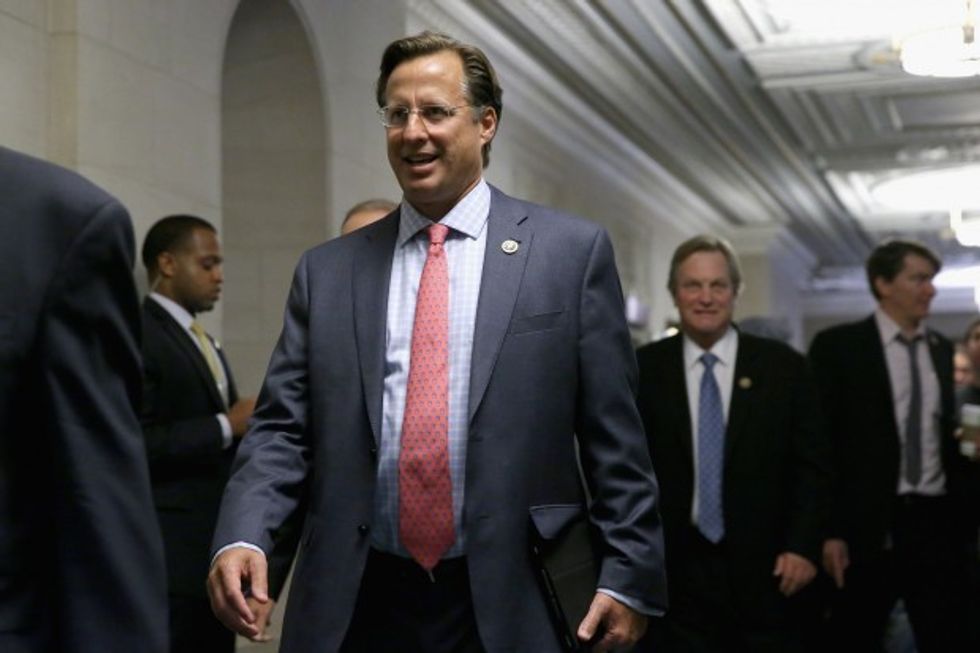 Rep. Dave Brat (R-VA) arrives for a House GOP conference meeting where members are due to for their candidate for the Speaker of the House in the Longworth Building on Capitol HIll October 28, 2015 in Washington, DC. Republicans are expected to elect House Ways and Means Committee Chairman Paul Ryan (R-WI) to be the next Speaker of the House, succeeding Rep. John Boehner (R-OH) who will retire from the House at the end of this week. (Photo by Chip Somodevilla/Getty Images)
"Before Congressman Ryan announced his consideration for the position, I made a promise to my constituents to only vote for a Speaker candidate who was willing to commit, on paper, to the ten Republican consensus principles I laid out," Brat said in a statement. "Unfortunately, I never received that confirmation from Congressman Ryan, preventing me from being able to support him."
Brat also congratulated Ryan on his victory and said he respects him for "his willingness to take on the responsibilities of the position."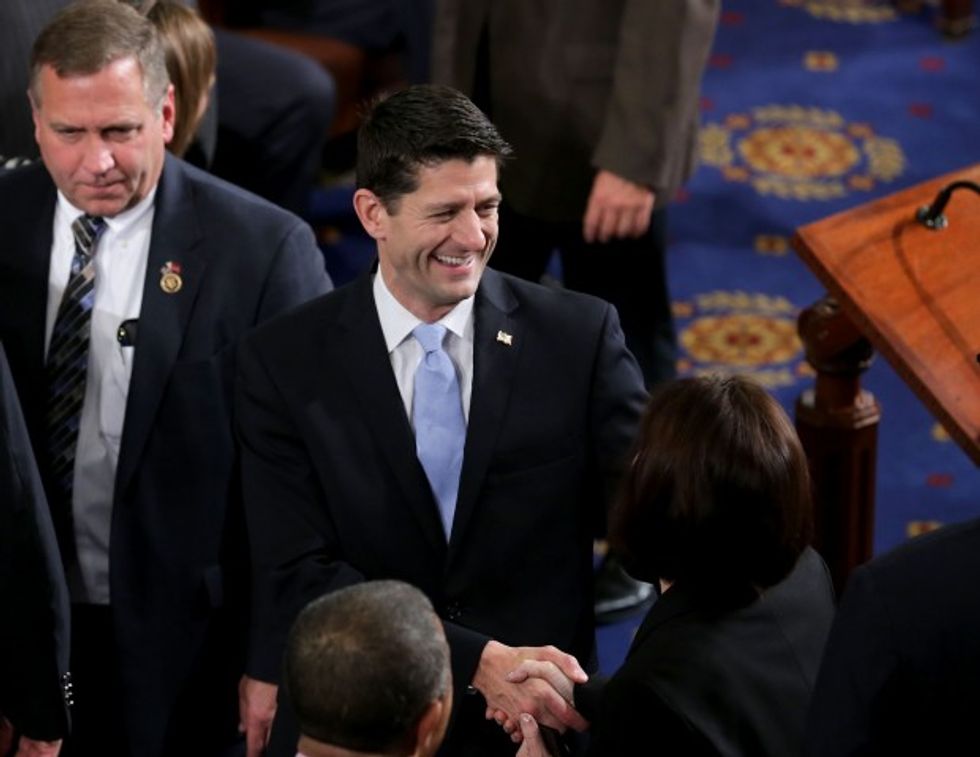 WASHINGTON, DC - OCTOBER 29: U.S. Rep. Paul Ryan (R-WI) greets fellow members of the U.S. House of Representatives on the floor of the House chamber October 29, 2015 in Washington, DC. The House is expected to elect Ryan (R-WI) as the 62nd Speaker of the House, replacing U.S. Rep. John Boehner (R-OH), later in the day. (Photo by Chip Somodevilla/Getty Images)
Here are the 10 principles Brat claimed Ryan declined to commit to:
Policy

1. Facilitate a budget that balances within 10 years and seek to enforce it through the authorizing and appropriations process.

2. Encourage committees to advance market-driven health care reforms to replace Obamacare.

3. Support policies that secure the border and enable interior enforcement while opposing amnesty for illegal immigrants.

4. Urge all committees to advance agendas based on limited government, economic opportunity, and fiscal responsibility.

5. Enforce the rule of law and separation of powers against executive (presidential) overreach.

Process

6. Seek reforms of the Republican Conference Rules so leadership committees better represent the American people.

7. Adhere to the majority-of-the-majority principle for bringing legislation to the floor.

8. Support changes to the budget process to promote fiscal responsibility, particularly regarding mandatory programs (70% of current spending).

9. Empower committee members to choose chairs and craft reform legislation without fear of retaliation.

10. Broaden opportunities to offer amendments and legislation on the House floor with full debate.
Ryan received 236 votes in the speaker election, while former Democrat Speaker Nancy Pelosi received 184 followed by Webster with nine votes. There were also three "other" votes. In total, 432 out of 435 members voted in the election — and Ryan didn't cast a vote.
The other eight Republicans who defied the Republican majority and voted for Webster are Reps. Louie Gohmert (R-Texas), Paul Gosar (R-Ariz.), Thomas Massie (R-Ky.), Bill Posey (R-Fla.), Randy Weber (R-Texas), Ted Yoho (R-Fla.) Curt Clawson (R-Fla.) and Walter B. Jones (R-N.C.).
---