Just hours before the annual trick-or-treating at the White House, President Barack Obama issued a proclamation declaring November 2015 to be National Diabetes Month, which mentioned healthy eating several times, as well as first lady Michelle Obama's "Let's Move" healthy eating and exercise initiative for children.
That didn't stop the president and first lady, however, from handing out sugary treats for Halloween, including a cookie recipe that includes two pounds of butter.
The Obamas provided cookies for Washington, D.C., area school children, as well as children of military families at the White House. The White House said about 4,200 attended the event.
A press release from the first lady's listed the following ingredients for its Halloween cookies.
1 lb. Sugar

1 tsp Vanilla

2 lbs Butter

1 tsp Salt

3 Eggs

3 lbs All Purpose Flour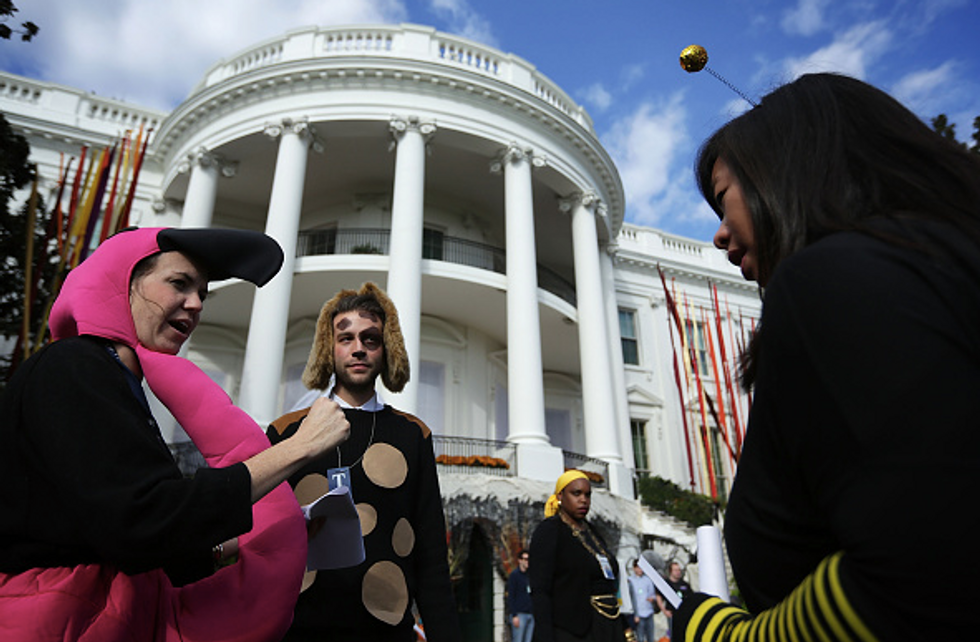 White House staffers in costumes discuss prior to a Halloween event at the South Lawn of the White House October 30, 2015 in Washington, DC. President Obama and the first lady will host local children and children of military families for trick-or-treating at the White House. (Photo by Alex Wong/Getty Images)
The event also provided the following treats:
• A box of White House Hershey Kisses

• A White House Halloween Cookie

• A box of White House M&Ms

• Fruit Bars

• Kettle Corn

• Bo and Sunny baseball cards

• An assortment of candies
Separately, the presidential proclamation on diabetes said:
"Taking diabetes medications as prescribed, getting plenty of regular exercise, eating healthily, and controlling blood pressure and cholesterol levels can help manage type 2 diabetes."
The proclamation continues:
"In addition, through a comprehensive and sustained effort, the first lady's Let's Move! Initiative is working to put kids on a path to a healthier future by ensuring every family has access to healthy, affordable food, and by helping kids maintain an active lifestyle."
—