NORFOLK, Va. (TheBlaze/AP) — Donald Trump outlined an unreleased position paper to improve veterans' health care and other services on Saturday, as he faces continued criticism for failing to provide policy specifics.
The Republican presidential contender previewed his plans to reform the Department of Veterans Affairs at a campaign appearance in front of the battleship USS Wisconsin in Norfolk, Virginia — the same place where 2012 GOP nominee Mitt Romney announced his vice-presidential pick.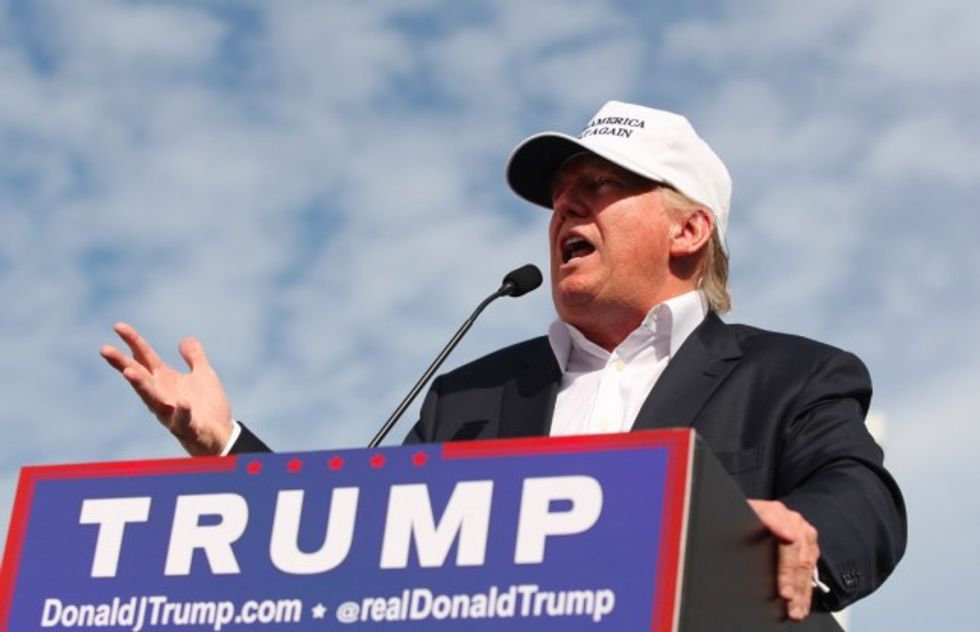 Republican presidential candidate Donald Trump speaks to supporters during a rally, Saturday, Oct. 31, 2015, in Norfolk, Va. (AP Photo/Jason Hirschfeld)
Speaking in front of several thousand supporters Saturday, Trump argued that veterans should be able to receive treatment any time they want from any doctor or facility that accepts Medicare.
The change, he said, would help improve wait times and services by adding competition.
Also part of the plan is "firing the corrupt and incompetent VA executives who let our veterans down," Trump said.
Trump also said he wants to improve health services for female veterans, provide new incentives for companies to hire veterans and provide new assistance to help veterans adjust to civilian life.
"We're going to transform the VA to meet the needs of the 21st century," Trump, who appeared to be reading his yet-to-be-released plans, said. "We're going to make the VA great again."
Trump said that overall the changes he'd propose would cost less than the system now in place.
Trump has made a point of criticizing the way veterans in the country are treated ever since he drew criticism by questioning Sen. John McCain's status as a war hero early in his campaign.
Trump has released policy papers on immigration, the Second Amendment and tax reform.
Here's Trump's speech. His remarks regarding veterans affairs begin 1 hour and 1 minute into the video:
—
Follow Dave Urbanski (@DaveVUrbanski) on Twitter