After receiving footage from the inside of a car as it was swept away in Texas floodwaters, a local news station decided to interview the man who shot the video — but he was still stuck in a tree.
KVUE-TV called Kerry Packer Friday morning, whose wife had sent the station the harrowing footage from inside the car as it filled with water and floated through the flood, to discuss the situation. Packer told the pair of anchors that while he was driving, it only seemed like a little bit of water at first, but then that quickly changed.
"[The flood] probably swept me about half a mile into the woods, and as soon as the car was almost filled with water, I swept past the tree, and I jumped out of the window and climbed up a tree," Packer told the station in Austin. "So I'm about 20 feet up a tree right now."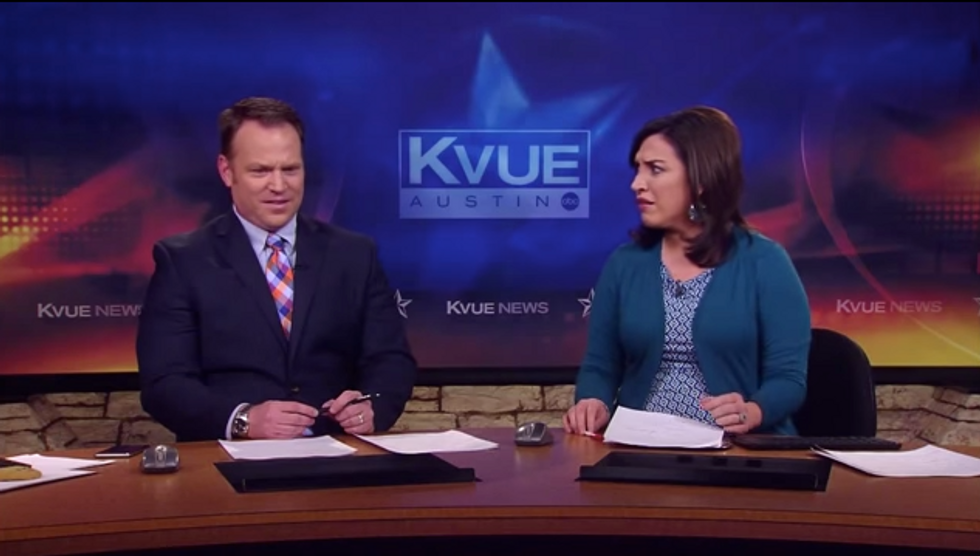 Image source: YouTube
"Wait, you're still in the tree?" an anchor asked incredulously.
Packer was, in fact, still clinging to the tree as he calmly described his surroundings and continued to climb higher the more the flood rose. He told KVUE that he had been in the tree since shortly after 9 a.m. and while he could see the muffler of his car approximately 20 minutes before his live interview, his vehicle was completely submerged at the point of the interview.
"It's a little cold, but I did Boy Scouts for 20 years, and so I know how to keep my energy up and keep warm so I'm doing fine," Packer told the concerned anchors.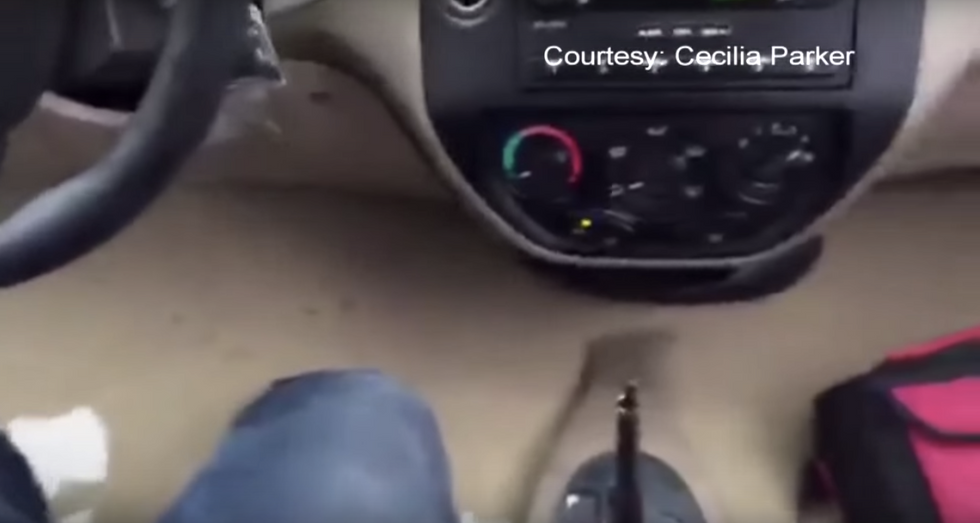 Image source: YouTube
"For as far as I can see around me, there's water," Packer also described. "It looks like I'm in the middle of a lake, that's how bad the flooding is here. I don't know how far I am from the road now, but I would guess about a half a mile judging how fast my car was being swept down."
Both KVUE anchors were visibly shocked by Packer's whereabouts and promised the Austin man that the station was attempting to get help for him and offered prayers.
"Gosh, I have never in my life imagined," one anchor said. "Hopefully they will get some help to that man in a tree."
Both Packer and his wife called authorities before speaking to the news station, and he was eventually rescued after more than four hours by a rescue diver and a helicopter.
According to KVUE, Austin is experiencing historic flooding. Onion Creek reached a level of 25 feet as the storm has knocked down multiple power lines and closed numerous roads.
Watch Packer's interview with KVUE while he was stranded in a tree below.
And watch Packer's interview with KVUE after he was safely rescued from what the news anchor described as "one of the most unbelievable stories of survival."