Republican presidential candidate Donald Trump and his campaign have decided that they will work with television executives directly in order to negotiate the content and format of future primary debates following the controversial CNBC GOP debate.
Trump's move — which, according to the Washington Post's GOP sources familiar with the campaign's decision, came shortly after a few dozen Republican strategists created a list of demands for future primary debates — would thwart efforts by the other campaigns to pressure media outlets. The real estate mogul, the Washington Post reported, plans to reject the joint letter from at least 11 other presidential campaigns to television network hosts.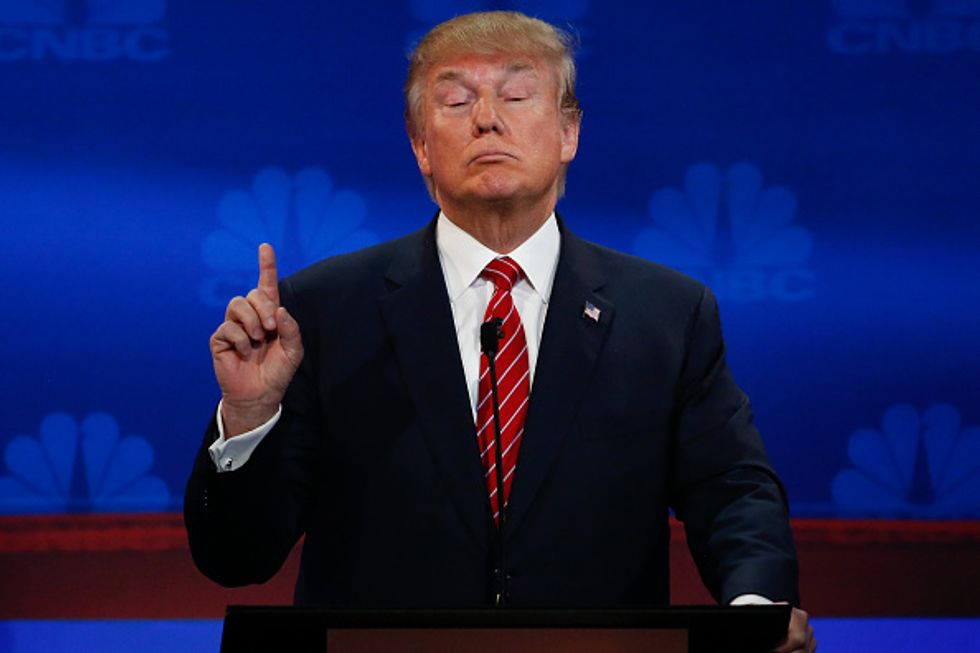 Donald Trump participates in CNBC's "Your Money, Your Vote: The Republican Presidential Debate" live from the University of Colorado in Boulder, Colorado, Oct. 28. (David A. Grogan/CNBC/NBCU Photo Bank)
Two of Trump's senior aides reportedly attended the meeting of Republicans on Sunday but did not leave the meeting convinced that Trump would remain the frontrunner among Republicans if he joined the group's effort. The Washington Post also reported that the aides did not believe Trump's involvement with the rest of the group could guarantee him the most possible airtime while on primetime stages.
The Republicans met Sunday and seemingly agreed on a specific list of demands in order to have greater control over future debates as opposed to that control being had by television networks and the Republican National Committee.
"The amazing part for me was how friendly the meeting was," Ben Carson campaign manager Barry Bennett, who hosted the meeting, said. "Everybody was cordial. We all agreed we need to have these meetings more regularly."
According to CNBC, one contentious point among those gathered was whether or not to reinstate the NBC News/Telemundo debate. Sources told CNBC that former Florida Gov. Jeb Bush's aides wanted to reinstate the debate yet Trump's campaign manager, Corey Lewandowski, disagreed. He reportedly also threatened a boycott if the debate was to be reinstated.
"What it really comes down to is the candidates want to have more control of the ability to negotiate with the networks," Lewandowski said after the meeting.
(H/T: Washington Post)