Apple co-founder Steve Wozniak has high hopes for self-driving cars in the relatively near future.
Wozniak, a keynote speaker at the Gartner Symposium/ITxpo in Gold Coast, Australia, last week said he believes driverless cars will become the norm within just two decades. In just the next five years though, he said all new cars will have some sort of assistance or self-driving element to them.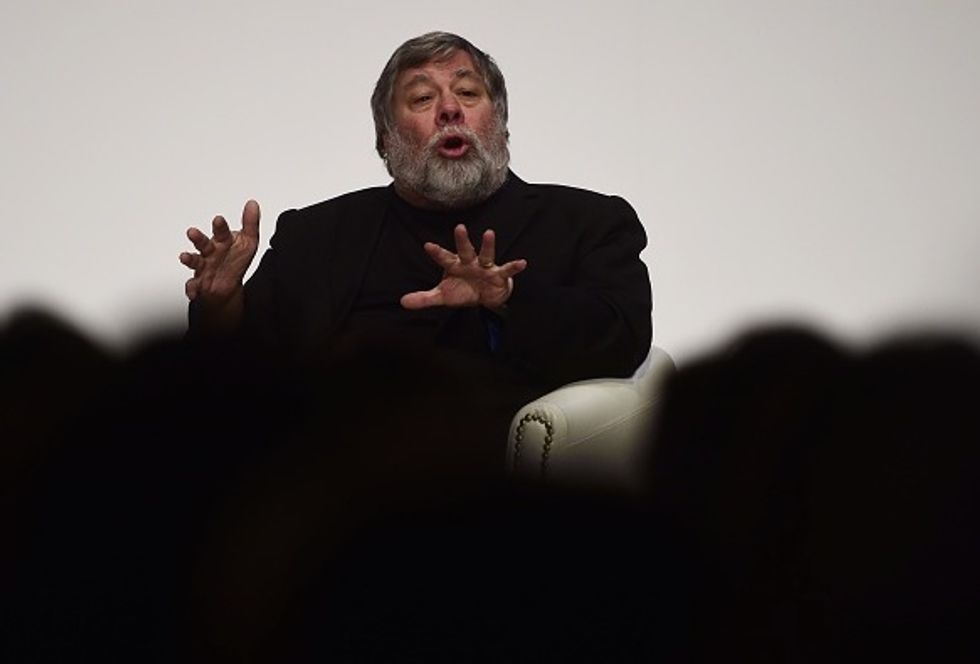 US Apple co-founder and engineer Steve Wozniak gestures during a chat as part of the South Summit in Madrid on October 7, 2015. (PIERRE-PHILIPPE MARCOU/AFP/Getty Images)
Here's more from CIO on Wozniak's thoughts regarding self-driving cars:
"Self driving cars is the biggest technology for the future," said Wozniak during his keynote at the Gartner Symposium/ITxpo at the Gold Coast.

"In the future, self driving cars will avoid problems humans make," he said. They will have artificial intelligence. They will see speed limits, red lights and people walking across their path and even any kind of obstacles.

"In 20 years, no human drivers will be allowed except for the young kids at Disneyland."
The comments from the man who is currently the chief scientist at Fusion-io come at a time when self-driving vehicles seem to be making headlines daily.
Just this week Nissan Motor Co. gave reporters 30-minute test rides in a prototype vehicle on pre-programmed roads in Tokyo, showcasing how it is smart enough to navigate intersections without lane markers, how it brakes safely to a stop without crashing into the vehicle in front, and how it knows the difference between a red light and a tail-lamp. The sensors are also designed to stop the car in unexpected situations, such as if a pedestrian were to jump out in front of it.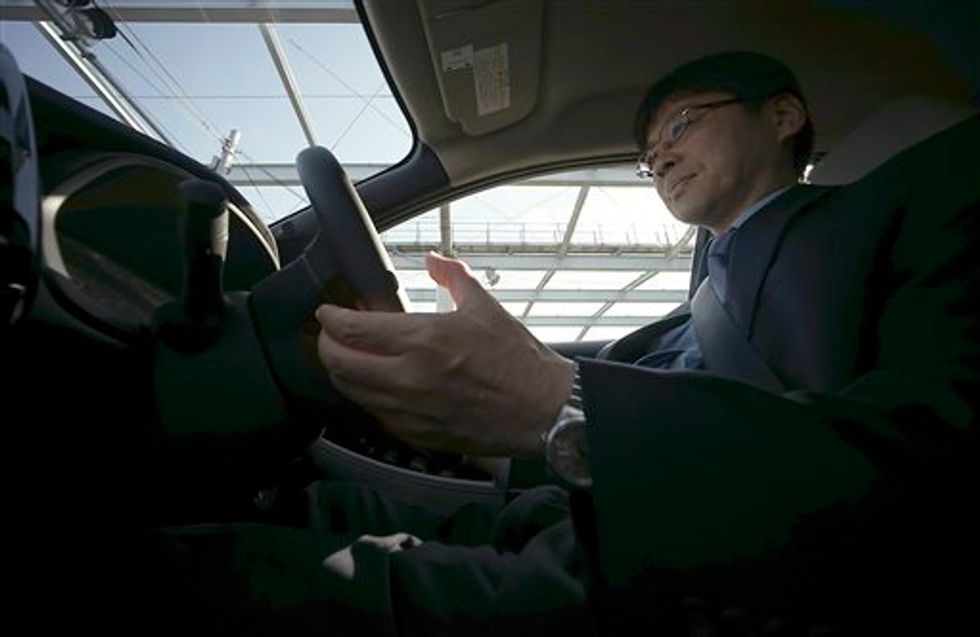 Nissan Motor Co. General Manager Tetsuya Iijima gets his hands off of the steering wheel of a self-driving prototype vehicle during a test drive in Tokyo, Tuesday, Nov. 3, 2015. Nissan's "intelligent driving" feature is smart enough to navigate intersections without lane markers. It also brakes safely to a stop without crashing into the vehicle in front, and it knows the difference between a red light and a tail-lamp. (AP/Eugene Hoshiko)
Nissan is preparing the autonomous driving option for vehicles going on sale in 2020, but it plans to have abbreviated versions of the technology starting from next year, such as keeping a safe distance from the car in front on congested roads.
All the major automakers, including Nissan's Japanese rival Toyota Motor Corp. and electric car maker Tesla Motors, as well as players outside the auto industry such as Google Inc., are working on the driverless car. Daimler and Mercedes Benz also have developed such technology.
As for Tesla drivers, the electric car company rolled out hardware in its Model S cars last year that provided an "incremental introduction of self-driving technology," the company stated. Last month, however, it released the 7.0 software for the autopilot feature to "deliver a range of new active safety and convenience features, designed to work in conjunction with the automated driving capabilities already offered in Model S."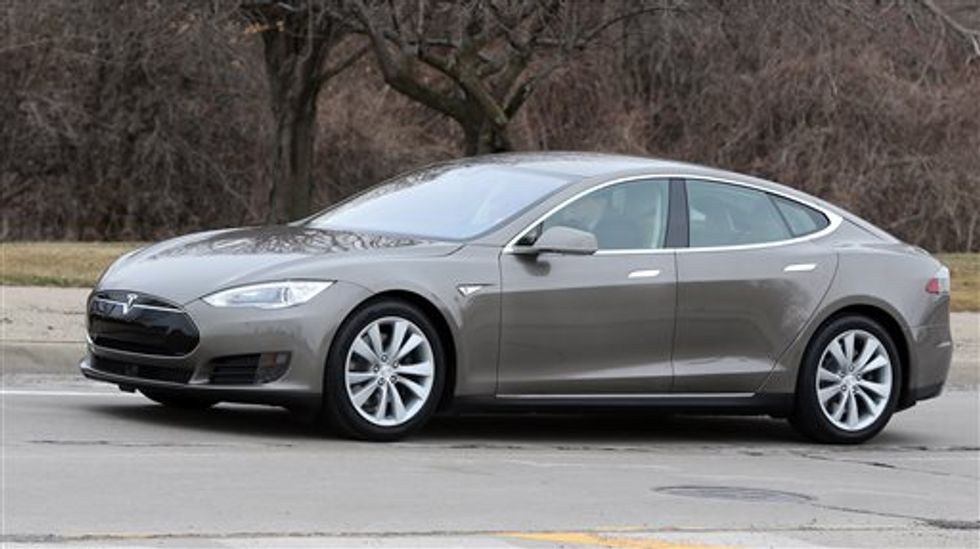 In this Tuesday, April 7, 2015 photo, a Tesla Model S 70-D electric car is test driven in Detroit. Tesla is going after mainstream luxury car buyers by boosting the range, power and price of its low-end Model S. The $75,000 all-wheel-drive 70-D can go a government-certified 240 miles per charge, has 514 horsepower and can go from zero to 60 in 5.2 seconds. (AP/Carlos Osorio)
Since its release, users have been documenting the good and the bad of Tesla's autopilot. The company has stressed that the autopilot feature is not meant to replace driver engagement.
And as for Apple, such vehicles are unconfirmed at this point, but rumors that the company is working on a car have been supported by comments from its CEO and other clues, such as it meeting with the California Department of Motor Vehicles regarding autonomous vehicle regulations.
Apple CEO Tim Cook told an audience in October that the automotive industry is ripe for "massive change," with new software, electric motors and self-driving capability becoming "much more important, in a huge way."
Cook, however, avoided commenting on reports that Apple may be building its own car, according to a video recording of his remarks at a technology conference sponsored by The Wall Street Journal.
"What we really want, hopefully in the short term, is we'd like people as they enter their car to be able to have an iPhone experience in their car," he said.
Apple has developed software for automakers called CarPlay, which lets drivers use an iPhone and its voice-activated assistant Siri to operate some electronic controls and entertainment systems.
(H/T: PC World)
—
The Associated Press contributed to this report.