Nationally syndicated radio host Rush Limbaugh asserted that the mainstream media no longer pretends to show objectivity.
"I firmly believe that the conservative-media revolution has caused the liberal media to abandon any pretense of objectivity and fairness and actively advocate on the Left's behalf," Limbaugh wrote in a piece posted on the National Review website, Wednesday, set to be republished in the Nov. 19 issue of National Review magazine.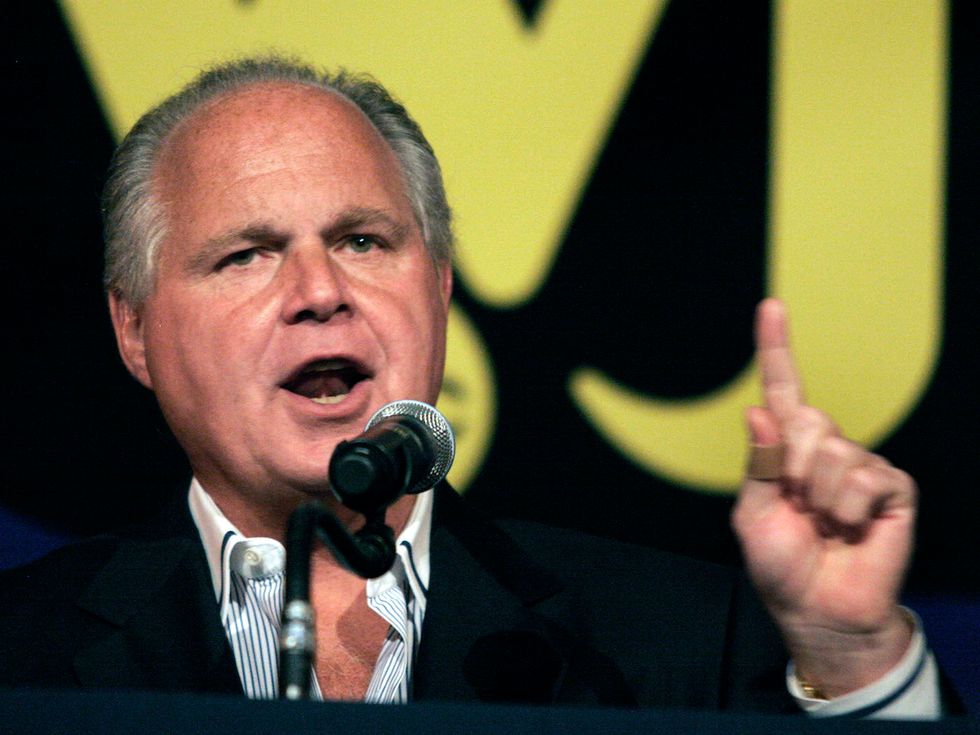 (Bill Pugliano/Getty Images )
Limbaugh wrote a largely biographical piece, but also assessed where the media stood in America.
"No one had ever succeeded in syndicating a national daytime radio show, and I was predicted to fail, too. But I didn't," Limbaugh wrote. "What was different about my show was that I was the only conservative voice in national broadcast media. I was it — just as National Review was the only major conservative magazine being published and read."
"Today, there are more than 2,500 stations doing talk radio, the vast majority of which lean conservative. There is Fox News, which debuted in 1997. There is the conservative blogosphere, and there are more conservative websites than you can count," Limbaugh wrote. He added, "So this has not been an AM-radio revolution exclusively; it has been a conservative-media revolution. And perhaps its greatest consequence has been the destruction of the Left's national-media monopoly."
The piece will be part of the 60th anniversary issue of National Review, and Limbaugh talked about his relationship with the magazine's founder and conservative leader William F. Buckley.
He also wrote about the shots taken at him by former President Bill Clinton, Senate Democratic leader Harry Reid, and President Barack Obama. But he circled back to the problem with the liberal mainstream media.
"When Republicans were perennial losers and happy about it, the media could stay hidden behind their wall of phony objectivity," Limbaugh wrote. "But they were called out. Now there is a fierce competition for the hearts and minds of the American people, which the Left used to believe it owned. So it is not I, nor anyone else in conservatism, who is to blame for the partisanship in Washington. That is on the Democrats and the Left, for trying to destroy the traditions and institutions that have defined this country. We stand in defense of this great nation, and we always will. And we look forward to the Republican party's someday joining us."