During a Chicago bookstore Q&A event featuring former domestic terrorists Bill Ayers and James Kilgore, an audience member was seen on video responding to a comment about Chicago gun violence by suggesting that "citizen tribunals" should "try the NRA."
"We need to initiate citizen tribunals to try the NRA," the man told those gathered, noting that "a lot of bad things happen when you flood neighborhoods with guns."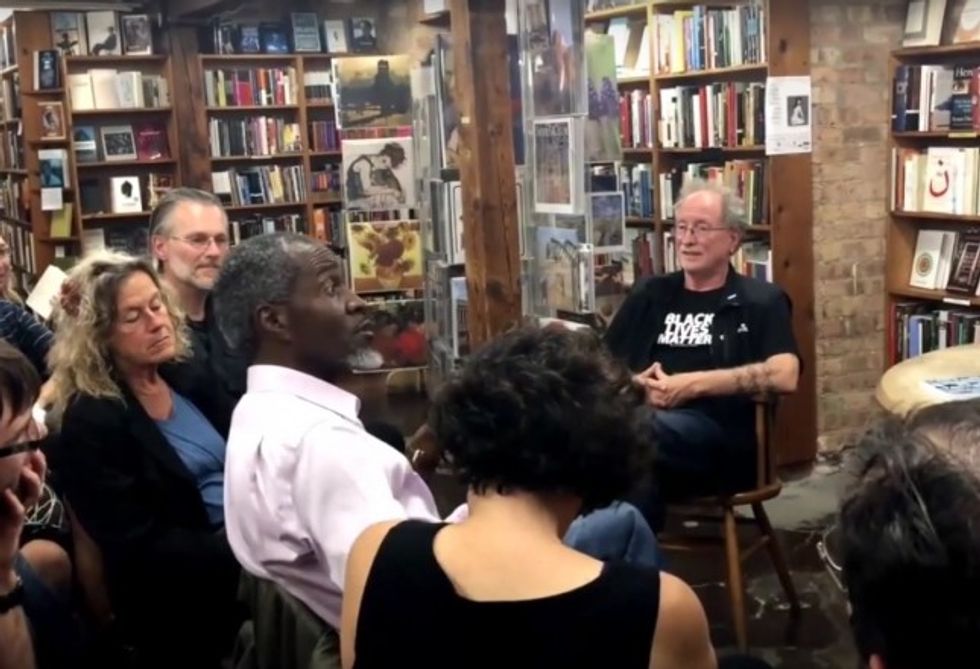 As the man in the middle of the front row speaks about "citizen tribunals" trying the NRA, Ayers (seated on the right in a Black Lives Matter T-shirt) listens. (Image source: YouTube)
Ayers — wearing a Black Lives Matter T-shirt — liked the idea.
"But I like that — people's tribunals — say more," Ayers told the unidentified audience member. "Because I think sometimes we wait for official channels to do stuff for us."
The man went on to explain that with such "public forums ... we indict the NRA, and we charge them, and we take the case to the U.N., whatever."
"Beautiful," Ayers replied.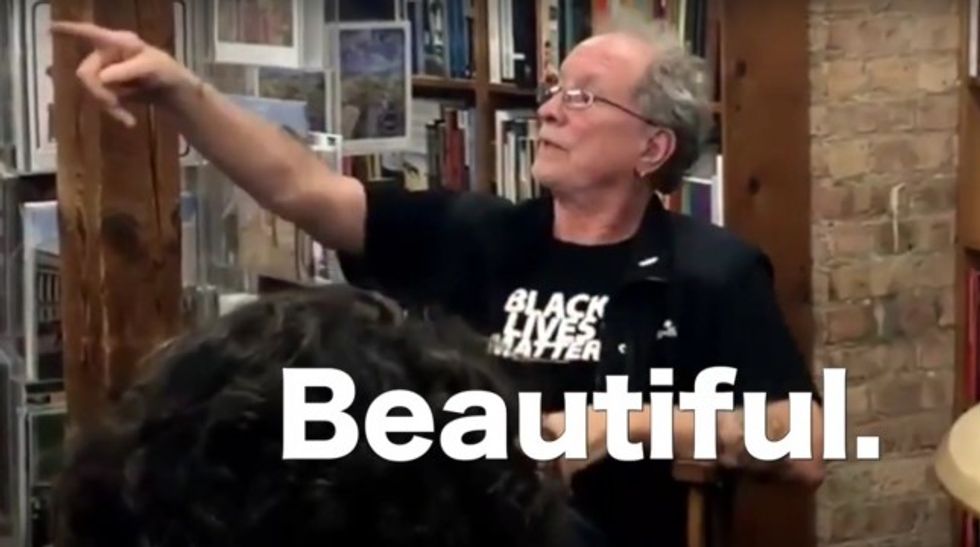 Image source: YouTube
Bernardine Dohrn — Ayer's wife and also a former domestic terrorist — sat next to the man in the audience and was seen nodding her head in agreement with his suggestion for citizen tribunals.
The hourlong gathering was a discussion about Kilgore's new book "Understanding Mass Incarceration: A People's Guide to the Key Civil Rights Struggle of Our Time" at 57th Street Books. The event took place Oct. 8 but only began receiving broad attention Wednesday.
Ayers and Dohrn were members of the terror group Weather Underground in the late 1960s and early 1970s, which was responsible for multiple bombings on American soil. Kilgore spent six years in prison for his role in a murder during a bank robbery by the Symbionese Liberation Army.
The unedited video of the exchange appears to accurately reflect the content of the edited clip below. You can watch the unedited video here; the portion in question begins at the 51:33 mark and ends at the 53:15 mark.
Here's the shorter, edited video:
—
Follow Dave Urbanski (@DaveVUrbanski) on Twitter