UPDATE: Politico has updated its headline and removed allegations that the Ben Carson campaign admitted to "fabricating" his West Point story.
The headline now reads: "Exclusive: Carson claimed West Point 'scholarship' but never applied."
See the before and after:
Before & after of @politico headline on Ben Carson West Point story -- claim of "fabrication" removed, now EXCLUSIVE pic.twitter.com/Bh5r1Fjuhm

— Jason Howerton (@jason_howerton) November 6, 2015
The story's lede also got a makeover:
Mighty morphin' Politico ledes. pic.twitter.com/6jOOTzxPEa

— daveweigel (@daveweigel) November 6, 2015
Politico did not include and editor's note explaining the changes. For full context, read original story below.
---
The Ben Carson campaign accused Politico of reporting an "outright" lie after it ran a story suggesting the GOP presidential candidate's team admitted to "fabricating" details about being accepted to West Point in his book.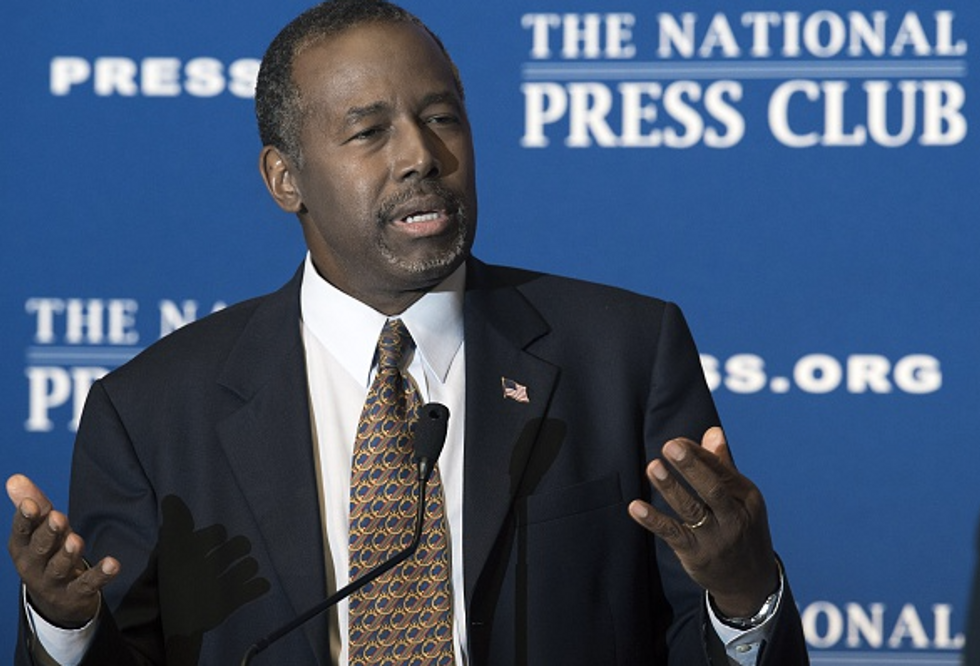 (PAUL J. RICHARDS/AFP/Getty Images)
"The campaign never 'admitted to anything,'" Doug Watts, a Carson campaign official, reportedly told the Daily Caller News Foundation. "The Politico story is an outright Lie."
The Internet was buzzing Friday after Politico published the stunning story alleging Carson's account of being accepted into the U.S. Military Academy at West Point outlined in his memoir "Gifted Hands" was not true -- and even his own campaign was admitting it.
As the Washington Post's Dave Weigel noted, there is more nuance to the story than the Politico report suggests.
Here's the relevant bit from "Gifted Hands" FWIW. Carson never says he got in to West Point. pic.twitter.com/ypBz4J7hrl

— daveweigel (@daveweigel) November 6, 2015
Maybe I'm going easy on Carson, but I see a gap between "I was offered a scholarship" and "I applied and was accepted."

— daveweigel (@daveweigel) November 6, 2015
Read more from the now-disputed report:
The academy has occupied a central place in Carson's tale for years. According to a story told in Carson's book, "Gifted Hands," the then-17 year old was introduced in 1969 to Gen. William Westmoreland, who had just ended his command of U.S. forces in Vietnam, and the two dined together. That meeting, according to Carson's telling, was followed by a "full scholarship" to the military academy.

West Point, however, has no record of Carson applying, much less being extended admission.

"In 1969, those who would have completed the entire process would have received their acceptance letters from the Army Adjutant General," said Theresa Brinkerhoff, a spokeswoman for the academy. She said West Point has no records that indicate Carson even began the application process. "If he chose to pursue (the application process), then we would have records indicating such," she said.

When presented with these facts, Carson's campaign conceded the story was false.
Politico's headline was not subtle either.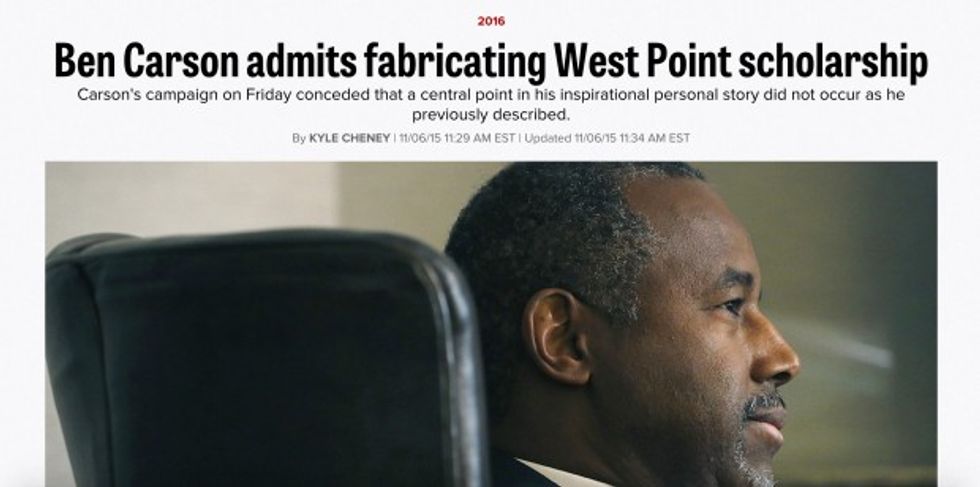 Politico
The development comes as CNN continued to doggedly question other aspects about Carson's youth — including stories about battling anger — chronicled in the book that became a TV movie.
Carson scolded CNN anchor Alisyn Camerota over the "investigation" into his childhood on Friday, telling her, "This is a bunch of lies."
---
This story has been updated. TheBlaze's White House correspondent Fred Lucas contributed to this report.