New Jersey Gov. Chris Christie was "telling it like it is" when it comes to drug addiction Saturday morning while stumping in New Hampshire, crediting his pro-life stance for how he approaches drug issues differently as a presidential candidate.
During the morning town hall, Christie recounted several stories of people addicted with various drugs, including his own mother who Christie said was addicted to nicotine. According to the Republican presidential contender, the first thing to do to counter a growing drug problem is to "lift the stigma" associated with drug use and approach it from a pro-life position.
"It's easy, in my opinion, to be pro-life when they're in the womb. We gotta be pro-life beyond that first nine months. If we're pro-life, we got to be pro-life for the whole life," Christie said, joking that it's easier to be pro-life when a child hasn't been born and disappointed their parents yet.
"I'm pro-life for the 16-year-old teenage girl who's lying on the floor of the county lock-up addicted to heroin," Christie continued, reiterating his recent rhetoric on the issue. "Her life is just as precious and just as much a gift from God as the life in the womb."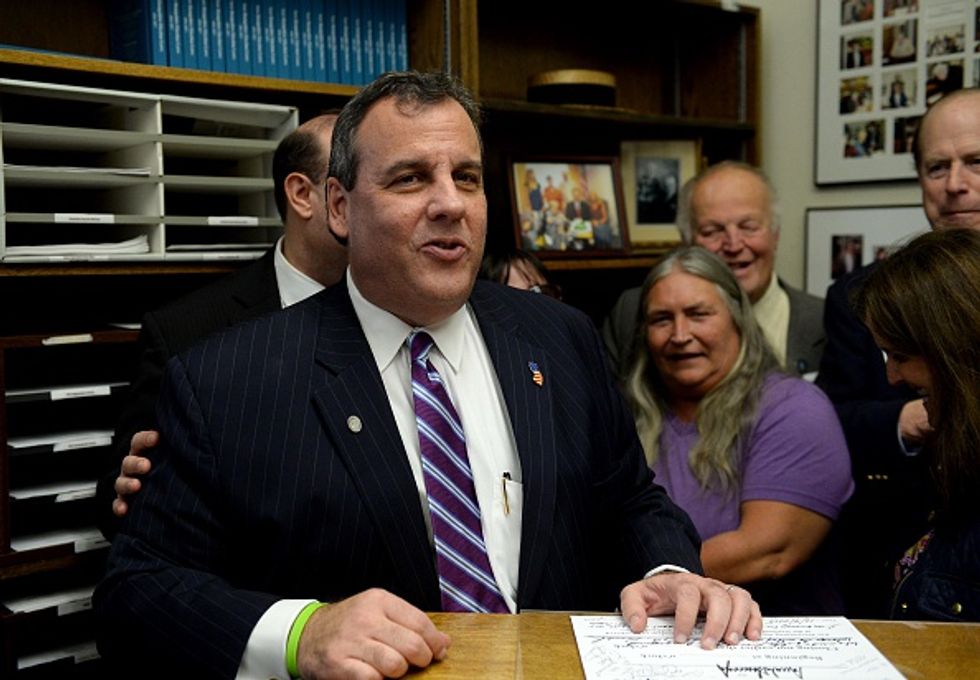 CONCORD, NH - NOVEMBER 6: Republican Presidential candidate Chris Christie (R-NJ) files paperwork for the New Hampshire primary at the State House November 6, 2015 in Concord, New Hampshire. (Photo by Darren McCollester/Getty Images)
Christie said he's going to use the phrase, "there but for the grace of God go I," when addressing the issue.
"If we believe that in our hearts, then we're going to start treating this problem differently," Christie said, adding that he's "tired of being lives wasted."
While he contended that the "war on drugs" was "well-intentioned," Christie also called it a failure. 
"I'd say that the last 30 years, the last 35 years, of the 'war on drugs' has been a failure," Christie said. "It was well-intentioned, well-intentioned. Nancy Reagan saying, 'just say no,' — well-intentioned. Us incarcerating people over and over again — well-intentioned." 
"We didn't understand what we understand now — this is a disease," Christie continued. "It's an addiction, it's a disease and it needs to be treated."
Christie argued that eradicating the drug problem does not mean the legalization of drugs such a marijuana as he drew a harsh line between himself and fellow Republican presidential candidate Kentucky Sen. Rand Paul. While both have focused on the "war on drugs" during their campaigns, Christie has made it known that he does not support the legalization of marijuana — a different position from that of Paul's.
"I'm not for legalizing drugs because it sends exactly the wrong message to people, and marijuana is a gateway drug, and it does lead to other things, and it does lead to an inability to focus and be productive," Christie said.
Christie said he supports incarcerating people who commit violent acts or people who sell drugs for a profit.  The New Jersey governor touted his state's plan of sending first-time, nonviolent offenders to a mandatory one-year in-patient treatment facility instead of prison, something he said has lowered the state's prison population and gives him the opportunity to potentially close a state prison in the upcoming year.
"'Just say no' is not enough. You have to say more," Christie said.
According to Real Clear Politics, Christie is polling at 4.5 percent of New Hampshire Republican primary voters — behind Donald Trump, Ben Carson, Florida Sen. Marco Rubio, Ohio Gov. John Kasich, former Florida Gov. Jeb Bush, Texas Sen. Ted Cruz and Carly Fiorina.