Michelle Malkin said in an interview about her new book "Sold Out" Monday evening on The Glenn Beck Program that she believes GOP presidential candidate Donald Trump's immigration policy is "airtight."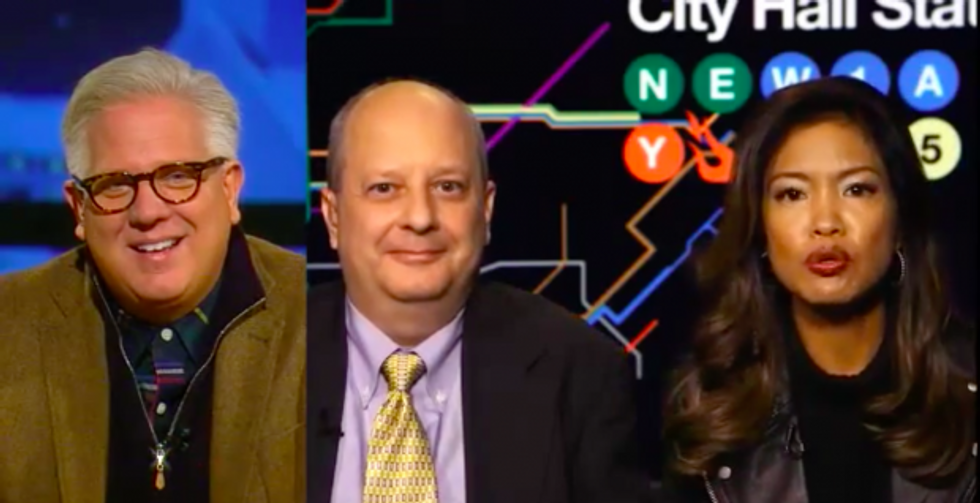 John Miano (center) and Michelle Malkin (right) join Glenn Beck (left) to discuss their new book "Sold Out."
"I'm endorsing his immigration platform, which is airtight, which agrees with so many of the fundamental principles we talk about in our book," Malkin told Glenn Beck.
Malkin's comments arose when Beck asked her if she was endorsing Trump, a question Beck said many listeners from his radio show asked after she praised Trump Monday morning for "listening to the right people."
"What I think most people are hungering for now is somebody they can trust, even if they disagree with him," Malkin said, reiterating her earlier comments. "And one of the things I do point out because I can set aside whatever personal issues I have — or that he has with me — with Donald Trump is that he actually is listening to the right people on [immigration]."
Malkin told Beck she isn't a "cheerleader" for any particular candidate right now, but is still undecided. However, she did say she has the most hope in Texas Sen. Ted Cruz, whom she says wants to "quintuple the number of H1B visas."
"I want to see some people — principled people — like Ted Cruz, who wants to quintuple the number of H1B visas, get informed, get educated and change his mind," Malkin said. "I think I have the most hope in him that he will listen to principle, and listen to reason, and listen to facts and not listen to the donorist class."
Complimentary Clip From TheBlaze TV The full episode of The Glenn Beck Program, along with many other live-streaming shows and thousands of hours of on-demand content, is available on just about any digital device. Click here to watch every Glenn Beck episode from the past 30 days and receive a Roku Streaming Stick FREE with your subscription!
—
Follow Tré Goins-Phillips (@tregp) on Twitter