Another record high.
The U.N. weather agency announced Monday that levels of carbon dioxide and methane, the two most influential of greenhouse gases, reached record highs in 2014.
"Every year we report a new record in greenhouse gas concentrations,"  World Meteorological Organization Secretary-General Michel Jarraud said. "We have to act now to slash greenhouse gas emissions if we are to have a chance to keep the increase in temperatures to manageable levels."
CO2 levels rose to nearly 398 parts per million, from 396 ppm in 2013, the WMO said.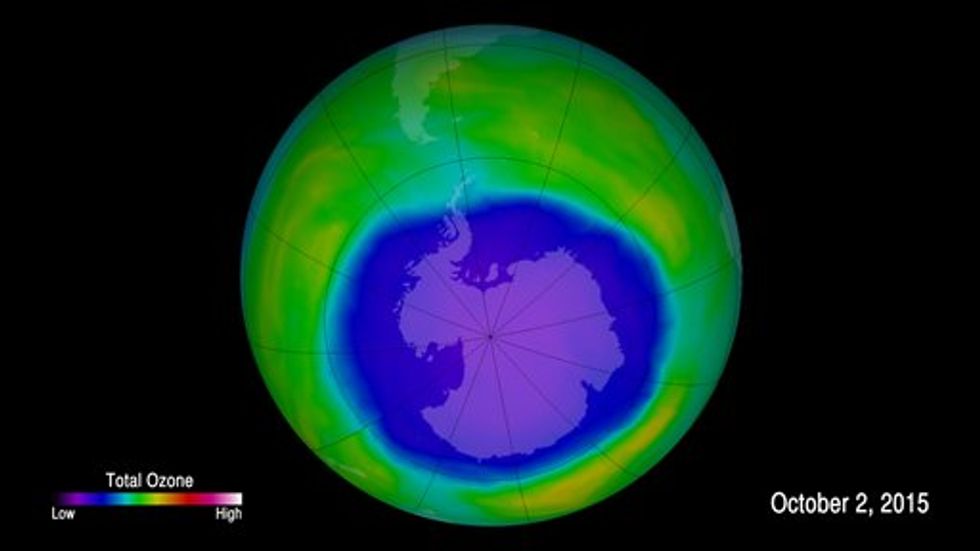 This image provided by NOAA shows the ozone hole. The Antarctic ozone hole has swelled this month to one of its biggest sizes on record, U.N. and U.S. scientists say, insisting that the Earth-shielding ozone layer remains on track to long-term recovery but residents of the southern hemisphere should be on watch for high UV levels in the weeks ahead. (NOAA via AP)
The CO2 level fluctuates throughout the year and the monthly average crossed the symbolic 400 ppm threshold in March 2015. The WMO said the annual average "is likely to pass 400 ppm in 2016."
Pushed by the burning of coal, oil and gas for energy, global CO2 levels are now 143 percent higher than before the industrial revolution. Scientists say that's the main driver of global warming.
WMO said methane levels reached a new high of about 1,833 parts per billion in 2014. About 40 percent of methane emissions come from natural sources and about 60 percent from human activities, like cattle breeding, rice agriculture and the extraction of fossil fuels.
At the same time, the National Oceanic and Atmospheric Administration published a report last week — "Explaining Extreme Events of 2014 from a Climate Perspective — in the Bulletin of the American Meteorological Society stating that some of the extreme weather events observed around the world in 2014 were influenced by human activity.
"For each of the past four years, this report has demonstrated that individual events, like temperature extremes, have often been shown to be linked to additional atmospheric greenhouse gases caused by human activities, while other extremes, such as those that are precipitation related, are less likely to be convincingly linked to human activities," said Dr. Thomas Karl, director of NOAA's National Centers for Environmental Information, in a statement. "As the science of event attribution continues to advance, so too will our ability to detect and distinguish the effects of long-term climate change and natural variability on individual extreme events. Until this is fully realized, communities would be well-served to look beyond the range of past extreme events to guide future resiliency efforts."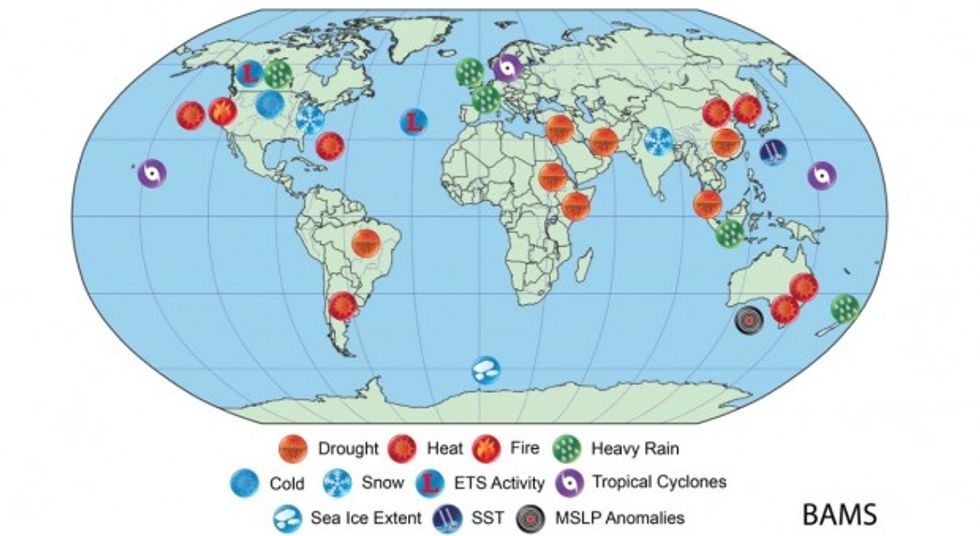 Some weather events in 2014 were influenced by human activity, according to NOAA scientists. (Image source: Bulletin of the American Meteorological Society via NOAA)
Thirty-two groups of scientists from around the world analyzed 28 extreme weather events in 2014 and evaluated the role in which natural variability and human-influenced climate change might have played a part.
The report breaks down extreme weather events in various parts of the world, but in North America, for example, this is what the researchers concluded:
Overall probability of California wildfires has increased due to human-induced climate change, however, no specific link could be made for the 2014 fire event.

Though cold winters still occur in the upper Midwest, they are less likely due to climate change.

Cold temperatures along the eastern U.S. were not influenced by climate change, and eastern U.S. winter temperatures are becoming less variable.

Tropical cyclones that hit Hawaii were substantially more likely because of human-induced climate change.

Extreme 2013-14 winter storm season over much of North America was driven mainly by natural variability and not human caused climate change.

Human-induced climate change and land-use both played a role in the flooding that occurred in the southeastern Canadian Prairies.
If climate change continues unmitigated, researchers from the World Bank said Sunday that it could push more than 100 million people into extreme poverty by 2030 by disrupting agriculture and fueling the spread of malaria and other diseases.
The World Bank report released just weeks ahead of a U.N. climate summit in Paris, the report highlighted how the impact of global warming is borne unevenly, with the world's poor woefully unprepared to deal with climate shocks such as rising seas or severe droughts.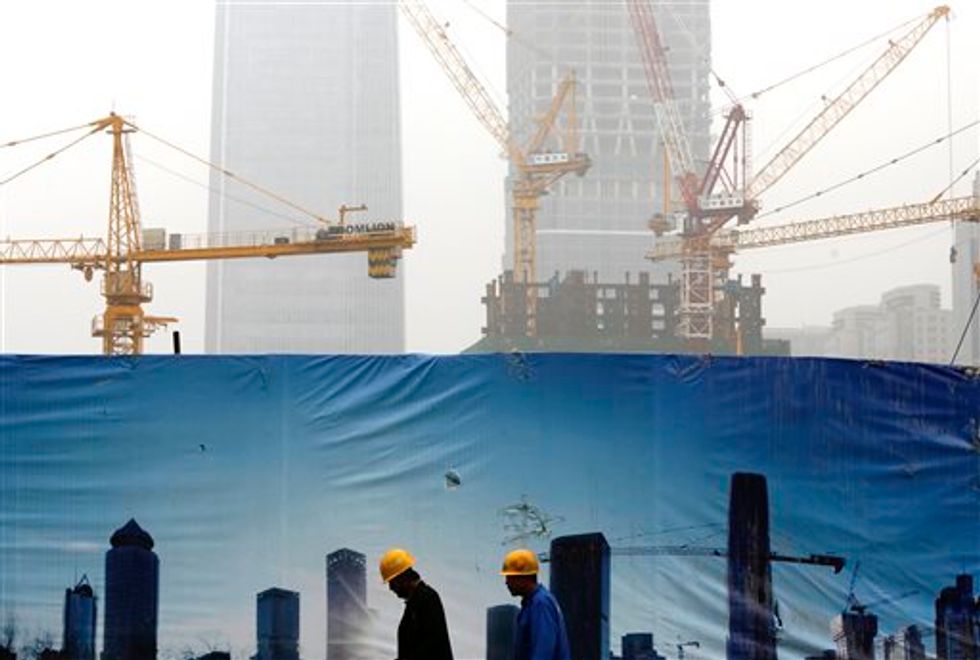 Workers walk past a billboard display showing a scene of Central Business District, as capital city skylines are shrouded with pollutant haze in Beijing, China, Monday, Nov. 9, 2015. Heading into this month's Paris meeting, the world's biggest source of climate-changing gases has yet to accept binding limits. But it has invested in solar, wind and hydro power to clean up its smog-choked cities and curb surging demand for imported oil and gas. That contributed last year to a surprise fall in coal consumption. (AP/Andy Wong)
How to help poor countries - and poor communities within countries - deal with climate change is one of the crunch issues in talks on a global climate accord that's supposed to be adopted next month in Paris.
Those who say that rich countries aren't doing enough to help the poor said the report added emphasis to demands for billions of dollars in so-called climate finance to developing countries.
"Absent such good development, climate change could result in an additional 100 million people living in extreme poverty by 2030," the report said.
World governments are meeting in Paris later this month to craft a new U.N. pact to rein in greenhouse gas emissions. More than 150 countries including top greenhouse gas polluters like China, the United States, the European Union and India have pledged to cut or curb their emissions in the next decade.
—
The Associated Press contributed to this report.