MSNBC's Joe Scarborough demanded an on-air apology from Hugh Hewitt on Monday's "Morning Joe" after the radio host criticized "you folks in the Manhattan-D.C. beltway" for going after Ben Carson more aggressively than Democratic candidate Hilary Clinton.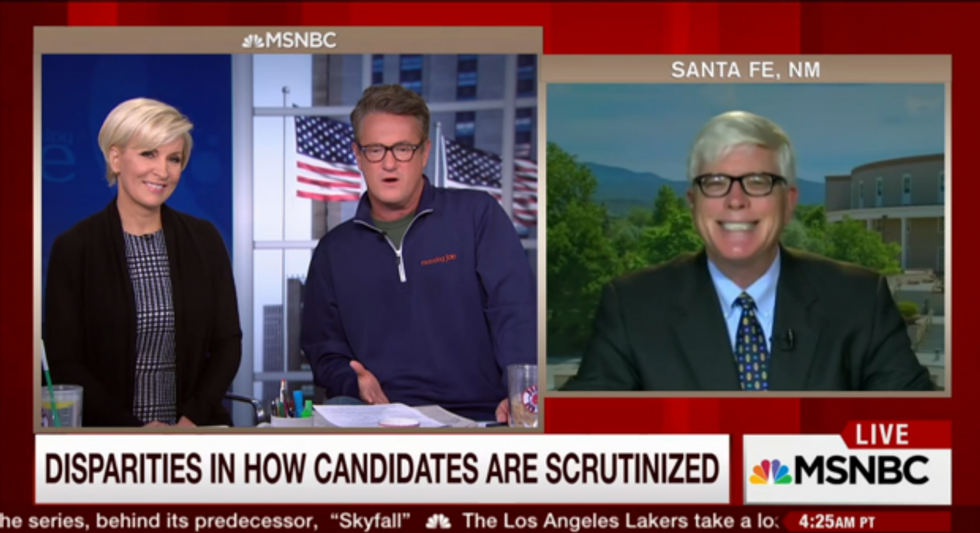 MSNBC
Scarborough was visibly offended when Hewitt claimed "you folks in the Manhattan-D.C. beltway and media elite do not care to dive deep into the narratives of Democrats." The radio host's assertion hinged on his insistence that the media have spent more time on trying to dig up details on Carson's childhood rage than Clinton's email scandal.
"No, no, no, no," Scarborough interrupted. "You're so full of it…You know better than that, Hugh. And you need to go back and look at what I said a week ago about media bias. I put my neck on the line every single day here."
He added, "Hugh, please, don't embarrass yourself because you're talking about me, a guy who's gone after Democrats, Republicans and media bias. You owe me an apology on the air right now because you know better than to say that about me."
Hewitt declined to give Scarborough his on-air apology and claimed he wasn't referring specifically to him when he brought up the "Manhattan-beltway media elite."
"But the problem is that the mainstream media will not cover Hillary's problems," Hewitt added.
"Oh, my God," Scarborough shot back in apparent disbelief. "That's amazing."
Watch the segment via "Morning Joe" below:
---