Imagine walking down a neighborhood street at night and seeing a green light on a front porch here or a green glow coming from an inside lamp there and feeling comfort, acceptance and acknowledgement.
That's what Walmart and its partners with the Green Light a Vet campaign want the nation's military members and their families to feel when they see such green lights.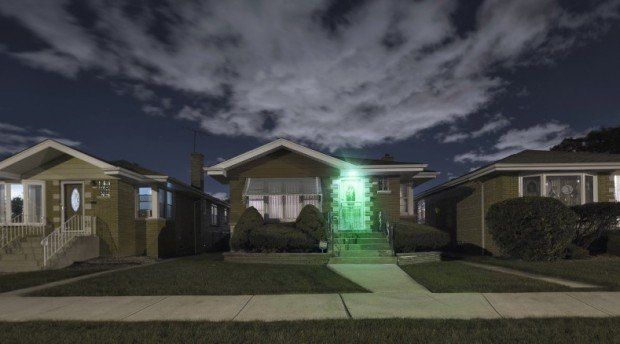 Green Light a Vet is a campaign sponsored by Walmart and other military support organizations to raise awareness for veterans, service members and their families.Photo credit: Walmart
"I hope it symbolizes what I have felt certainly since 9/11 and that is the sense that whether one agrees with the decisions to do things from a national security perspective, there is this universal sense that we should honor the service and respect the sacrifice of those who have worn the nation's uniform and the families who have supported them," retired Brig. Gen. Gary Profit, Walmart's senior director of military programs, told TheBlaze in a phone interview.
On October 26, Walmart launched its initiative for this physical show of support for military members, asking that people consider swapping out a regular light bulb with a green tinted one. At the time of this article's posting over 1.5 million people have pledged their support and some have been showing their green lights in pictures on social media with #greenlightavet.
"Thrilled." That's how Kathy Roth-Douquet, CEO of Blue Star Families, a partner organization in the Green Light a Vet campaign, said she feels about this initiative.
"We think this initiative is very important. Military families love the work they do for the country, but they can feel isolated from their neighbors," she said, quoting statistics that military families pack up and move up to seven times more than civilian families, often making it difficult for them to put down roots and feel connected.
"You can not know your neighbors and it's easy to not know whether your neighbors know the hard work that you're doing," Roth-Douquet said. "I think this green light initiative is a really beautiful way to do that. You see green lights dotting the porches and that's a wonderful visualization that people know you're there and they do care."
Roth-Douquet went on to say that what she likes about this campaign is that it encourages action beyond just switching to a green light as well. For example, Walmart is encouraging employers to consider hiring a former military member or one of their spouses.
Often, military families need two incomes and "moving the way they do, it's very hard for the non-military member to keep working," Roth-Douquet said. "We can remember to include the person who also serves, besides the one in the uniform, acknowledge them and help them find the work that they can do."
Walmart also encourages people to volunteer with local veterans groups or consider starting a mentor/mentee relationship with a veteran.
"We think that the campaign is entirely intended to spark a movement where we change the dialouge in our communities to one that recognizes the value of veterans and their families," Profit said. "We think that we've got a pretty good start, but a movement is not created overnight nor in two weeks. Not only the individual citizens but businesses, other industries and our empowering partners have joined us to get this started."
Learn more about Green Light a Vet on the campaign's website.