Wearers of a particular Victoria's Secret fragrance might be getting an added benefit beyond just a nice scent.
According to a new study by researchers at New Mexico State University, Victoria's Secret Bombshell Eau de Parfum performs better than some commercially sold mosquito repellents.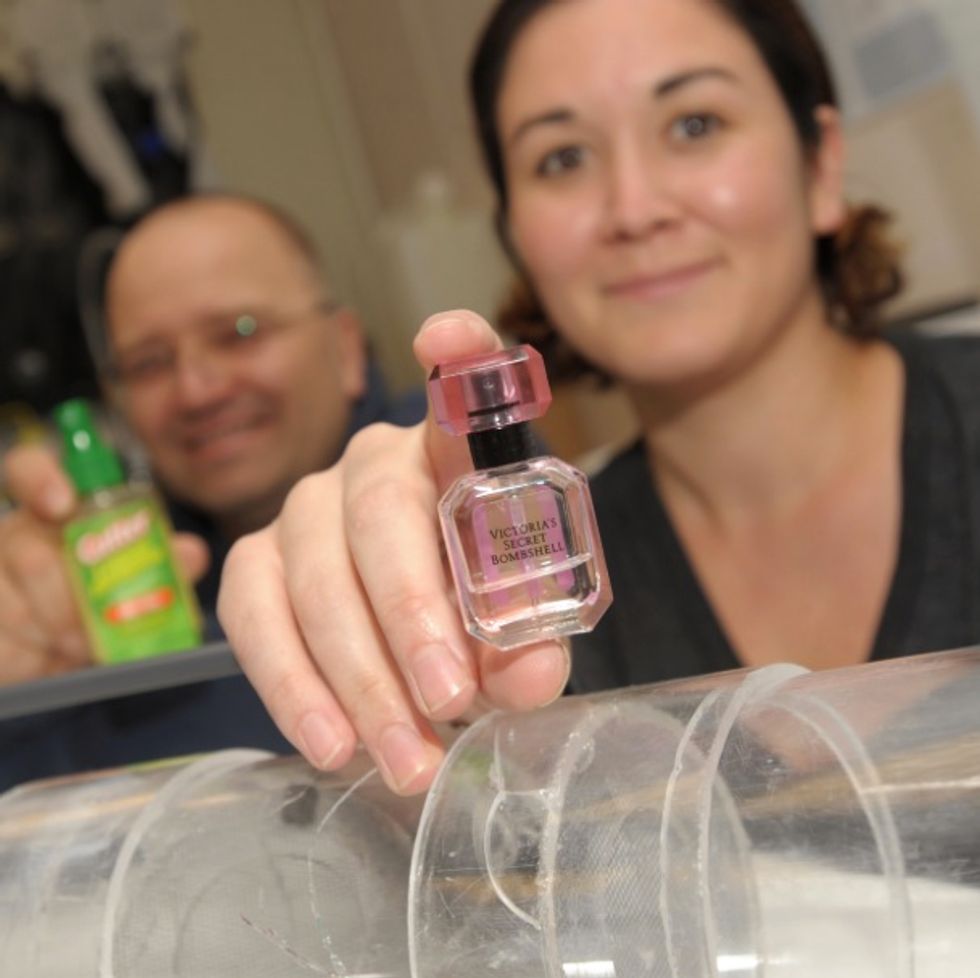 Photo credit: NMSU/Darren Phillips
The "purple passion fruit, Shangri-la peony and vanilla orchid"-scented fragrance produced by the company best known for its lingerie was surprisingly effective at deterring the insects for up to two hours, the research published in the Journal of Insect Science found.
"There was some previous literature that said fruity, floral scents attracted mosquitoes, and to not wear those," Stacy Rodriguez, research assistant in NMSU's Molecular Vector Physiology Lab, said in a statement. "It was interesting to see that the mosquitoes weren't actually attracted to the person that was wearing the Victoria's Secret perfume — they were repelled by it."
To conduct the experiments, the researchers applied various repellents one at a time on a volunteer's hand and exposed the hand to a container with about 20 mosquitoes. The scientists determined that the insects were repelled if they flew away or didn't move toward the hand.
Repellents that contained DEET, which is in many products intended to protect against insect bites, were found to be the most effective active ingredient, while p-menthane-3,8-diol, which is derived from eucalyptus plants, "produced comparable results but for shorter time periods," the study authors wrote.
Citronella and geraniol, both naturally derived insect repellents, were not found to have a significant effect at keeping the mosquitoes away.
In addition to these products and the perfume, the researchers also tested a vitamin B patch, finding it had no effect on either species of mosquito they sought to repel as well.
"Not all repellents are created equal — unfortunately they're advertised as such," Rodriguez said. "It's important to let consumers know what is actually effective."
"People need to protect themselves, especially if they travel to the tropics," Immo Hansen, an NMSU associate professor of biology, said.
Mosquitoes are known to transmit malaria, yellow and dengue fevers, and other diseases.
"Insect repellents can be highly efficient, but you need to find out which work," Hansen added with the study calling out products containing DEET or p-menthane-3,8-diol as the best options.
Rodriguez and Hansen plan to conduct further research to test mosquito repellents that are worn as bracelets or clip0ons, rather than topically applied.