Another top college official has resigned as a result of racially charged protests.
Dean of students Mary Spellman resigned her post Thursday at Claremont McKenna College, a private, liberal arts school in Claremont, California, east of Los Angeles. Spellman had worked as dean of students since 2010.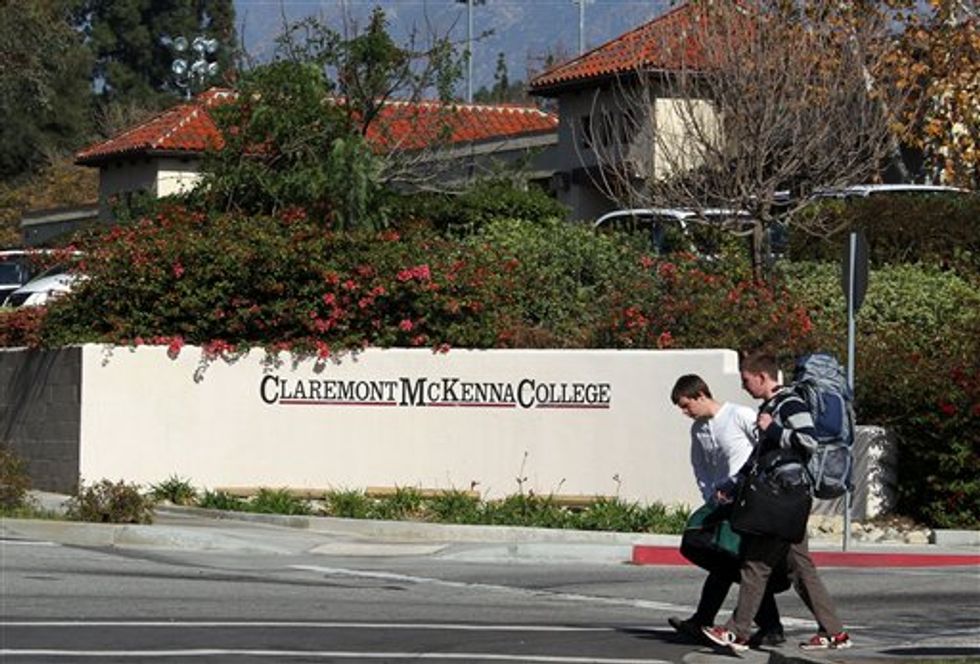 This Thursday, Feb. 2, 2012 photo shows the campus of Claremont McKenna College in Claremont, Calif. (AP Photo/Reed Saxon)
Spellman left her position in response to protests alleging that she "had not done enough to create a safe space on campus for students from marginalized backgrounds," according to the Claremont Independent, the campus magazine.
The resignation came after Spellman replied to an email from a student complaining about perceived racial prejudice on campus. In her email response, Spellman told the student the school was searching for ways to better serve students "who don't fit our CMC mold."
The San Bernardino Sun reported that two students went on hunger strikes, calling for Spellman's resignation, because they perceived the language she used as a suggestion that some students are not welcome at the school.
Several student groups launched campus demonstrations in protest. At one demonstration in a campus "safe space," an Asian student was silenced for saying that people shouldn't be judged by their race but by the content of their character.
Spellman's resignation came fewer than two weeks after a controversial photo surfaced showing five Claremont students in Halloween costumes, two of them wearing sombreros and holding maracas.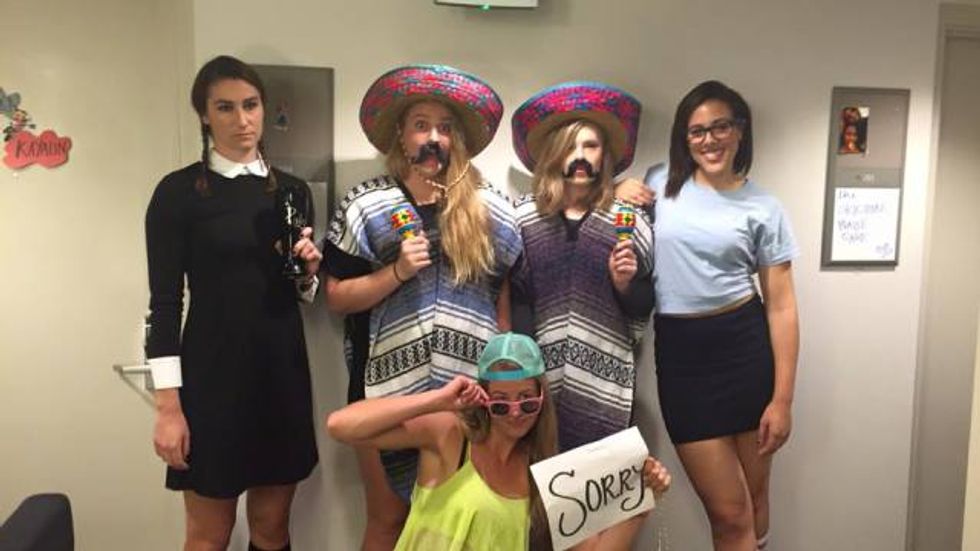 Image source: Facebook
Claremont College junior Casey Garcelon reposted the photo on her Facebook page along with this message:
Dear Claremont community,

For anyone who ever tries to invalidate the experiences of P[eople] O[f] C[olor] at the Claremont Colleges, here is a reminder of why we feel the way we do. Don't tell me I'm overreacting, don't tell me I'm being too sensitive. My voice will not be silenced. I'm mentally drained from being a part of this community and I've had enough. If you feel uncomfortable by my cover photo, I want you to know I feel uncomfortable as a person of color everyday on this campus.
The California controversy culminated less than one week after University of Missouri president Tim Wolfe resigned because of a race-related controversy at that school's flagship campus in Columbia. A day after Wolfe's resignation, the chancellor at the Mizzou campus also stepped down. Michael Middleton, a senior black administrator, was appointed interim president of the MU system Thursday.
Claremont McKenna College did not immediately return a request for comment from TheBlaze Friday.
(H/T: Business Insider)
–
Follow Jon Street (@JonStreet) on Twitter