A Texas mom is speaking out after finding out this week that her child's middle school hosted a meeting where only students of certain races were allowed to attend.
Teri Kluk, whose daughter attends Klein Oak High School in Houston, spoke with TheBlaze Friday, hours after she confronted an assistant school principal about a "unity" meeting that "all the black kids" were called out of class to attend.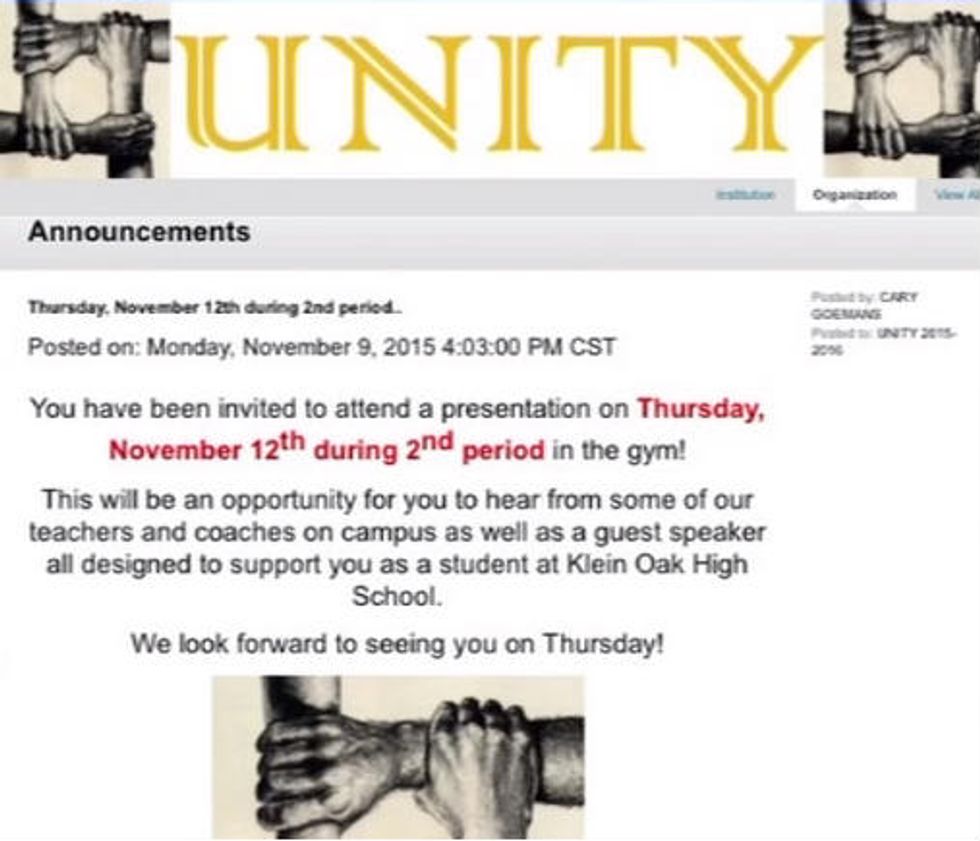 Image source: KTRK-TV
It's unclear what exactly happened during the event, but Kluk said she was informed by her daughter that students left the meeting saying they were "black and proud." Disturbed by what she was told, Kluk went and talked with an assistant principal, who told her the meeting was for "academic purposes" because some students felt they were being treated unfairly.
"You're telling me that Klein Oak High School hired teachers that do not treat black students like other students?" Kluk said she asked the assistant principal.
Kluk said the assistant principal assured her that wasn't the case, but added that students have a "perception" they're being treated differently.
"She kept using the word perception," Kluk emphasized.
But it wasn't just black students who were singled out, Kluk added. Hispanics students had their own meeting, separate from the one that took place with the black students. She said there was no such meeting for white students.
"My daughter, who is half Asian, asked if she could go inside to the meeting, and the person guarding the door told her she had to be at least 50 percent African-American," Kluk told TheBlaze.
Kluk said she also learned that the school is considering "special academic field trips," where students of certain races take "segregated" field trips.
The assistant principal reportedly asked Kluk if she had a problem helping minority students.
"I have a problem when students of any race are segregated," Kluk told TheBlaze she responded.
There have been no race-related issues at Klein Oak prior to this week, according to Kluk.
The controversy comes just days after the University of Missouri's chancellor and president resigned following racially charged protests.
The dean of students at Claremont McKenna College in California also resigned over race-related issues this week.
Editor's note: A previous version of this story named Klein Oak Middle School, not Klein Oak High School. 
–
Follow Jon Street (@JonStreet) on Twitter