As several gunmen opened fire on innocent civilians at The Bataclan theater in Paris on Friday night, one witness claimed he heard someone screaming "Allahu akbar!" over the sound of gunfire.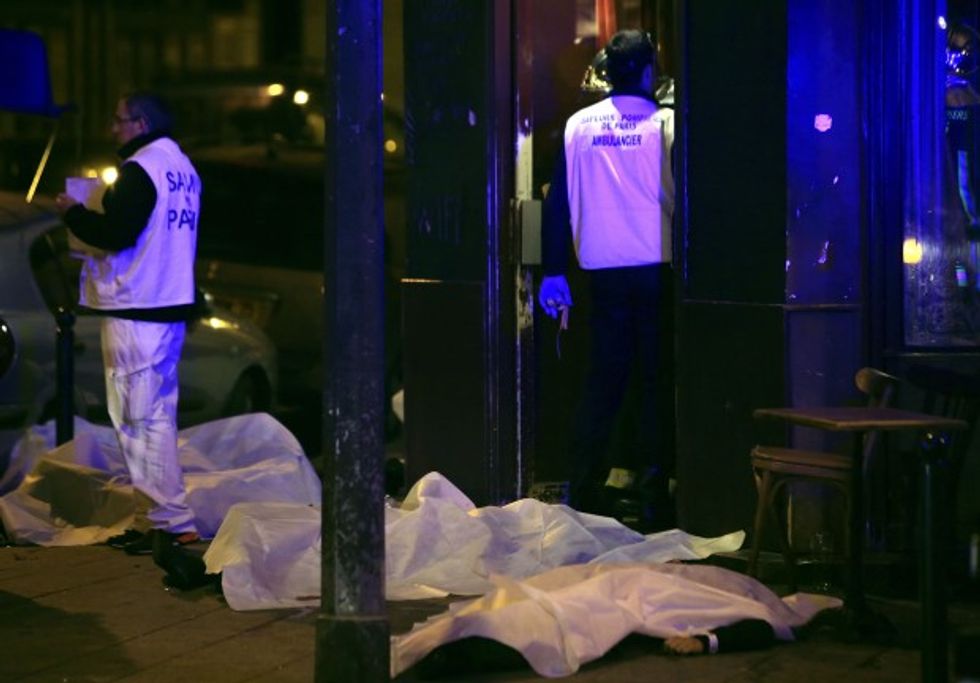 Victims lay on the pavement in a Paris restaurant, Friday, Nov. 13, 2015. Two police officials say at least 11 people have been killed in shootouts and other violence around Paris. Police have reported shootouts in at least two restaurants in Paris. At least two explosions have been heard near the Stade de France stadium, and French media is reporting of a hostage-taking in the capital. (AP Photo/Thibault Camus)
Another witness also quoted by BFM television recalled, "When they started shooting we just saw flashes. People got down on the ground right away."
A French police official says at least 100 people have been killed inside the Paris concert hall where attackers seized hostages. The hostage-taking was one in a series of at least six attacks across the French capital.
A French radio reporter who was  inside the theater told CNN the gunmen wore masks and black clothes, but he didn't hear them say "anything."
"And the terrorists were very calm…and they reloaded three to four times their weapons. They didn't shout anything. They didn't say anything. They were in masks. They were wearing black clothes," the witness said.
Watch raw video of the response below:
U.S. President Barack Obama, speaking to reporters in Washington, called the attacks on Paris "outrageous attempt to terrorize innocent civilians" and vowed to do whatever it takes to help bring the perpetrators to justice.
No group immediately took responsibility for the deadly attacks, though apparent Islamic State members celebrated on social media.
France has been on edge since deadly attacks by Islamic extremists in January on satirical newspaper Charlie Hebdo and a kosher grocery that left 20 dead, including the three attackers. The Charlie Hebdo attackers claimed links to extremists in Yemen, while the kosher market attacker claimed ties to the Islamic State group.
One of at least two restaurants targeted Friday, Le Carillon, is in the same general neighborhood as the Charlie Hebdo offices, as is the Bataclan, among the best-known venues in eastern Paris, near the trendy Oberkampf area known for a vibrant nightlife. The California-based band Eagles of Death Metal was scheduled to play there Friday night.
The Associated Press contributed to this report.
---