Alabama Governor Robert Bentley announced Sunday night that he would not allow any Syrian refugees to move to his state, asserting he did not want to place citizens "in harm's way."
I will not stand complicit to a policy that places the citizens of Alabama in harm's way. We refuse Syrian refugees. https://t.co/HTpflJUiPc

— Gov. Robert Bentley (@GovernorBentley) November 16, 2015
"After full consideration of this weekend's attacks of terror on innocent citizens in Paris, I will oppose any attempt to relocate Syrian refugees to Alabama through the U.S. Refugee Admissions Program. As your Governor, I will not stand complicit to a policy that places the citizens of Alabama in harm's way," Bentley said in a statement.
"I will not place Alabamians at even the slightest, possible risk of an attack on our people," Bentley said.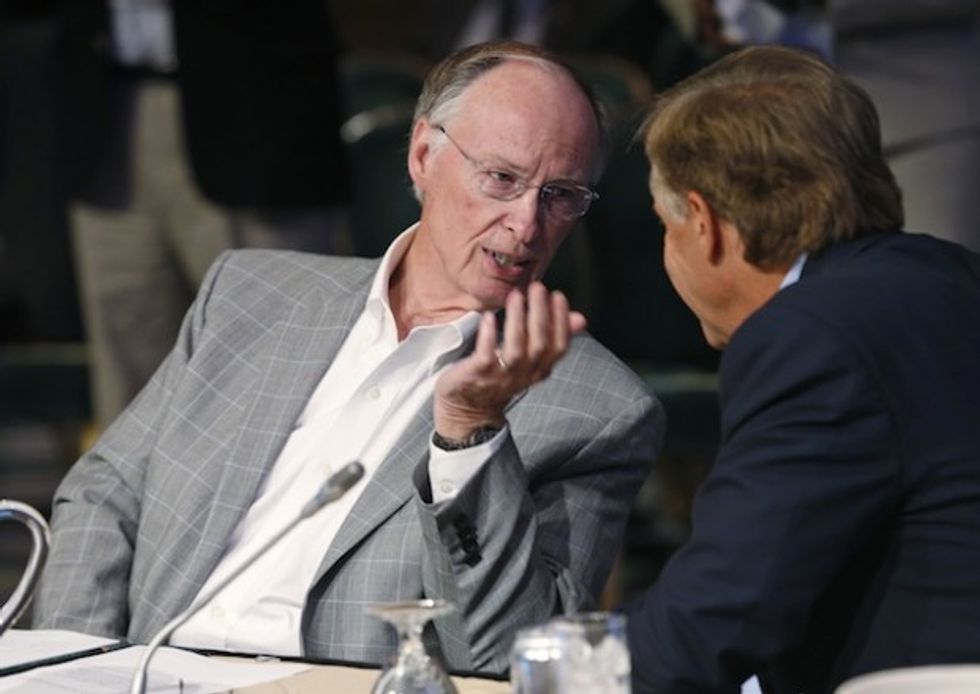 Alabama Gov. Robert Bentley, left talks with Tennessee Gov. Bill Haslam, right, prior to the closing session at the National Governors Association Summer meeting at the Greenbrier in White Sulphur Springs, W. Va., Saturday, July 25, 2015. (AP Photo/Steve Helber)
The governor's decision came as France vowed to launch a "pitiless" war on the Islamic State group which claimed responsibility for the series of coordinated attacks at Parisian entertainment sites on Friday which killed at least 129 people. A Syrian passport found next to the body of one of the assailants indicated he had been allowed to enter Europe last month as a Syrian refugee, the Greek government revealed over the weekend.
The governor's office said that no Syrian refugees had relocated to the state to date and that Alabama has one State Department-approved refugee processing center.
"The acts of terror committed over the weekend are a tragic reminder to the world that evil exists and takes the form of terrorists who seek to destroy the basic freedoms we will always fight to preserve," Bentley said.