Donald Trump said Monday that, if he were president, he would "strongly consider" shutting down U.S. mosques in response to last Friday's terror attacks in Paris.
Speaking to the panel on MSNBC's "Morning Joe," the Republican presidential candidate also called for increased surveillance of mosques within U.S. borders.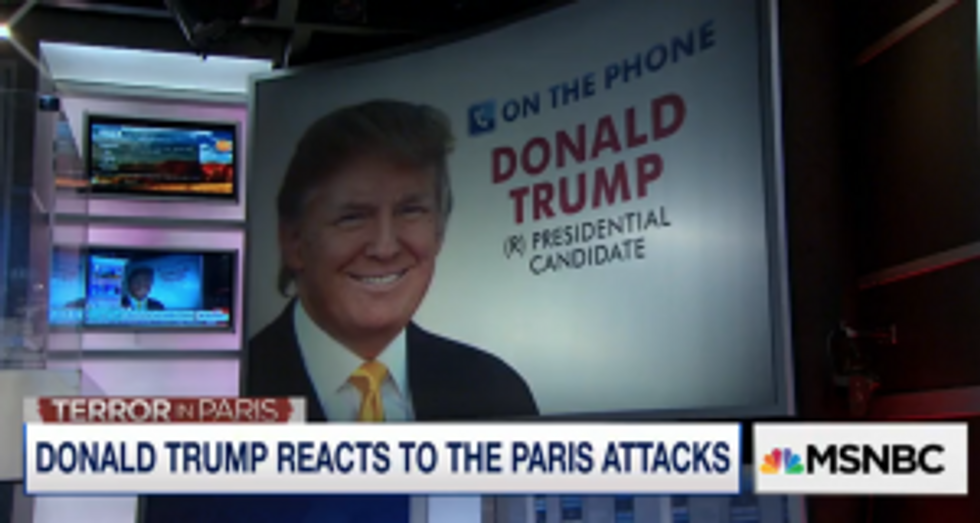 Image source: Morning Joe/screenshot
"You're going to have to watch and study the mosques, because a lot of talk is going on at the mosques," the billionaire businessman said.
The real estate mogul added that in the "old days" of New York City,he heard that city officials kept local mosques under a great deal of scrutiny.
"I'm not sure it's a fact, but I heard that under the old regime we had tremendous surveillance going on in and around the mosques of New York City," Trump said.
In a separate interview on CNBC Monday morning, Trump slammed President Barack Obama's response to the Islamic State and its rise to power in the Middle East. He also likened Syrian refugees to a "Trojan horse."
Trump, the current front-runner for the GOP presidential nomination, is seen as the most favorable Republican to deal with the Islamic State, according to a CNN/ORC poll from August.
View Trump's comments below: