French Prime Minister Manuel Valls warned Monday that more attacks were being planned in Europe, as French police seized weapons during overnight raids on the homes of suspected Islamists around the country.
"We know that more attacks are being prepared, not just against France but also against other European countries," Valls said on RTL radio, Reuters reported.
Belgian and French media as well as the Associated Press, citing unnamed security sources, reported that an activist from Belgium named Abdelhamid Abaaoud was the "suspected mastermind" behind the attacks Friday night in Paris that killed at least 129.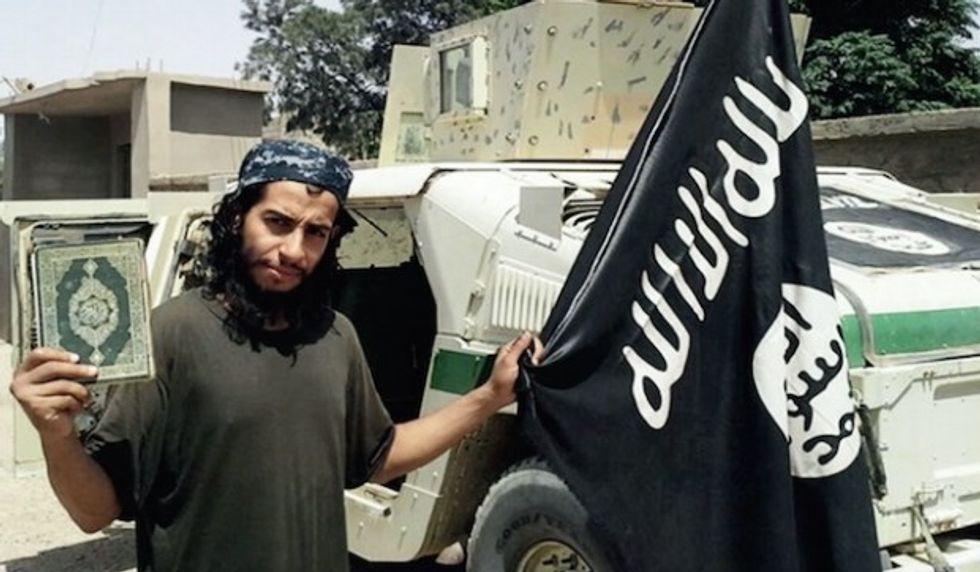 This undated image made available in the Islamic State's English-language magazine Dabiq, shows Abdelhamid Abaaoud. Abaaoud, the child of Moroccan immigrants who grew up in the Belgian capital's Molenbeek-Saint-Jean neighborhood, was identified by French authorities on Monday Nov. 16, 2015, as the presumed mastermind of the terror attacks last Friday in Paris that killed over a hundred people and injured hundreds more. (Militant Photo via AP)
Britain's Telegraph reported that Abaaoud was believed to be the leader of a cell of Syrian jihadists broken up in a police shootout in January.
French police found weapons including a rocket launcher, AK-47 rifle, handguns and bulletproof vests during pre-dawn raids around the country, police sources told Agence France-Presse.
Five arrests were made and "an arsenal" of weapons was found in Lyon, just one of the French cities where police fanned out overnight, French police said.
The country was to hold a moment of silence at noon (6:00 a.m. ET) in memory of those killed in the attacks, with public transportation coming to a halt and radio stations going silent for a minute followed by a broadcast of Beethoven's funeral march.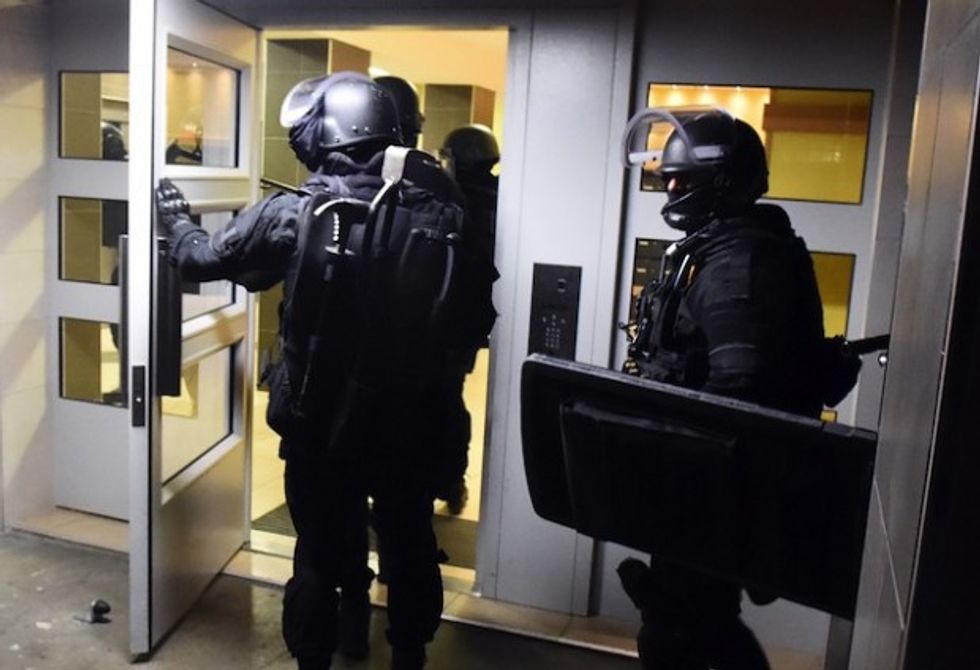 Anti-terrorism police officers enter a building during a raid in the Mirail district in Toulouse, southwestern France, Monday, Nov. 16, 2015. France's Prime Minister Manuel Valls says there have been 150 police raids overnight in the country. (AP Photo)
The police raids took place as French prosecutors revealed the names of two of the suicide bombers, including a French-born Islamist known to police after trying to travel to Yemen in 2012, France's BFMTV reported.
An attacker who blew himself up at the Bataclan concert hall was identified as Samy Amimour, born in 1987 in a suburb of Paris, while Ahmad Al Mohammad was named as an attacker who blew himself up at the sports stadium.
Amimour's family told AFP that he traveled to Syria two years ago.
The Telegraph reported that Al Mohammad is "now definitively linked by authorities to the Syrian passport found near his body" which had stamps indicating he was registered last month in Greece as a refugee.
Some of the pre-dawn house searches were focused on the investigation of Friday's terrorist attacks claimed by the Islamic State group, while others were related more generally to investigations of suspected French Islamists.
Britain's Telegraph reported Monday morning that at least three arrests were made in the Toulouse neighborhood of Mohammed Merah, the gunman who in 2012 killed seven people in that city, including French soldiers, a Jewish man and three Jewish children.
The police searches took place just hours after France launched intense air strikes on Raqqa, the Islamic State's de-facto capital in Syria.
A jihadi training camp and a munitions dump where Iraqi intelligence officials say the attacks on Paris were planned were destroyed, the French Defense Ministry said.
---