HANNOVER, Germany (AP) -- The friendly soccer game between Germany and the Netherlands was canceled at short notice due to the serious threat of an attack at the stadium on Tuesday.
"We had concrete evidence that someone wanted to set off an explosive device in the stadium," Hannover police chief Volker Kluwe told German TV.
Referring to another bomb threat about an hour beforehand that turned out to be a false alarm, Kluwe said, "After the first object turned out to be harmless, we got a tip that had to be taken seriously that an attack was being planned."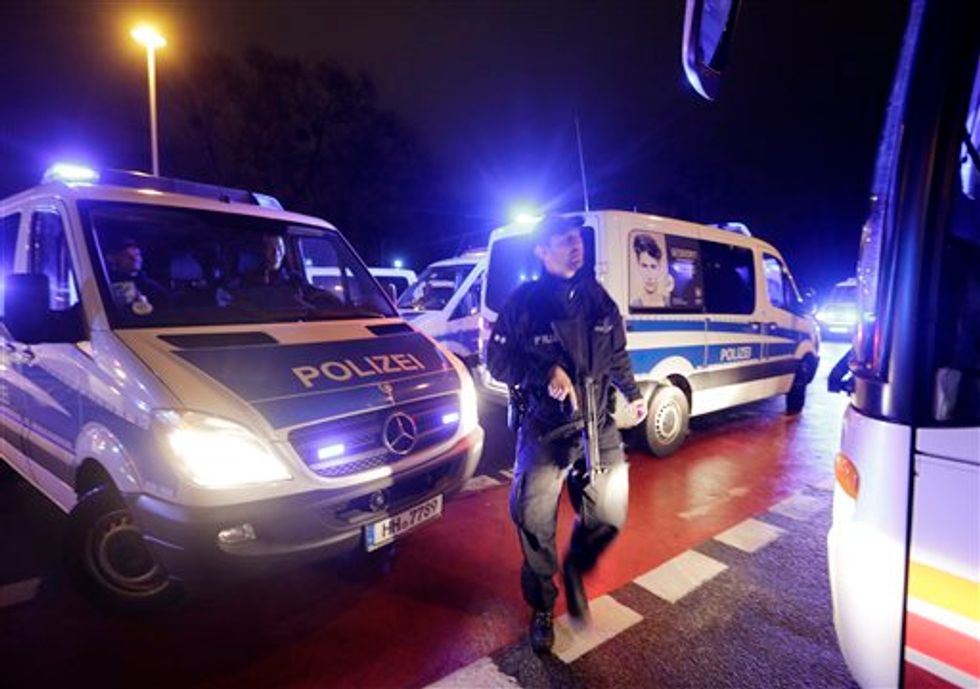 A police officer walks near the HDI-Arena stadium where Germany was scheduled to play a soccer friendly match against the Netherlands in Hannover, Germany, Tuesday, Nov. 17, 2015. (AP Photo/Markus Schreiber)
Lower Saxony Interior Minister Boris Pistorius, speaking at a late news conference, said no explosives had been found by then, and no arrests had been made.
Pistorius said there was no confirmation of rumors that an explosive device was placed in an ambulance or another vehicle inside or outside the stadium.
Federal Interior Minister Thomas de Maiziere told the same news conference that indications of a planned attack became stronger as the match approached, and that the game was called off at his recommendation.
De Maiziere said he could give few details because he needed to protect the source of information, and because "part of these answers would upset the population."
One of two caretaker presidents in charge of the German football federation, Reinhard Rauball, said the German team was about five kilometers away from the stadium when he called and told them to turn around.
Rauball also told two Dutch ministers and the country's ambassador of the threat and the decision to cancel the game.
"It's a sad day for German football," Rauball said.
Rauball added that the German players had left Hannover by late evening through various means, and that the Dutch team was flying out.
Police shut down parts of the main Hannover train station and several subway stations while searching the area around the stadium. A jazz concert at which around 900 concert-goers were expected was also cancelled.
Spectators had only just started entering the Hannover stadium when the evacuation order was given, which affected mainly stadium staff, match workers, VIP guests, and media.
Outside the HDI Arena in Hannover. Police asking people to move away from the stadium [Bild] https://t.co/yEijFSsQR2

— Bayern & Germany (@Bayern & Germany)1447785258.0
Inside Hannover's HDI Arena. Police inspecting the stadium https://t.co/Nrp2EymrXt

— Bayern & Germany (@Bayern & Germany)1447785574.0
Members of the German government including Chancellor Angela Merkel had not arrived, but were scheduled to attend the match to send a signal that Germany wouldn't bow to terrorism in the wake of the deadly Paris attacks on Friday.
At that time, Germany was playing France in a soccer friendly in the Stade de France, outside of which three suicide bombers blew themselves up, killing one bystander. The bombers sought unsuccessfully to enter the stadium. At least 129 people were killed in the coordinated attacks in the city.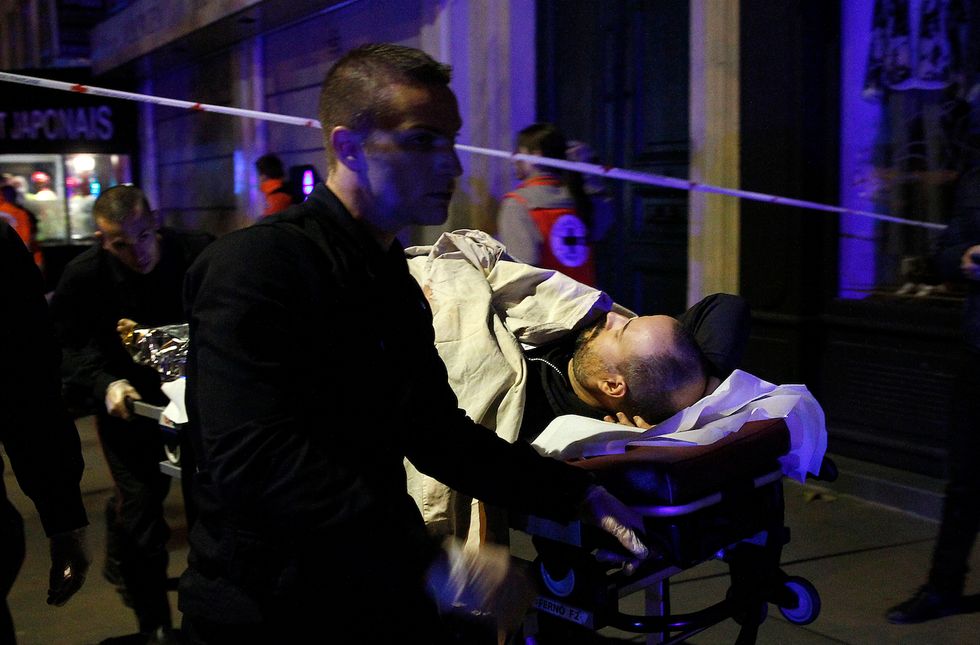 Thierry Chesnot/Getty Images
Announcements at the stadium in northern Germany advised people to go home in a calm manner, and that there was no danger to fear. Most fans were still waiting outside when the order to evacuate came about an hour and a half before kickoff.
There were no signs of panic, with most fans seemingly accepting the decision with resignation. Police became more forceful with members of the media who attempted to stay beside the stadium.
Security at the stadium was very tight, with police armed with machine guns and maintaining a very obvious presence in the city. Reporters arriving for the game were searched, while a sniffer dog was deployed to check their bags.
Tuesday's friendly between Belgium and Spain was called off late Monday following a Belgian government recommendation. The Belgian Football Association said it was "in the context of a new elevated terrorist alert and the current pursuit of a suspect."