Secretary of State John Kerry said Tuesday that the United States has a "clear strategy in place" against the Islamic State and that the militant group is losing ground in Syria and Iraq.
Speaking to reporters in Paris after meeting with French President Francois Hollande, Kerry repeatedly referred to the jihadist group by only its Arabic acronym "Daesh."
"The level of cooperation could not be higher," Kerry said. "I'm convinced that over the course of the next weeks, Daesh will feel even greater pressure. They are feeling it today. They felt it yesterday. They felt it in the past weeks."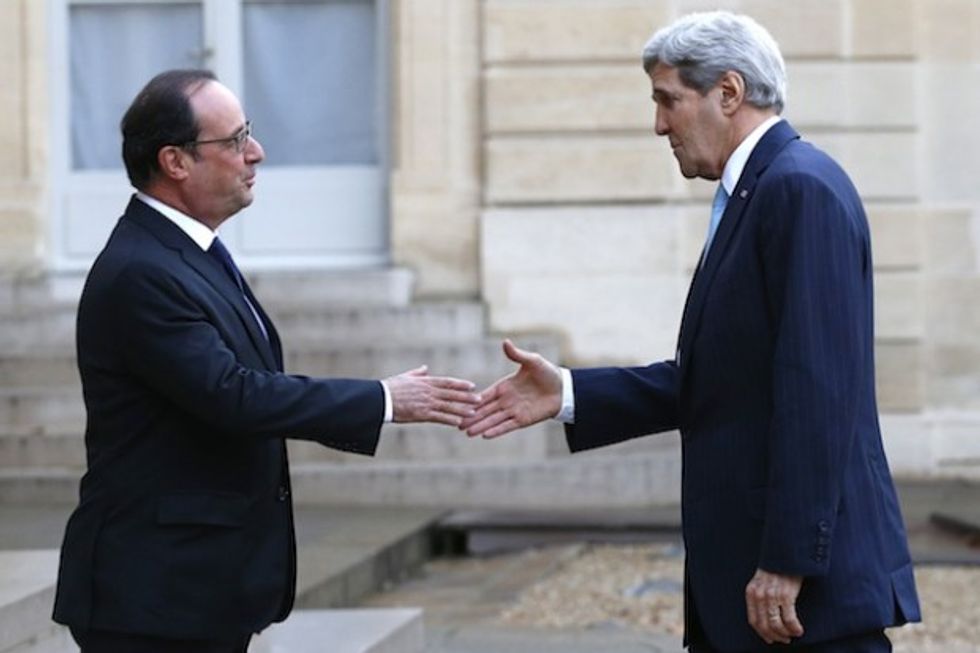 French President Francois Hollande, left, welcomes U.S. Secretary of State John Kerry upon arrival at the Elysee Palace in Paris Tuesday. (AP Photo/Francois Mori)
Kerry emphasized the territorial losses of the Islamist group that claimed responsibility for Friday's attacks in Paris.
"We've gained more territory. Daesh has less territory. We've taken out leaders," Kerry said. "We've liberated significant communities — Tikrit, Baiji refinery, communities in Syria, three-quarters of the border of northern Syria is now under control, is taken away from Daesh."
"There is a clear strategy in place, and step by step, I'm confident the momentum will pick up," he added.
Kerry said that the United States and France can together "increase our efforts and be more effective even against Daesh, and we already are doing that."
"We have to step up our efforts to hit them at the core where they're planning these things and also obviously to do more on borders in terms of the movement of people," the secretary said.
Kerry told reporters that the French president would visit Washington next week to meet with President Barack Obama.
Before meeting with Hollande, Kerry told U.S. embassy staffers that the Paris attacks were an assault on civilization and common decency, the Associated Press reported.
"This is just raw terror," he said. "We will end the scourge of Daesh."