A Christian college based in Phoenix, Arizona, has decided to grant employee benefits to same-sex couples, despite doubling down its belief that marriage should be between one man and one woman.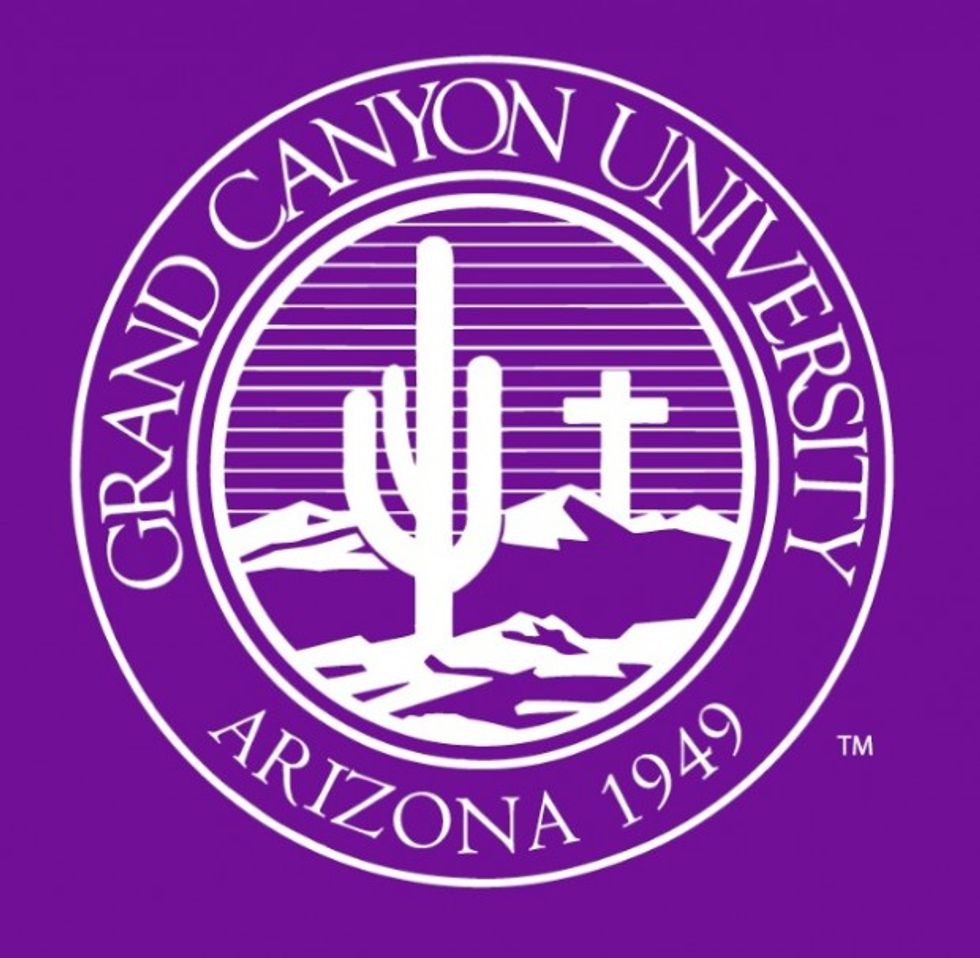 Grand Canyon University/Facebook
Grand Canyon University, a private, Christian school, said in a Nov. 13 statement that officials made the policy change in an effort to respect U.S. law following the Supreme Court's legalization of gay nuptials on June 26, Christian Today reported.
The university maintained in a statement that "the Bible is clear about marriage being a sacred union between a man and a woman," calling the belief  "not negotiable from a biblical perspective because Scripture grounds the institution of marriage in the created order (Genesis 2:18-25), which was established by God, and describes marriage as a reflection of the union between Jesus Christ and his Church (Ephesians 5:22-33)."
But Grand Canyon University said that the government's decision to embrace same-sex nuptials has led the college to extend benefits for employees who are in a same-sex relationships.
Despite that change in policy, the college repeatedly expressed its devotion to the traditional understanding of marriage and relationships.
"GCU is making a conscious choice to maintain its religious beliefs, while respecting and honoring its neighbors, as well as the system of government and laws that exist today, by extending employee benefits to spouses of lawfully married same-sex couples," the statement read. "To be clear, though, the university's decision in this instance, and the recent changes, or any future changes, in the government's definition of marriage, do not, and will not, change GCU's sincerely held religious belief that marriage is a sacred union between a man and a woman."
The college said that its decision was "made freely and without compulsion by the state" in an effort to demonstrate "grace and compassion." It is, according to Grand Canyon University, "an act of good faith" toward these employees and their families.
The college acknowledged that the decision to extend benefits to same-sex couples — and its affirmation of traditional values — will likely land it in the cross hairs among critics on both sides of the gay marriage debate.
"The decision to remain consistently Christian and profoundly biblical remains a legitimate, constitutionally-protected position. This position is neither intrinsically harsh nor unloving, no matter how unpopular it has become in some circles," the statement continued. "Furthermore, the decision is accompanied by an explicit endorsement of traditional, biblical views which should jettison all concerns about potential misunderstanding (Romans 14:1-23)."
The university said that its goal is to foster open and respectful dialogue and that diverse ideas should be heard, but that this does not mean that Grand Canyon can "affirm all perspectives on these matters."
"GCU believes that religious liberty is an essential mark of any free state and aligns with the theological principle that God alone is Lord of the conscience," the release continued. "Although religious freedom is under siege in our day, liberty of belief and the free exercise of religion were purchased at a high price by our forebears and should never be restricted or revoked without carefully calculating the cost."
Read the statement in its entirety here.
As TheBlaze previously reported, Grand Canyon University isn't the only U.S. college to rethink benefits and other related hiring practices in the wake of the Supreme Court's Obergefell v. Hodges gay marriage decision, with Goshen College in Goshen, Indiana, and Eastern Mennonite University in Harrisonburg, Virginia, adding "sexual orientation" to their non-discrimination policies earlier this summer.
Plastic figurines depicting a female couple and a male couple, displayed on a table, at the gay marriage fair, in Paris, Saturday, April 27, 2013. (AP)
These were decisions that Christianity Today said puts them in conflict with their affiliated denomination, Mennonite Church USA, as well as most other Christian colleges that have advocated to hire based on traditional parameters.
Two other Christian colleges extended employment benefits to same-sex couples over the summer as well. Hope College in Holland, Michigan, which is affiliated with the Reformed Church in America — a denomination that does not condone homosexuality — announced that it would be extending benefits to gay employees who are married, Deseret News reported.
Belmont University in Nashville, Tennessee, also followed suit, offering benefits to same-sex couples after previously adding sexual orientation to its non-discrimination policy in 2011; the non-denominational school reportedly previously offered some benefits to gay couples who were legally married before the ruling.
(H/T: Christian Headlines)
--
Follow the author of this story on Twitter and Facebook: