The Islamic State released a new video Wednesday celebrating last week's deadly terror attacks in Paris and using previously published footage of New York City to imply a threat to the U.S.
ISIS has released a new online video depicting a suicide bomber donning a bomb vest amid background footage of Times Square in New York.

— Evan Kohlmann (@Evan Kohlmann)1447882027.0
New #IslamicState video depicts suicide bomber donning a bomb vest amid footage of Times Square in New York.

— Eliza Mackintosh (@Eliza Mackintosh)1447882903.0
The NYPD said it was aware of the video which used images of Times Square that were originally published by the terror group earlier this year.
"While there is no current or specific threat to the City at this time, we will remain at a heightened state of vigilance and will continue to work with the FBI, the Joint Terrorism Task Force and the entire intelligence community to keep the City of New York safe," NYPD director of communication J. Peter Donald said in a statement.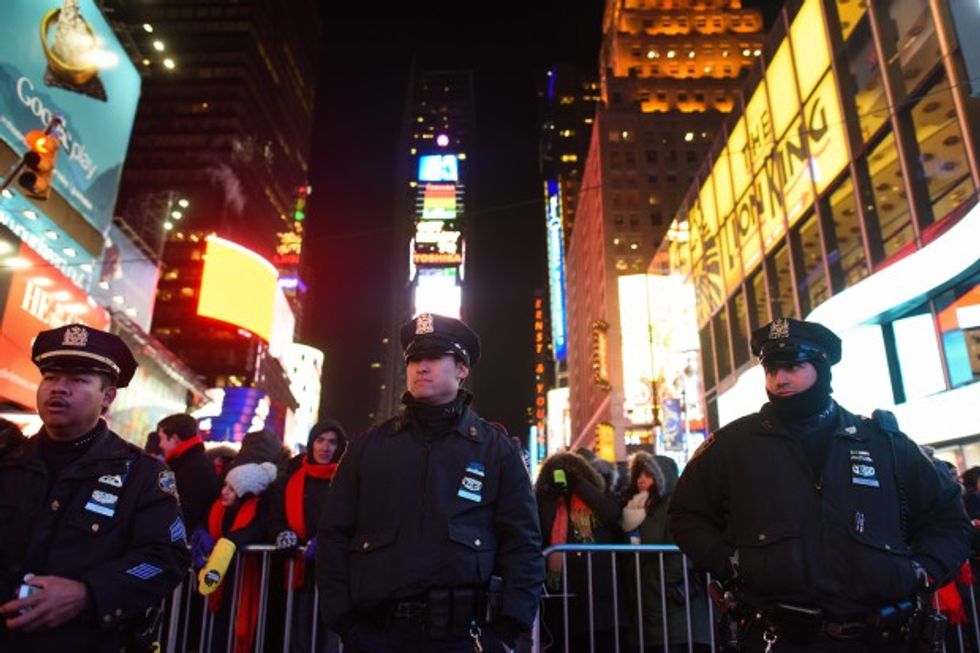 New York Police Department patrol in Times Square on December 31, 2014 in New York City. (Photo by Andrew Theodorakis/Getty Images)
Donald added that the department would continue deploying Critical Response Command teams throughout the city "out of an abundance of caution."
Mayor Bill de Blasio said in a statement he had full confidence in the NYPD.
"Stoking fear is the goal of terrorist organizations, but New York City will not be intimidated," he said. "The NYPD is the most capable police force in the country, with a robust counterterrorism operation that was just strengthened with an investment of 500 additional officers."
"While Times Square and Herald Square appear in the video, the NYPD in conjunction with all of our partners are taking all necessary security precautions in these areas and areas across the City," de Blasio added. "New Yorkers won't live in fear and people should continue to go to work, live their lives, and enjoy the greatest city in the world."
The video repurposed April footage that showed a man assembling what appeared to be a suicide bomb vest with images of crowded streets in New York City were spliced in. It then cut to an image of the French president.
Summarized by Storyful Global News Editor David Clinch in a tweet, "It is basically old content updated with Paris."
The new propaganda video comes the same day the Islamic State released a photo of the bomb it says was used to down a Russian passenger plane last month.
—
Follow the author of this story on Twitter and Facebook: