Democratic National Committee Vice Chairwoman Tulsi Gabbard (D-Hawaii) told CNN's Jake Tapper Friday that the Islamic State would not be a strong as it is today if the United States had not overthrown Middle Eastern dictators.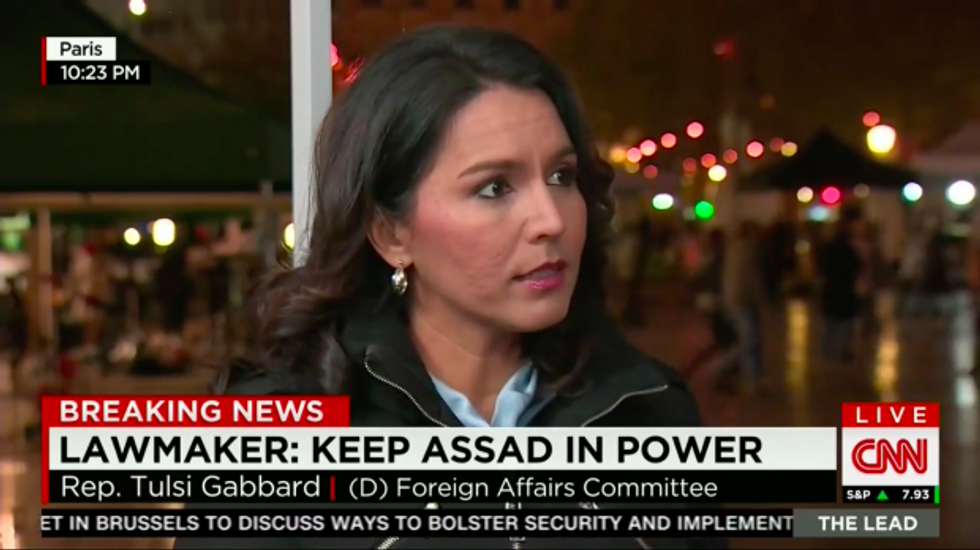 Rep. Tulsi Gabbard (D-Hawaii) discusses foreign policy and Islamic extremism with CNN's Jake Tapper. (Image source: YouTube)
Gabbard voiced her opinion after being pressed by Tapper for suggesting the U.S. shouldn't be working to topple "blood-thirsty tyrant" Syrian President Bashar al-Assad.
"The same things were said about Saddam Hussein in Iraq; the same things were said about Gadhafi in Libya," Gabbard said. "Look at the state of these countries today — they have been overrun and are filled with chaos.
"ISIS and Islamic extremist groups have grown stronger in these countries and are terrorizing the people there," the congresswoman continued.
Tapper continued his line of questioning, seemingly surprised by Gabbard's support for leaving Gadhafi, Hussein and Assad in power, asking her if the "world would be better" if those dictators maintained control.
Doubling down, Gabbard insisted that the Islamic State would be far less powerful had the U.S. not overthrown the Arab dictators, adding that the country needs to understand that we are fighting two wars: to overthrow Assad's regime and to defeat the Islamic State.
"ISIS — our enemy — would not be as strong as they are today if those actions were not taken to overthrow those secular dictators," Gabbard told Tapper. "This is the situation in Syria that I think we've got to be very clear on as a country."
According to Gabbard, the war to "overthrow the Syrian government of Assad" is illegal because Congress has not authorized an operation in Syria. Additionally, she believes it to be "counterproductive" because it would aid Islamic extremist groups in Syria who seek to overthrow Assad's leadership.
Should the Islamic State overthrow the Assad regime, Gabbard says, it would usher in a "humanitarian crisis far worse than we're seeing now and a greater threat to the world."
Watch the exchange below:
—
Follow Tré Goins-Phillips (@tregp) on Twitter