UPDATE 9:55 a.m. ET: The Daily Beast editor-in-chief John Avlon responded to TheBlaze's story in a series of tweets Monday, saying that a "core part" of the website's mission is to "stand up to bullies, bigots and hypocrites."
Executive editor Noah Shachtman retweeted Avlon's tweets.
Original story below:
The Daily Beast's executive editor said Sunday that anyone who does business with Donald Trump is "supporting racism and neo-fascism" and that the Republican presidential candidate's businesses should be boycotted.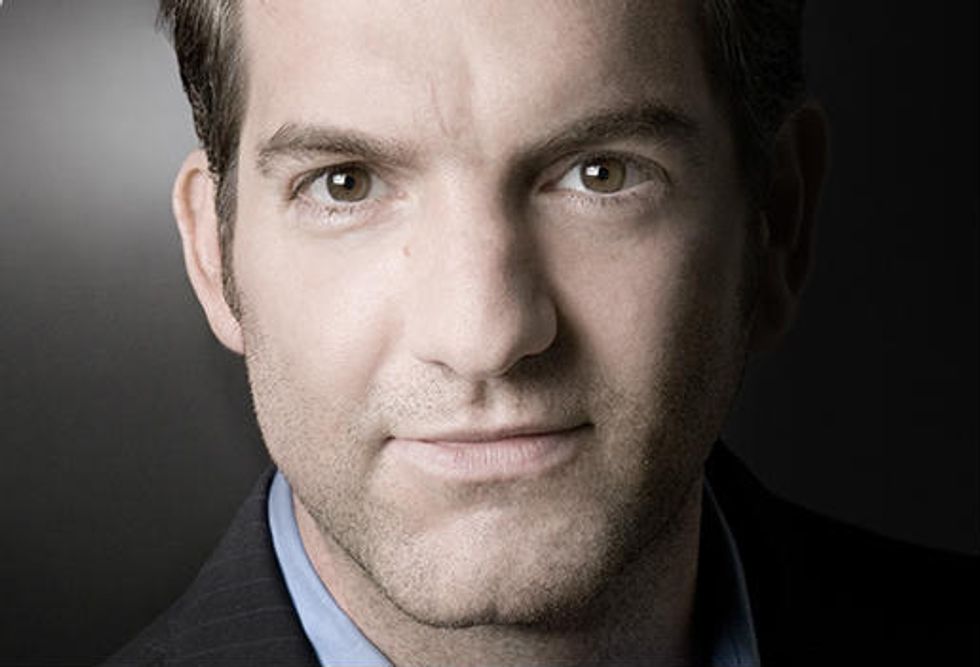 Image source: NoahShachtman.com
Noah Shachtman made the comments in a series of tweets.
"Let's get real: if you're renting in a Trump building or playing a round of golf at a Trump resort, you are supporting racism and neo-fascism," Shachtman tweeted around 6:30 p.m. Sunday.
"Seems to me it's time for a boycott of Trump's businesses – and a public calling out of those who choose to work with him," Shachtman tweeted less than 10 minutes later.
Shachtman added that it was once possible to do business with the real-estate mogul without agreeing with him politically — but not anymore.
"6 months ago, you could say you were doing business w Trump w/o endorsing his views. 8,000 racist moments later, that's no longer feasible," Shachtman tweeted.
He later added that by staying at a Trump hotel, "you're making a statement - a choice to be pro-racist, pro-fascist."
Here's a screenshot of the tweets: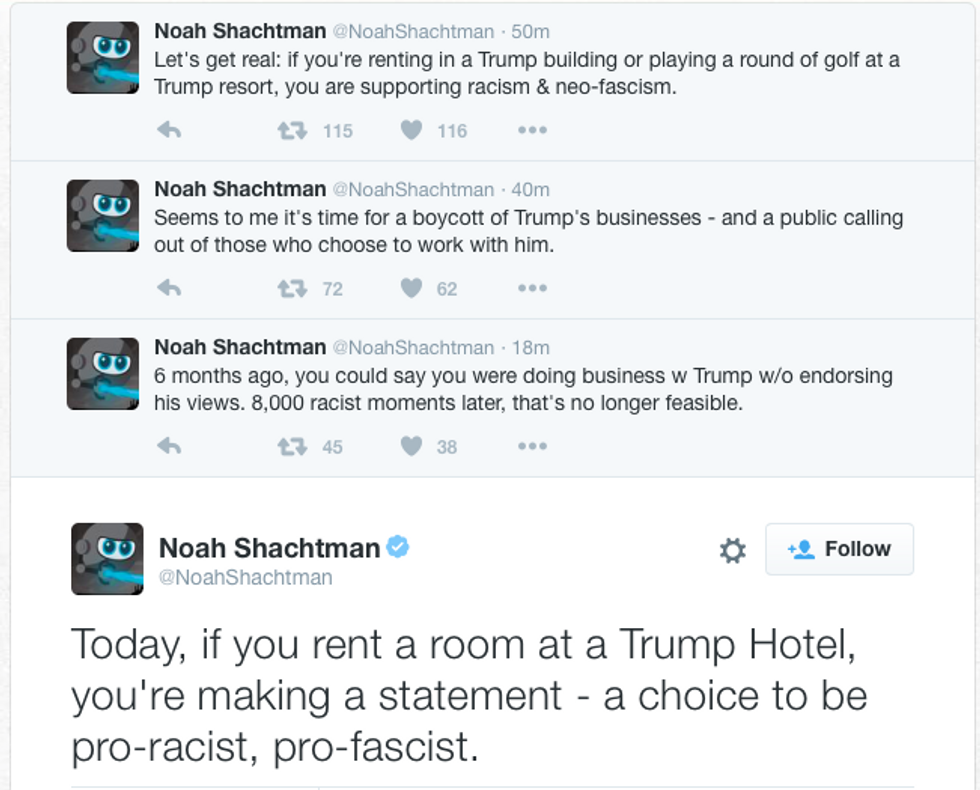 Image source: Twitter/@OliverDarcy
Shachtman's personal website, linked on his Twitter bio, describes him as a "journalist covering conflict, crime, intel, and tech across this blue planet of ours." His personal website also states that he worked on Bill Clinton's first presidential campaign.
The Daily Beast describes itself as publication that delivers "award-winning original reporting and sharp opinion from big personalities in the arenas of politics, pop-culture, world news and more" and that's "fiercely independent and armed with irreverent intelligence."
A spokesman for The Daily Beast on Sunday did not immediately respond to TheBlaze's request for comment about the executive editor's tweets.
Shachtman's tweets came just days after Donald Trump said he would "certainly implement" the tracking of U.S. Muslims in a database, a comment for which Democrats as well as fellow Republicans criticized him. Trump has also said he would surveil certain mosques in the aftermath of the Paris attacks.
–
Follow Jon Street (@JonStreet) on Twitter