President Barack Obama was criticized by supporters of Israel Sunday for three days of silence following the slaying of an American student by a Palestinian gunman on Thursday.
While the State Department — albeit one day after the attack — and the U.S. ambassador to Israel condemned the attack, a petition was started on the White House website calling on President Obama to "publicly acknowledge the senseless killing of Ezra Schwartz," the Massachusetts Jewish teenager gunned down while spending a year in Israel before starting college next fall.
"We respectfully request that President Obama publicly acknowledge the senseless killing of Ezra Schwartz, condemn the attack and rebuke the Palestinian Authority for claiming that the third victim of this attack, an Israeli Arab, was killed by Israeli forces, when not a single shot was fired by Israeli military or law enforcement and the terrorist was taken into custody unharmed," the petition read in part.
The pro-Israel organization Stand With Us asked if Schwartz's family would be invited to the White House given that a Palestinian-American teenager injured after being beaten by an Israeli policeman received such an invitation.
It posted this graphic on social media: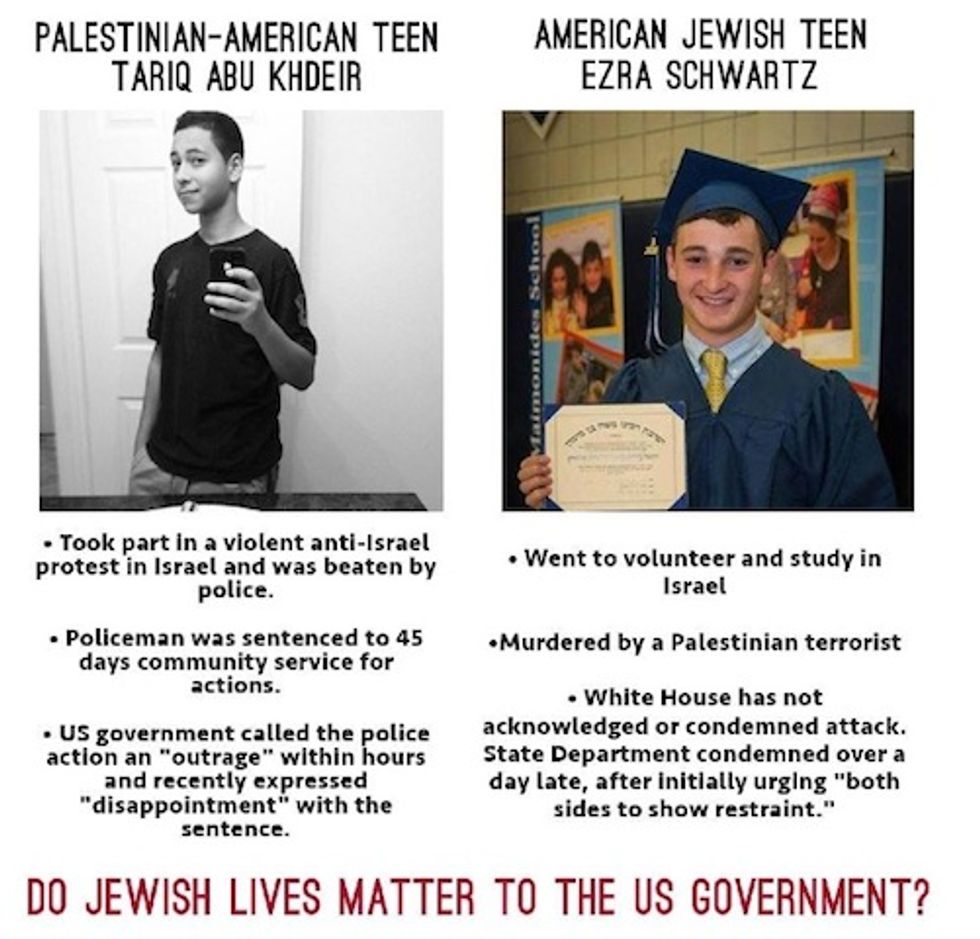 Source: Facebook/StandWithUs
At his Friday briefing, a day after the Massachusetts teen was killed, State Department Spokesman John Kirby acknowledged the student was "murdered in a terrorist attack on Thursday while in Israel to pursue his studies," noting that five U.S. citizens were also wounded in the attacks.
.@JohnKerry saddened to learn of Ezra Schwartz's death, American murdered in terror attack while studying in Israel. https://t.co/pw321xYk9t

— Department of State (@StateDept) November 20, 2015
"We continue to condemn in the strongest possible terms these outrageous terrorist attacks," Kirby added.
Following the attack on Thursday, U.S. Ambassador to Israel Daniel Shapiro, referring to a speech he gave a day earlier, tweeted, "As I said yesterday, terror is terror, and we condemn it forcefully. Even more true after the outrageous attacks."
What I said yesterday is even more true today with two deadly terror attacks. We condemn them unequivocally. https://t.co/iuztPSaAfD

— Dan Shapiro (@AmbShapiro) November 19, 2015
"As Shabbat begins, we mourn with the family and friends of Ezra Schwartz z"l, an American citizen murdered yesterday in a terrorist attack," Shapiro posted on Facebook and Twitter Friday, using the Hebrew acronym z"l for the expression "May his memory be a blessing."
"Our thoughts and prayers are with them, and with the families of the other victims of yesterday's attacks. May God bring them comfort," the U.S. envoy added.
The petition posted on the White House website calling for a statement directly from Obama has obtained more than 10,000 signatures so far.
CNN reported earlier this year that White House National Security Council staffers "took the unusual step of meeting in the West Wing" with Palestinian-American Tariq Abu Khdeir — referenced by Stand With Us — who was beaten by an Israeli policeman last year after police said he took part in a riot in East Jerusalem while masked and using a slingshot to throw rocks. His family denied he was involved in violence.
The Florida teenager was visiting family in Jerusalem last year when his cousin was burned to death by Jewish extremists which was said to be in retaliation for the kidnapping and killing of three Jewish teens by Hamas militants.
Hundreds of people gathered at Ben-Gurion Airport outside Tel Aviv Saturday night to pay their respects to Schwartz as his body was brought for his final journey back to the U.S. for burial Sunday.
Three Palestinians carried out attacks on Sunday against Israelis, including a fatal stabbing of a woman at the same intersection where the Massachusetts student was killed Thursday. The Times of Israel reported that she was 21-years-old.
These were just the latest of the nearly daily stabbing, shooting and car-ramming attacks perpetrated by Palestinian assailants since September.
Featured image: U.S. President Barack Obama attends the 10th East Asia Summit at the 27th ASEAN Summit in Kuala Lumpur, Malaysia, Sunday, Nov. 22, 2015. (AP Photo/Vincent Thian)