The New York Daily News went after the National Rifle Association Executive Vice President and CEO Wayne LaPierre with its Monday cover — likening the pro-gun author and advocate to a jihadist.
On Monday's cover, the Daily News depicted LaPierre holding a gun with a turban on his head. It's accompanied by the headline, "Nowhere to Hide, Jihadi Wayne."
An early look at tomorrow's front page… NOWHERE TO HIDE, JIHADI WAYNE: https://t.co/7YbUFwo2GK pic.twitter.com/O4vUn4oYd6

— New York Daily News (@NYDailyNews) November 23, 2015
The story the Daily News is promoting along with its "Jihadi Wayne" slams the NRA for opposing legislation that would keep firearms away from suspected terrorists — the same people on the "no-fly" list.
"The same nefarious individual we monitor and bar from our planes, we turn the other way when it comes to allowing them to get guns and explosives," Sen. Chuck Schumer (N.Y.-D) said. "The NRA has fought tooth and nail to prevent these individuals from the terror watchlist from being added over the past several years."
The newspaper also likened the NRA to jihadists on a cover last week.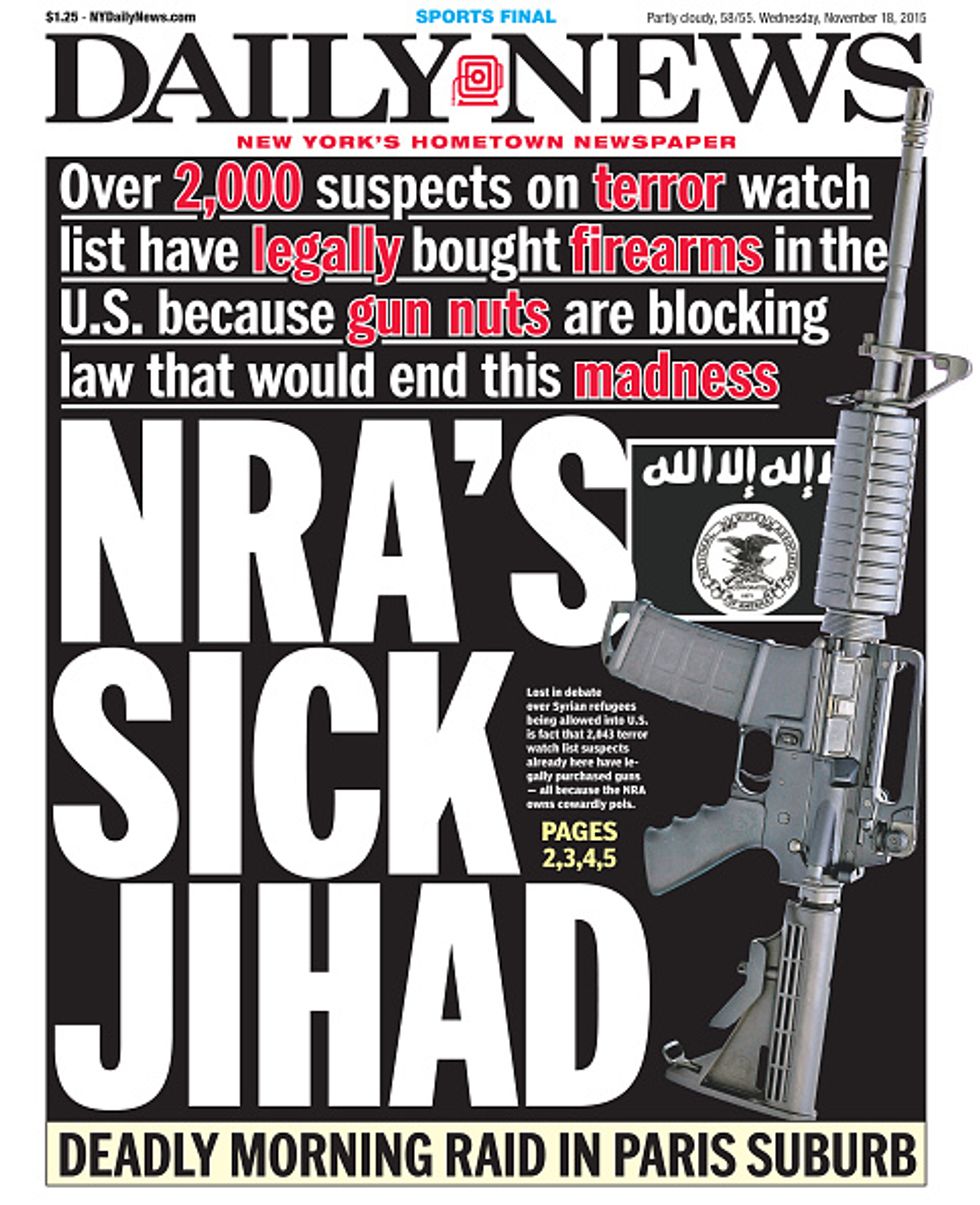 New York Daily News frontpage November 18, 2015 NRA'S SICK JIHAD Over 2,000 supsects on terror watch list have legally bought firearms in the U.S. because gun nuts are blocking law that would end this madness (Getty Images)
While the Daily News is known for its controversial and over-the-top covers, several people on social media took issue with the LaPierre cover in particular.
.@NYDailyNews Really doubling down on stupid, aren't you? 300,000 Americans on the watch list have NO TIES TO TERROR GROUPS.

— Bob Owens (@bob_owens) November 23, 2015
@NYDailyNews let's round up gun owners and put them in some kind of camp for our protection

— Fetty Slop (@fettyslop) November 23, 2015
@NYDailyNews I love how you guys are scared of guns, conservatives, strong women, work, responsibility-everything BUT terrorists.

— This is ponderous (@Thisisponderous) November 23, 2015
@NYDailyNews I luv the media hyperventilating over Trumps Muslim list but r totally cool w another list that has zero due process #narrative

— General Minus (@El_general_Meno) November 23, 2015
.@NYDailyNews List all card-carrying NRA members who've committed mass atrocities. I'll wait. (YOU are more dangerous than NRA you jerks.)

— ・ⓐⓝⓝⓘⓔ・ (@bloodless_coup) November 23, 2015
@NYDailyNews This is wrong and disgusting. This is why we use your paper to line the bird cage.

— Lynn R. Kitzen (@bubbyskid) November 23, 2015