Amid questions over Turkey shooting down a Russian plane, President Barack Obama said much of the problem is Russia's lack of focus in fighting the Islamic State.
"Turkey like every country has a right to defend its territory and air space," Obama said Tuesday during a joint press conference with French President Francois Hollande. "I think it is very important for us to right now make sure that both the Russians, and the Turks are talking to each other and find out exactly what happened, and take measures to discourage any kind of escalation."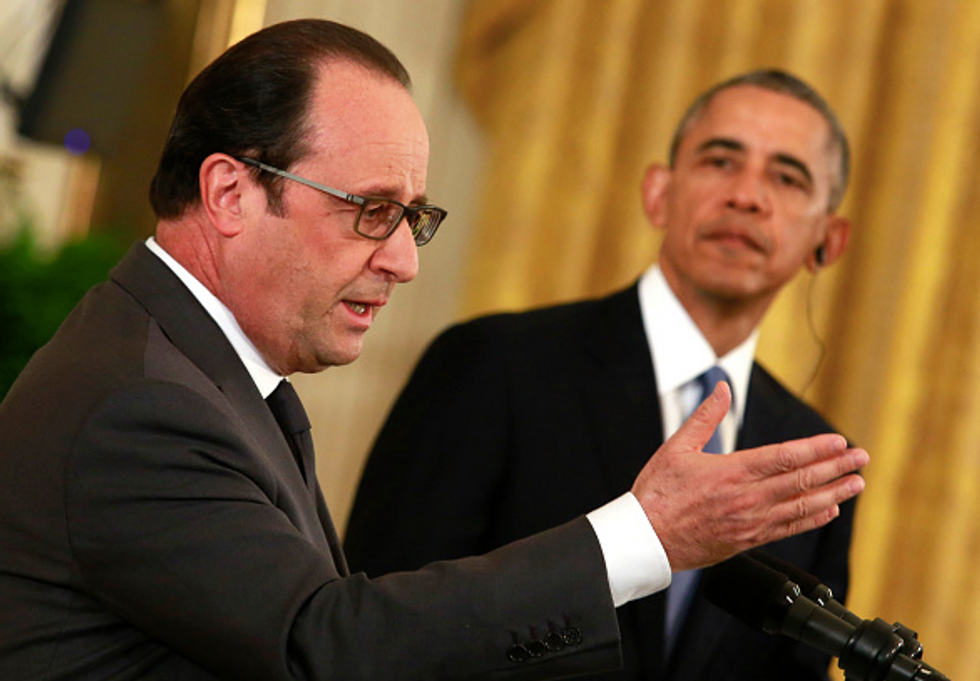 President Barack Obama(R) and French President Francois Hollande hold a joint news conference after their meeting at the White House in Washington,DC on November 24, 2015. AFP PHOTO/YURI GRIPAS / AFP / YURI GRIPAS (YURI GRIPAS/AFP/Getty Images)
But Obama went on to criticize the policy of the Russian government for trying to keep Syrian dictator Bashar Assad in power.
"I do think that this points to a ongoing problem with the russian operations, in the sense that they are operating very close to the Turkish border and they are going after moderate opposition that are supported by not only Turkey, but a wide range of countries," Obama said. "If Russia is directing its energies towards Daesh and ISIL, some of these conflicts or the potentials for mistakes or escalation are less likely to occur."
"Our view from the start, Russia is welcome to be part of this broad-based coalition," Obama continued. "The problem has been Russia's focus with propping up Assad rather than ISIL."
Hollande said the U.S., France, Turkey and Russia must work together to combat the Islamic State and find a political solution in Syria.
"Turkey is currently providing all the information to NATO, so that we can find out what truly happened and whether Turkey's air space indeed was entered into, but we must prevent an escalation. That would be extremely damageable," Hollande said. "The only purpose is to fight against terrorism. This is what we must do, all of us, we, Turkey, Russia and what just took place, like Barack said, means that what we must find a solution to this Syrian crisis, because we can see what the risks are otherwise, the risks of escalation."