For $50 per night, one could rent a room with two beds in a house near Ohio University in Athens.
That is until the house's owner — a Republican candidate for a state representative seat — received a letter from the city threatening to fine him $500 per day and slap him with a misdemeanor.
Abe Alassaf, who's running for Ohio's 94th State House District, told TheBlaze he spoke at a city council meeting in support of Airbnb — a low-cost, shared lodging service — and against aspects of the planning commission's proposed new regulations regarding bed and breakfasts and other rental businesses.
During that meeting, Alassaf admitted to renting out a room in his own home as a way he and his wife earned some extra cash.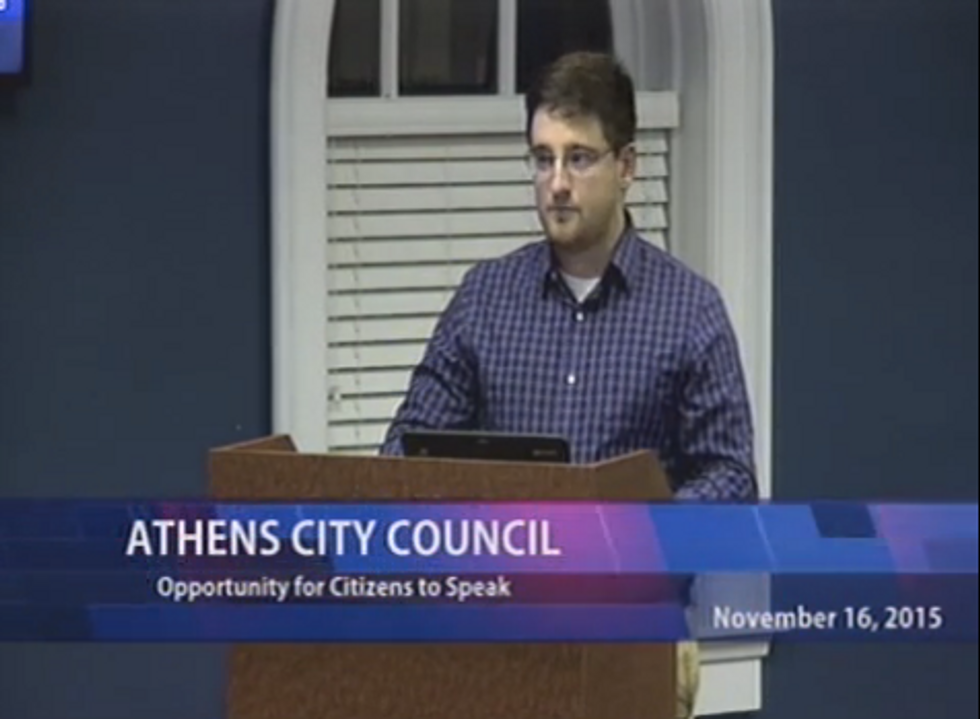 Image via screen grab from Athens City Council video
"For me and many of the other people here tonight, our generation relies on 21st century technology," Alassaf said at the city council meeting on Nov. 16. "The proposed red tape is actually, in my opinion, backwards. Athens prides itself on being progressive, forward-thinking, but this type of assault on 21st century technology is just backwards."
Then in a letter sent to Alassaf, dated three days after his testimony at the council meeting, a city official informed him that his property listing on Airbnb directly violates city code.
"Bed and breakfasts are only permitted within certain designated areas of the City of Athens, and even then, only by a Conditional Use Permit," John Paszke, director of the city's Code Enforcement, wrote in a letter provided to TheBlaze.
"Please cease this operation immediately or we will be forced to take action," Paszke wrote.
Paszke also wrote that should the Alassafs continue to rent out the room, they will be subject to a $500 fine for each day of the violation as well as a "conviction of a misdemeanor."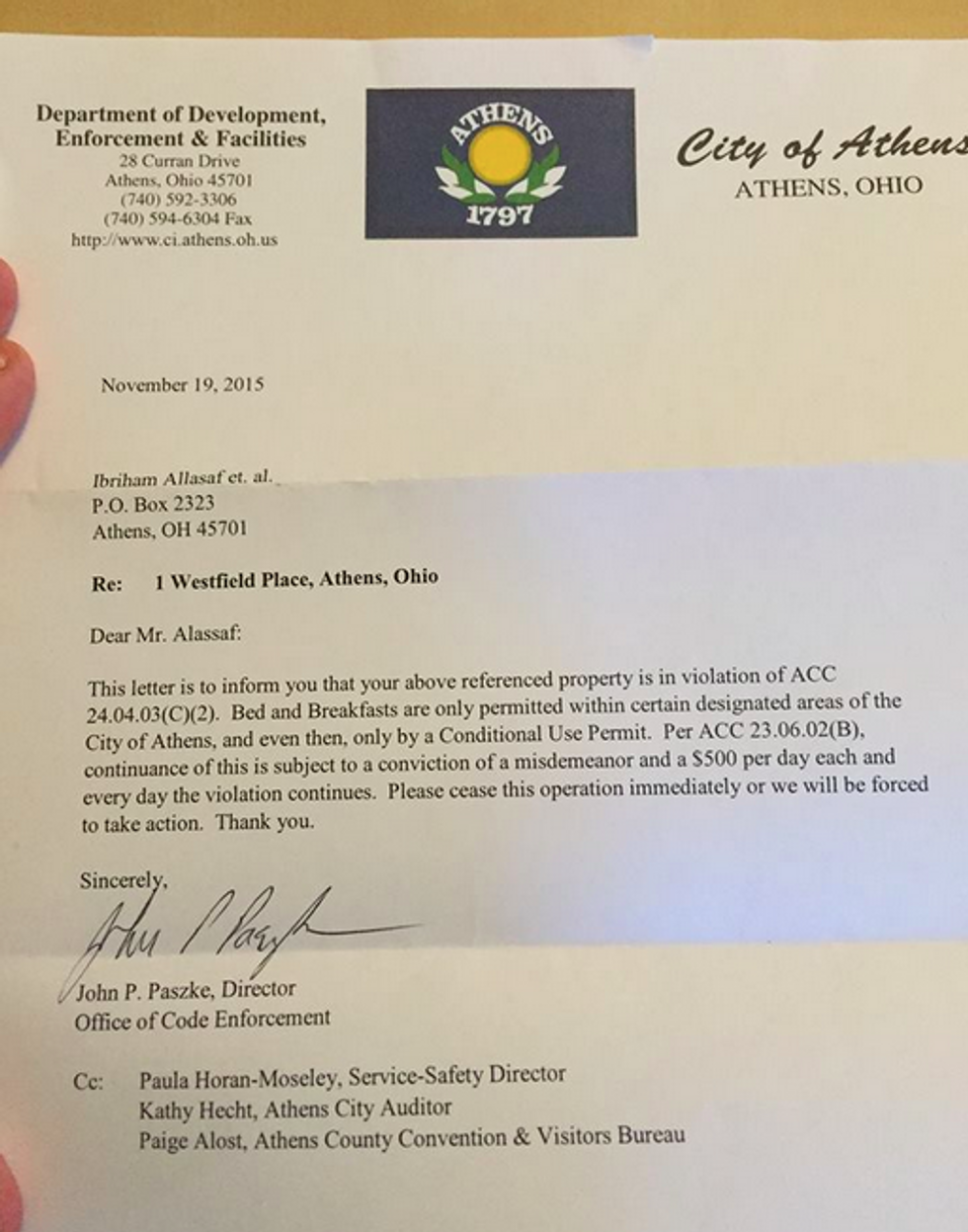 Image provided to TheBlaze
"I'm not sure if it's just a coincidence of timing or whether I am being targeted. Regardless, this is a prime example of what I'm running against," Alassaf told TheBlaze. "I will not vote for any bill that will prevent Airbnb or other sharing economy businesses, like Uber ... from thriving."
Alassaf said he plans to cease renting out the room — which he's done nine times — because the $500 fine is too steep.
"Reasonable regulations are fine. However, Airbnb is currently prohibited from most of the city. That isn't about safety. It's nothing more than old-time laws on the books," he said. "Also it should be noted that the sharing economy has regulation built within its system. People can rate each other and share their experiences."
According to the Athens News, the proposed regulations from the city appear to relax the restrictions against bed and breakfast businesses — or Airbnb rentals — already in place.
"The city is trying to expand the use of bed and breakfast permits to more areas of the city. It's obvious that the laws are outdated for modern times," Alassaf told TheBlaze. "But it makes you wonder why I received this letter if they want to expand Airbnb. Why would they do this now if they want to accommodate Airbnb in the city?"
Alassaf's complaint is that expansion of bed and breakfasts will bring new regulations that require new permits that business owners will have to purchase.
"The economy in Athens and Appalachia has tanked. It's death by a thousand cuts to small businesses who can't thrive and navigate bureaucracy. I know we can revive our economy by getting rid of burdensome regulation," he added.
As described by Business Insider, Airbnb is a San Francisco-based company which has an app and website for people to list rooms or entire properties for others to rent. In turn, Airbnb receives a 3 percent commission.
Paszke did not respond to a request for comment from TheBlaze.