© 2023 Blaze Media LLC. All rights reserved.
Artist in Saudi Prison Sentenced to Death for Apostasy Says There's a Big Problem With the Charge Against Him
A Saudi court in Abha initially sentenced him to 800 lashes and four years in prison.
RIYADH, Saudi Arabia (AP) — A Palestinian artist sentenced to death in Saudi Arabia for apostasy was quoted by a local news website Thursday as saying that he is not an atheist and that his case centers around a personal dispute he had with someone.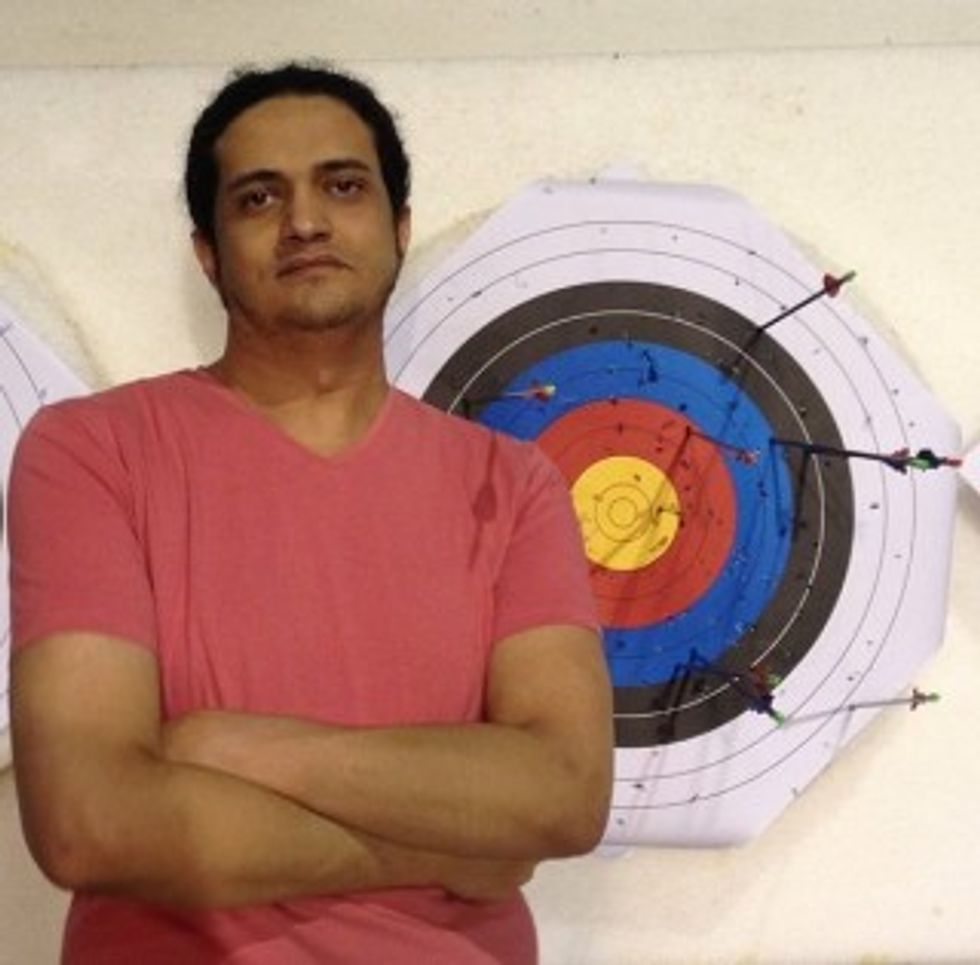 Ashraf Fayadh (Image source: Instagram)
Ashraf Fayadh gave the interview to Mecca Online from inside a prison in Abha, the southwestern city where he has been held since January 2014. He said a Saudi college student he knew filed a complaint to religious police accusing him of being an atheist and trying to spread atheism through a book of poetry he wrote.
Religious police detained Fayadh for a few hours after the complaint was filed and then released him, he said.
Fayadh said his poetry book was then sent to a council of clerics for their assessment of its content. The council deemed parts of the book atheistic. He said the Arabic book, called "Instructions Within", was published in Lebanon in 2008 and has not been published in Saudi Arabia.
"I am not an atheist and it is impossible that I could be," he said.
A Saudi court in Abha initially sentenced him to 800 lashes and four years in prison. He says his prison sentence was based on photos on his phone found by the religious police the night of his brief detention. He told Mecca Online the photos were of nothing more than of female colleagues he'd met through his participation in art exhibitions, which include the 2013 Venice Biennale.
Saudi courts adhere to an ultraconservative interpretation of Islamic law and religious police strictly enforce the segregation of unmarried men and women. This has drawn comparisons to some of the ideologies underpinning the extremist Islamic State group.
The Saudi Justice Ministry plans to file a case against someone who wrote on Twitter that Fayadh's ruling was "IS-like" in reference to the extremist group, a Saudi news website reported this week.
Al-Riyadh, quoting an unnamed official, said the Justice Ministry vows to take all necessary legal measures against any person or media outlet that insults the judiciary or compares its rulings to IS. The official said questioning the kingdom's justice system is essentially to question the justice of Islamic law.
Fayadh said after the initial trial, an appeals court recommended blasphemy charges against him be stiffened and that he be sentenced to death. He said the appeals court also recommended rejecting defense testimony, citing the Palestinian artist's own admission to writing the book.
After one hearing, the lower court issued its death sentence in the retrial last week on blasphemy-related charges.
"The judgment against me was based on the testimony of this student," Fayadh said. "The terminology I am condemned for is not even in the book, but the accusation against me was based on wrong interpretations for some of the poems."
Fayadh plans to appeal the verdict, which means the case will likely be tossed back to the appeals court and then the Supreme Court. There are no known cases in recent years of executions for apostasy in Saudi Arabia, despite such verdicts.
International human rights groups have condemned his sentencing. The Palestinian government, the General Union of Arab Writers and The Arabic Network for Human Rights Information are calling for his release.
—
Follow Dave Urbanski (@DaveVUrbanski) on Twitter
Want to leave a tip?
We answer to you. Help keep our content free of advertisers and big tech censorship by leaving a tip today.
Sr. Editor, News
Dave Urbanski is a senior editor for Blaze News.
DaveVUrbanski
more stories
Sign up for the Blaze newsletter
By signing up, you agree to our
Privacy Policy
and
Terms of Use
, and agree to receive content that may sometimes include advertisements. You may opt out at any time.