Republican presidential candidate Donald Trump said in a statement on Thursday that he does not know the New York Times reporter that he is accused of mocking.
Trump is accused of mocking New York Times reporter Serge Kovaleski at a campaign rally in South Carolina Tuesday night. According to CNN, Trump waved his arms in a mocking manner while referencing the reporter, who has a chronic condition called arthrogryposis, which limits the movements of his arms.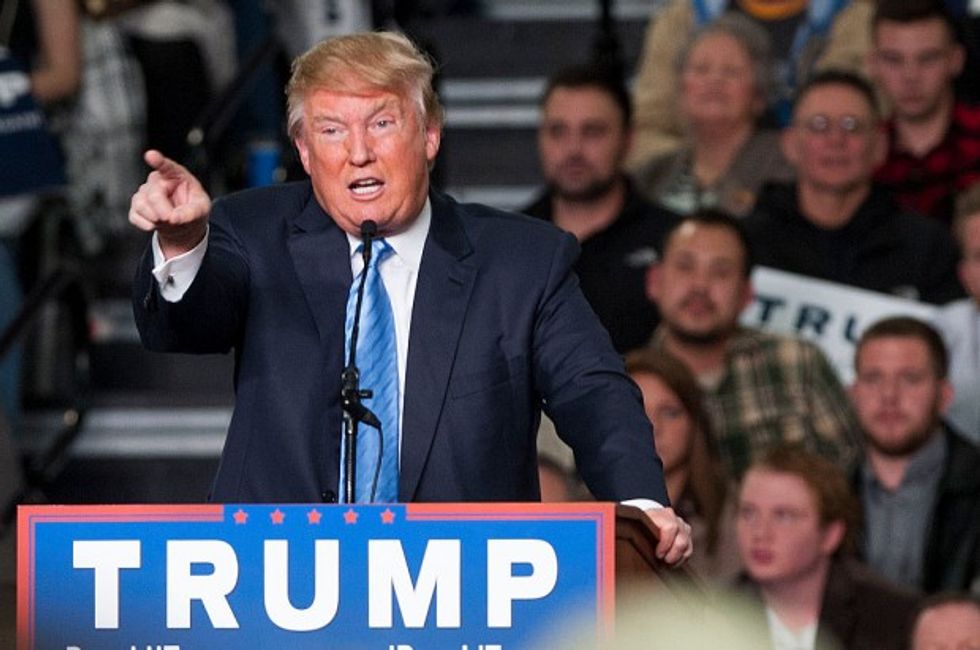 Republican presidential candidate Donald Trump addresses supporters during a campaign rally, November 23, 2015. (Getty Images/Ty Wright)
"I have no idea who this reporter, Serge Kovaleski is, what he looks like or his level of intelligence," Trump began in a statement posted to Twitter. "I don't know if he's J.J. Watt or Muhammad Ali in his prime – or somebody of less athletic or physical ability."
"In my speech before over 10,000 people in Myrtle Beach, SC, I merely mimicked what I thought would be a flustered reporter trying to get out of a statement he made long ago," the real estate mogul continued. "If Mr. Kovaleski is handicapped, I would not know because I do not know what he looks like."
If he did know, Trump says he would "definitely" not have commented on Kovaleski's appearance.
"If I did know, I would definitely not say anything about his appearance," Trump added. "I have tremendous respect for people who are physically challenged and have spent tens of millions of dollars throughout buildings all over the world on making them handicapped accessible and ADA compliant."
In response to the incident, an advocacy group in Boston offered sensitivity training to Trump on Thursday. The Trump campaign has not yet responded to the offer.
—
Follow the author of this story on Twitter and Facebook:
[facebook //www.facebook.com/plugins/like.php?href=